Coronavirus testing facilities only in Dhaka
No plan now to expand it outside capital for a lack of trained manpower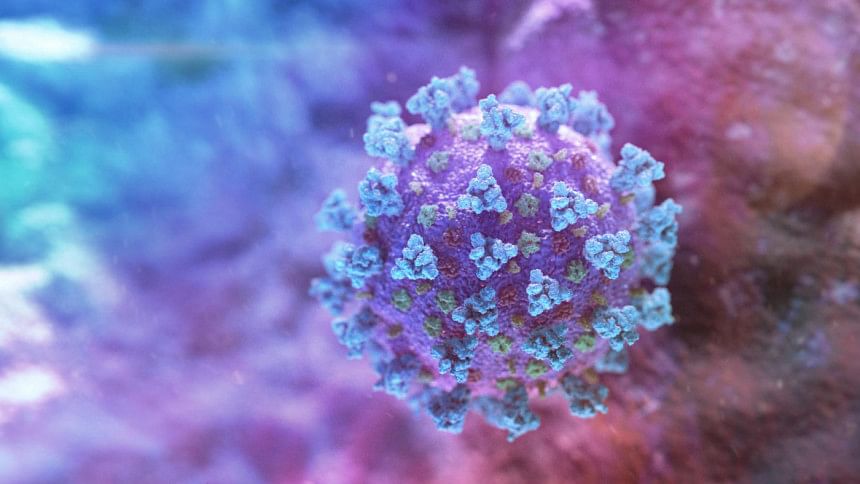 Although the diagnosis of novel coronavirus is so far only Dhaka-based, the authorities prefer not to expand the testing facilities to hospitals outside the capital right now due to a lack of trained manpower and unavailability of the necessary technology.
Besides, the possibility of faulty results and risk of biological hazards are also major concerns for sticking to a centralised diagnostic system, said officials of the Institute of Epidemiology, Disease Control and Research Institute (IEDCR).
At present, only the IEDCR, the national institute for conducting disease surveillance and outbreak investigation, conducts testing for coronavirus.
As the country has already confirmed three cases of coronavirus-- known as COVID-19 -- the lack of available testing facilities in different parts of the country has been raised as a concern to dealing with a potential outbreak.
IEDCR officials, however, said the detection of virus is a complex process and requires strict quality control. Most public and private hospitals in the country do not have the trained manpower and technological capacity to diagnose the virus, health experts said.
When a suspected patient is admitted to a hospital outside the capital, the authorities report this to the IEDCR. An IEDCR team will then go to the hospital to collect samples from the patient.
"We take nasal and throat swab samples from the patient, which requires special skills. Therefore, we are sending sample collectors from Dhaka who are long experienced in collecting respiratory samples," Dr ASM Alamgir, principal scientific officer of IEDCR, told The Daily Star.
He said the samples are then processed through real-time reverse transcription polymerase chain reaction (RT-PCR), a laboratory technique for the in vitro qualitative detection of novel coronavirus -- which is only available at the IEDCR.
"The detection of virus from the specimens is a complex process. As the 2019 novel coronavirus is an RNA virus, we have to extract the RNA [ribonucleic acid] and then convert it to cDNA [complementary DNA] which is further synthesised to detect the virus.
"The process requires strict temperature control and absolutely contamination-free environment otherwise the specimens can show false positive and false negative results," he added.
Experts say any breach in laboratory safety can release the virus in the atmosphere and lead to an epidemic.
The US Centers for Disease Control and Prevention recommends using BSL 3 (Biosafety level) laboratory while working with live virus.
IEDCR is conducting tests in a BSL 2 laboratory.
According to Dr Alamgir, a BSL 2 laboratory is more than sufficient for pathological investigations, as they work only with dead viruses there.
However, working in a BSL 2 laboratory also requires strict training in maintaining safety, quality control, and hygiene protocol, he added.
"In IEDCR, we have a pool of experienced professionals who have been working in this environment for a long time. This is also a reason why we are not expanding the diagnosis facility to other hospitals," he said.
Noted physician Dr ABM Abdullah concurs that keeping the diagnostic process centralised for the moment is the right decision.
"In case of a massive outbreak, there is no doubt that IEDCR will have to expand facilities to district-level hospitals. But for now, this is the right decision," he told The Daily Star.
"Since COVID-19 is a completely new phenomenon, we don't have the sufficient manpower and technology to detect it," said Abdullah.
Besides, if a diagnostic centre conducts this test, they might not be able to quarantine the patients and their contacts immediately which IEDCR is doing by coordinating with local hospitals, he added.
Dr Alamgir said the country's health system is well prepared to tackle an outbreak, with the institute regularly conducting training for district level physicians.
If the disease spreads in the country, it will not be necessary to conduct test for all patients, he said.
"Thanks to our trainings, doctors will be able to detect coronavirus patients by observing symptoms and give symptomatic treatments. So far, this is our plan for a massive outbreak," he added.
PREPARATION FOR DMCH'S ISOLATION UNIT STILL UNDERWAY
Over a month ago, Dhaka Medical College Hospital (DMCH) opened an isolation unit for coronavirus patients, but it still lacks certain facilities essential for treating patients carrying the virus.
Located on the ground floor of DMCH Building-2, the hospital authorities transformed its acute medicine unit into a 12-bed isolation unit.
A special laboratory, capable of conducting tests like ultrasonography, endoscopy, and X-rays, has been attached to the unit.
However, the unit does not yet have life support and artificial respiration facilities.
"We have sufficient amount of personal protective equipment (PPE) for our staff. We are also in the process of procuring more equipment," Brig Gen AKM Nasiruddin, director of the hospital, told The Daily Star.
At present, the unit is ready to receive patients, he said, adding that, "We are working to turn this unit into an independent, fully-equipped corona-care unit."
On January 26, the IEDCR sent a letter to all divisional and district hospitals, asking them to set up such isolation units.
"We are fighting an invisible enemy and we still don't know much about its nature … we are taking preparations," added the DMCH director.