Songs of freedom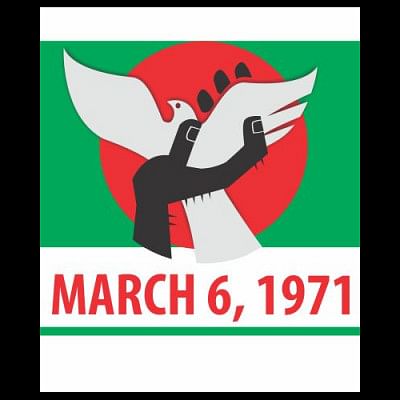 A nation waited with bated breaths days before Bangabandhu Sheikh Mujibur Rahman's soon-to-be historic rally to be held at Race Course ground. 
On this day in 1971, the peaceful hartal -- as asked for by Bangabandhu -- in Dhaka continued for the sixth day.
Employees of state- and privately-owned offices were asked to go their offices to collect their salaries at a pre-scheduled time between 2:30pm and 4:00pm.
Meanwhile, the growing thirst for freedom needed to be quenched. At least 321 prisoners broke open the central jail to escape around 11:00 in the morning.
During the escape, seven were shot while 30 were also injured.
Pakistan President Yahya Khan during a radio broadcast in the afternoon called for the National Assembly meeting on March 25. He hoped it would dissuade Bangabandhu from declaring independence, something that deeply troubled Yahya.
He said as long as Pakistan military was under his command and he was the president, he would make sure the solidarity of Pakistan remained unchallenged.
In protest of such announcement, people in Dhaka and Narayanganj came out of their homes to take part in spontaneous and organic processions.
In Rawalpindi, Pakistan Peoples Party Chairman Zulfikar Ali Bhutto welcomed Yahya's announcement. At a press conference, he said his party was interested in outlining a structure of the government ahead of the National Committee meeting.
Elsewhere in another development, Muslim League leader Air Marshal Malik Nur Khan said that it was the legal right of Sheikh Mujibur Rahman to be able to rule the country.
In an interview in Lahore, he recommended that all barriers to the handover of power be overcome immediately.
He also expressed sorrow over the accusation made by Yahya regarding Bangabandhu, as it further deteriorated the condition of the country.
Meanwhile, after the retirement of Yaqub Khan two days ago, Yahya had appointed General Tikka Khan, known as the notorious "Butcher of Baluchistan", to take over as governor of East Pakistan.
He arrived in Dhaka the day before, and was ready to take the oath on this day, when Chief Justice BA Siddiky refused to swear him in, once again proving that Bangabandhu was pulling the strings.
That very evening, Bangabandhu was at an emergency meeting of his party's working committee, to mull over the president's new date for the National Assembly meeting.
But a more important decision hung over their heads -- whether or not the declaration of independence would be made the next day.
The pressure was tremendous, and kept mounting.
Not only were there powerful student groups insisting on the announcement, but they were joined by a wave of citizens who wanted to be known forever as Bangalees.
The meeting for such intense and vital decisions ended up taking the whole night. But it was still unclear about what was to take place. That is until Bangabandhu himself made the decision -- to speak out publicly about this issue the next day, March 7, 1971, on the Race Course ground.
The greatest speech in Bangladeshi history was about to be made.
[Source: Liberation War Museum website]