Road Crash: Eleven killed in Savar, Thakurgaon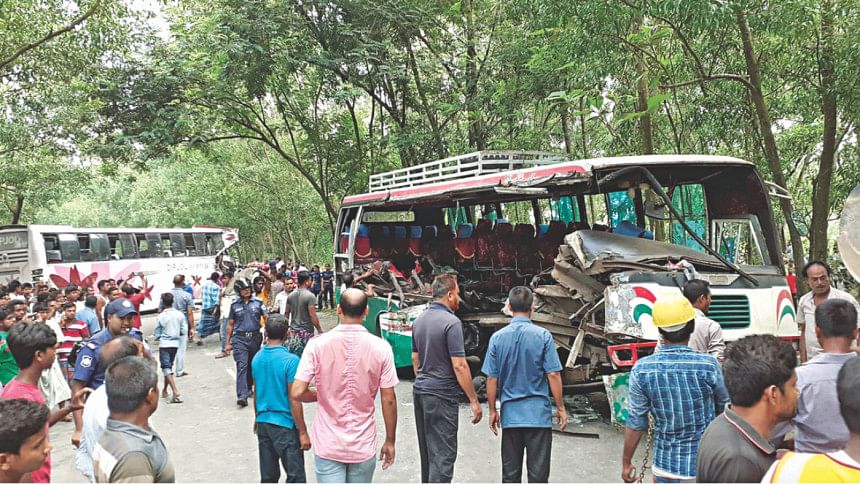 Eleven people, including seven women, were killed in road accidents in Thakurgaon and Savar yesterday.
In Thakurgaon Sadar upazila, two buses collided head-on on Dhaka-Thakurgaon highway near Jagannathpur Balaka Udyan, killing 10 people and injuring 18 others.
Mofidar Rahman, station officer of Thakurgaon Fire Service and Civil Defence, said the accident happened around 8:00am, when the Thakurgaon-bound bus from Dhaka crashed into another one.
Five people died on the spot, he said.
On information, firefighters and police with the help of locals rescued the injured and took them to Thakurgaon Sadar Hospital.
Two of them died on the way to the hospital, the official said, adding that another died while being moved to Rangpur Medical College Hospital.
Farhana Rahman Mitu, medical officer at Thakurgaon Sadar Hospital, said 20 people were admitted to the hospital. 
Twelve of them were referred to Rangpur Medical 
College Hospital as their condition deteriorated. 
Two of them died on the way to the hospital, said Mosabberul Haque, officer-in-charge of Baliadangi Police Station.
The 10 dead are Mongoli Rani, 66, her daughter-in-law Joba Rani, 35, of Dinajpur's Kaharol upazila; Abdur Rahman Tarun, 40, Md Mostafa, 40, his wife Mansura Begum, 30, Saraswati Saha, 35, Anwara Begum, 45, and Kamrunnesa, 50, of Thakurgaon's Baliadangi upazila; Abdul Majid, 52, and Khirish Barman, 40, of the district's Sadar upazila. 
In Savar, on the outskirts of the capital, Shilpi Akter of Cumilla, a student of Chattogram Mohila Polytechnic Institute, was killed as Dhaka-bound Moumita Paribahan ran her over when she was getting down the bus in Radio Colony area around 2:30pm, said police. 
Later, other passengers caught driver Jahid Mondal and handed him over to police, said Shafayetur Rahman, sub-inspector of Savar Model Police Station.
On Thursday night, two people were killed in Dhamrai upazila in Dhaka when a truck hit a motorcycle carrying three people from behind on Dhaka-Aricha highway, said police.
The dead are Selim, 20, son of Korban Ali, and Masud, 20, son of Abdul Khaleque, of Balitha in Dhamrai.
In another incident, a labourer was killed as a lorry ran him over at Summit Alliance Port Ltd container depot in Patenga of Chattogram, said police. 
The victim, Md Russell, 35, of Madhya Halishahar in the port city, was working when the incident happened around 10:00am yesterday, said Nayek Abdul Hamid of Chattogram Medical College Hospital police camp.
Hamid said doctors declared Russell dead after being taken to the hospital.
Our correspondents in Thakurgaon, Savar and Chattogram contributed to this report.