No retreat
Students fear their demands won't be met if they leave street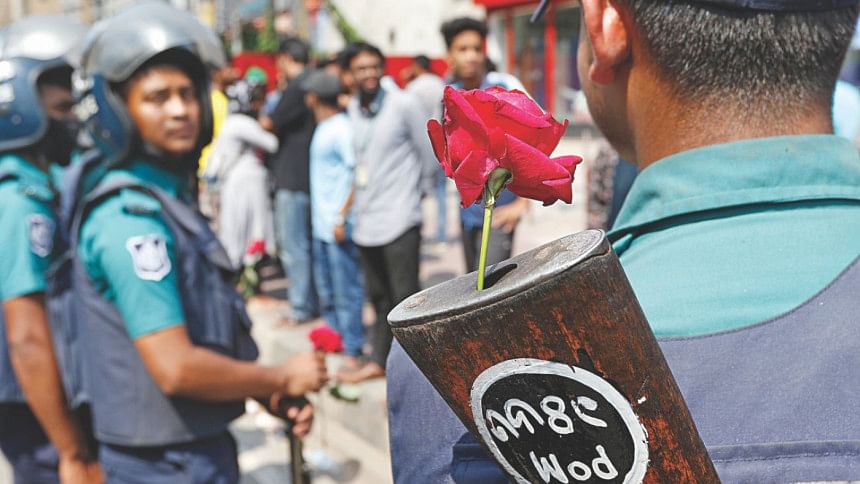 Student demonstrators yesterday said they would resume their peaceful protest for safe roads on Sunday to keep pressure on the authorities to implement their promises.
They made the announcement at a human chain programme on Pragati Sarani near the city's Bashundhara Residential Area.
"If we postpone demonstrations, our demands will not be met," said a student of American International University of Bangladesh, wishing not to be named.
In August last year, students across the country waged an unprecedented movement, demanding safe roads following the deaths of college students Dia Khanam Mim and Abdul Karim Rajib in a road crash in the capital.
Around 12:30pm yesterday, over 100 students from different universities formed the human chain near the spot where Abrar Ahmed, student of Bangladesh University of Professionals, was run over and killed by a bus three days ago.
Some 100 policemen were deployed in the area to avoid any untoward incident.
Protesters said they would be watching whether the government was truly implementing its pledges on safe roads.
The students were seen giving flowers to policemen at 1:45pm, about an hour before ending the protest.
In the city's Khilgaon area, some students were seen checking driving licences and registration documents of vehicles.
At Dhaka University, some 20 students observed two-minute silence near the Raju Sculpture to pay their respect to deceased Abrar.
Meanwhile, students of Rajshahi and Chittagong universities staged demonstrations yesterday expressing solidarity with the protesters in Dhaka.
Witnesses said RU students blocked the Rajshahi-Dhaka highway near the main entrance to the university around 9:30pm and staged a protest for about one and a half hours.
In Chattagram, several hundred CU students formed a human chain before the university's Central Shaheed Minar in the morning.
Apart from demanding justice for the death of Abrar, they were also protesting over the Wednesday night's road accident near the university gate in which their fellow student Mehedi Hasan was injured.
The student protest for safe roads had begun in the capital on Tuesday following the death of 20-year-old Abrar.
The following day, a section of students called off the protest until March 28 after Dhaka North City Corporation Mayor Atiqul Islam assured them of meeting their demands.
The students, however, warned that they would take to the streets again after March 28 if their demands were not met by then.
Among the demands include freeing the transport sector from political influence, checking necessary documents of all buses each month and banning all unfit vehicles and all drivers without licence from the streets.
CONSTRUCTION OF FOOTBRIDGE BEGINS
The piling work was going on yesterday for the foundation of a footbridge on Pragati Sarani near the entrance to Bashundhara Residential Area.
The foundation plaque of the footbridge, to be named after Abrar, was unveiled on Wednesday by the DNCC mayor.