Preventing Road Crashes: PM gives a set of directives
Suggests keeping substitute drivers for long-haul trips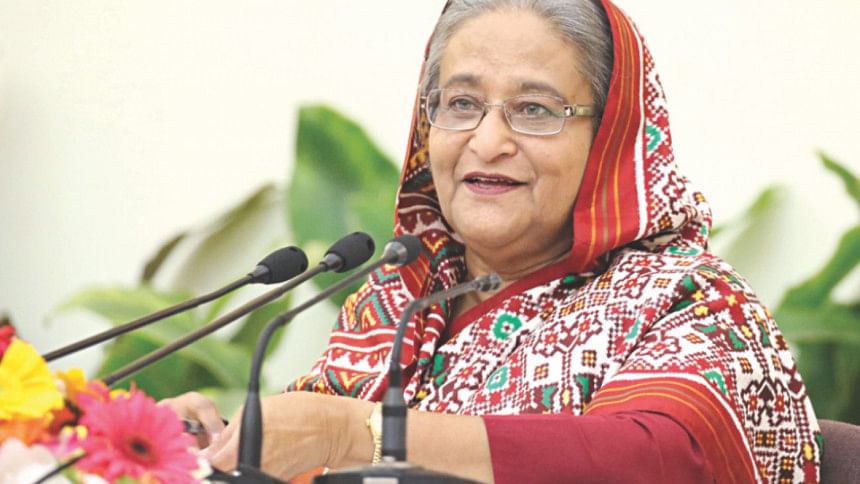 In the wake of scores of deaths on roads, Prime Minister Sheikh Hasina yesterday issued directives, including drive-time limitations on drivers of long-route vehicles, to prevent accidents and casualties.
She gave the directives at the weekly cabinet meeting soon after learning that five people died in a crash in Tangail yesterday.
Briefing reporters afterwards, Cabinet Secretary Mohammad Shafiul Alam said the PM also asked for keeping reserved drivers on long-route vehicles, restricting them to a maximum of five hours drive time at a stretch, training drivers and helpers, installing service centres or restrooms for drivers at regular intervals on highways, preventing jaywalking, making sure everyone follows traffic signals and fastens seatbelts.
"The prime minister also asked the home, road transport and bridges, and the shipping ministers to hold meetings regularly regarding the issue," Shafiul added.
However, leaders of transport owners and workers yesterday at a programme said there is a crisis of trained drivers in the country.
Around 35 lakh motor vehicles are registered with Bangladesh Road Transport Authority (BRTA) while the number of driving licences issued by the authorities is around 24.5 lakh.
"Until we get enough trained drivers, the problem won't be solved," Khandaker Enayetullah, secretary general of Bangladesh Sarak Paribahan Malik Samity, said.
He was speaking at the BRTA head office in meeting held yesterday to find out ways to prevent accidents.
At least 7,397 people were killed, and 16,193 injured in 4,979 road accidents last year, according to Bangladesh Jatri Kalyan Samity. Between January and April this year, another 2,123 people were killed and 5,558 others injured in 1,871 road accidents, it said.
On Saturday alone, 52 people were killed, including 18 in one accident in Palashbari of Gaibandha.
BRTA MEETING
Road-safety campaigners and leaders of transport owners and workers at the meeting held lack of trained drivers as one of the main reasons behind crashes.
Mokhlesur Rahman, organising secretary of Bangladesh Road Transport Workers Federation, said the government's initiative to train drivers was insignificant.
"We learnt driving on our own. Did the government take necessary steps to create a good driver?" he said urging the government to take initiatives so that trainings could be done at a low cost.
Enayetullah said there are private training institutes but those do not train drivers of heavy vehicles. He urged the government to give land to the BTRA for establishing training centres.
He asked the government to          stop the plying of slow-moving vehicles on highways as they are            one of the main reasons for crashes and equip the highway police with tools necessary to enforce speed limits.
Nirapad Sarak Chai Chairman Ilias Kanchan said he had attended such meetings before and talked about curbing road accidents but things do not change. He emphasised on using modern technology to enforce speed limits.
Prof Moazzem Hossain, director of Accident Research Institute at Buet, said it was a good sign that most of the speakers talked about the necessity of trained drivers.
He said 70 to 80 percent of the country's economy is dependent on road transport and not investing in the sector is a bad idea.
Prof Moazzem said bus service providers have to play a major role in curbing accidents but their allegiance to political parties make it difficult.
He said bus service providers want to make more trips during the Eid rush and they need more drivers for that. As there is a scarcity of drivers, drivers work more, he added.
Immediately after Prof Moazzem's speech, Enayetullah and Abul Kalam, president of Dhaka Road Transport Owner Association, criticised him sharply. They said experts and people who go on TV talk shows always blame transport owners and workers without "knowing the ground reality".
BRTA Chairman Moshiar Rahman said they would consider Enayetullah's proposal regarding training institutes, and strengthening drives against unfit vehicles and slow-moving vehicles.
Columnist Syed Abul Moksud and MA Malek, additional DIG of Highway Police, also spoke at the meeting.
Road Transport and Bridges Minister Obaidul Quader was supposed to be in the meeting but he did not show up.
QUADER'S CLAIMS
Minister Quader yesterday told parliament that accidents on highways were largely decreasing.
In reply to lawmakers' queries, he said the government has taken various measures to prevent crashes. In the scripted answer, Quader did not elaborate or place any statistics backing up his claims.
Quader told the House that issuance of registration and fitness certificates of vehicles were brought under a digital system.
"Online verification system has been introduced to verify registrations, fitness of vehicles, and driving licenses to stop plying of vehicles that do not have fitness and registration," he added.
He claimed that accidents were being prevented by identifying illegal vehicles in Dhaka city. Smart driving licence has been introduced to root out licence forgeries and have safer roads.