Road crashes kill 16 in 3 dists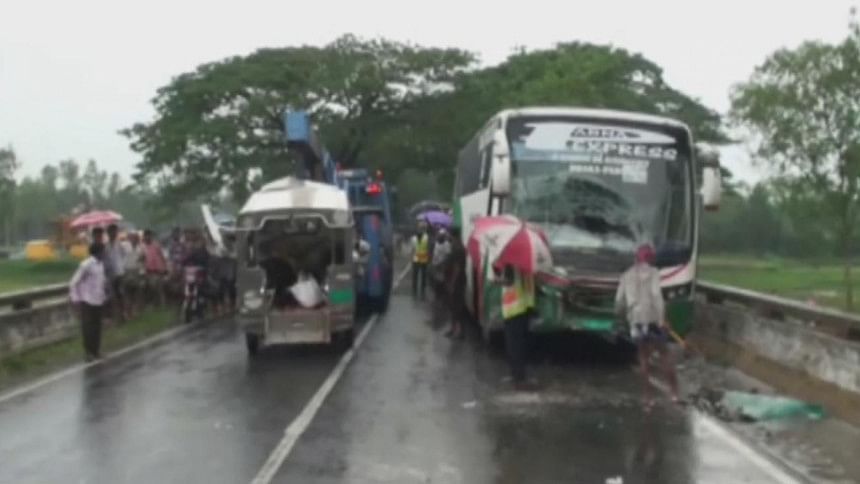 At least 16 people were killed and 25 others injured in separate road accidents in Sirajganj, Sunamganj and Natore districts today.
Among the deceased, nine people were killed in Sirajganj, six in Sunamganj and a child in Natore.
In Sirajganj, at least nine people were killed and three injured as a bus crashed into a human hauler, locally known as Leguna, in Ullapara upazila of Sirajganj this afternoon, our Pabna correspondent reports.
Eight of the deceased were identified as Nur Islam, 45, Md Akhter, 42, Md Rezaul Karim, 35, Abdul Mannan, 45, Md Ali, 25, Sabuj, aged between 30 to 35, Joynuddin, 42 and Ahmadul, 22 while another remains unidentified.
The Pabna-bound bus of Pabna Express from Dhaka hit the human hauler coming from opposite direction on the highway at Ullapara bus stand around 1:00pm, said Dewan Koushik Ahmed, officer-in-charge of Ullapara Police Station.
The injured were taken to Ullapara Upazila Health Complex, added the OC.
In Sunamganj, six people died on the spot and 18 suffered injuries in the same type of road accident like that of Sirajganj in South Sunamganj upazila of Sunamganj district this morning.
Four of the deceased were identified as Sagar, 16, Limon, 17, Afjal, 17, and human hauler driver Noman, 28, hailed from different villages in the upazila, our Moulvibazar correspondent reports quoting Officer-in-charge of South Sunamganj Police Station Mohammad Harunur Rashid Chowdhury.
The accident took place around 6:30am when the speeding bus hit the oncoming human hauler in Patharia area, leaving six passengers of the human hauler dead on the spot, the OC said.
The bus also plunged into a roadside ditch after hitting the Leguna, he said.
Eighteen passengers of both the vehicles were also injured in the accident, the police official said. Of them, eight were taken to Sunamganj Sadar Hospital from where two critically injured were shifted to Sylhet MAG Osmani Medical College Hospital, the OC added.
In Natore, eight-year old girl Mariya Tasnim died on the spot and four members of her family suffered injuries after a microbus carrying them hit a roadside tree in Baraigram upazila of Natore.
The accident took place in Mohisbhanga area around 11:00am when her father Abdul Jalil , a sub-inspector of Dhaka's Kadamtali Police Station, along with his family members was going to his village home at Bilvarat in Singra upazila of Natore to celebrate the Eid-ul-Fitr, said Delwar Hossain, officer-in-charge of Banpara Highway Police Station.
The injured were taken to Rajshahi Medical College Hospital, added the police official.