NGOs for road safety: #CommitToAct #StreetforLife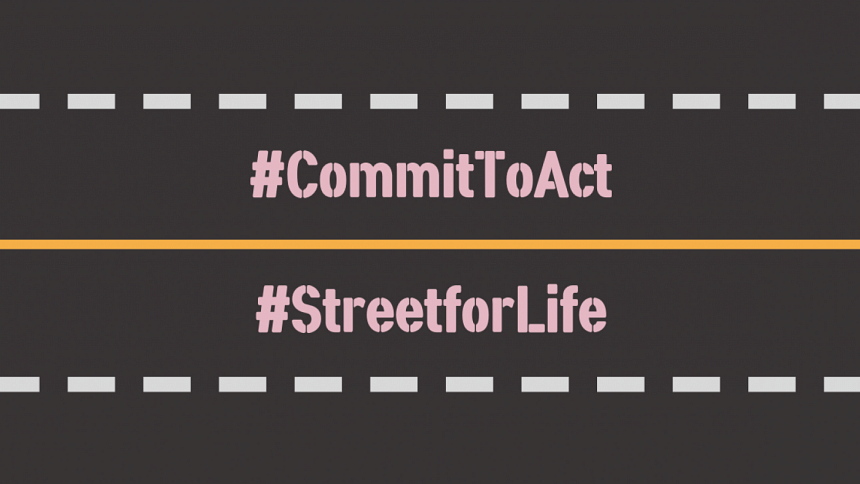 Road crash fatalities and injuries in Bangladesh once again raised an alarm during the recent Eid holidays when motorcycle crashes increased by over 40 percent compared to 2021. According to a newspaper circular of Bangladesh Road Transport Authority (BRTA), currently, 36 lakh (3.6 million) motorcycles are registered, while the number of driving licences is 23 lakh (2.3 million) only. This means that a staggering 13 lakh (1.3 million) people are driving bikes without licence. 
In reality, road safety has increasingly become a worldwide concern, caused by ever-increasing road connectivity, motor vehicles and vulnerable road users. Last year, the UN launched its second Decade of Action for Road Safety (2021-30) through its Global Road Safety Action Plan. The UN General Assembly will review the implementation progress of the action plan on June 30 and July 1 this year in New York, expecting all the heads of governments and ministers concerned to participate and commit to act. In response to the UN action, the Global Alliance of NGOs for Road Safety, comprising 300 non-governmental organisations worldwide, is taking collaborative actions to push the country-level actions to improve road safety. At home, the Bangladesh government is finalising a first-ever standalone road safety project for which the World Bank has approved USD 358 million. Brac, a member of the Global Alliance of NGOs, formally handed over the UN Global Plan of Action for Road Safety to the government of Bangladesh, and BRTA in the meantime incorporated the plan into the draft National Road Safety Strategic Action Plan 2021-2024.
The UN SDG, along with the Global Road Safety Action Plan, aims to reduce road deaths and injuries by 50 percent by the year 2030. Highlighting this goal, the Global Alliance of NGOs for Road Safety has launched a weeklong campaign from May 16 to 22, 2022, in the run up to the UNGA session. The campaign sets out a global call: "Safe Mobility is Our Right."
The alliance is advocating for the implementation of the entire Global Road Safety Plan with a special focus on certain specific goals during this week's campaign. 
30km/h speed: A proven solution
The number one factor contributing to road crashes is unregulated speed. Ample research, studies and practices have already established that a 30km/h speed limit in an urban setup with a mixed traffic environment can greatly help in saving lives. 
The World Health Organisation concludes that an increase in average speed of 1km per hour results in a 3 percent higher risk of a crash and a 4 to 5 percent increase in fatalities. Studies find that when hit by a vehicle driven above 30kmh speed, pedestrians are at considerably greater risk of death, bringing even greater risk for the young and elderly. In Tanzania, the 30km/h speed limit has been shown to cut down road injuries by as much as 26 percent and has now been expanded to 50 high-risk school areas. In Toronto, Canada, road crashes fell by 28 percent after speed limits were reduced from 40km/h to 30km/h in 2015. The Colombian capital of Bogota has also introduced 30km/h zones in its speed management plan, reducing traffic fatalities by 32 percent. 
There are also significant health benefits of slowing traffic. It helps lessen traffic-related noise and supports a shift to active lifestyles via walking and cycling. The social interactions that people have on the street are also important for enhancing collective wellbeing.
Road safety needs investment
To establish safe road communications, many issues encompassing both hard and soft aspects—such as the development of safe road infrastructure, safe vehicles, effective enforcement of road safety regulations, education and awareness—are required. To address those aspects long-term, sustainable investment is essential. But the issue of road safety is underfunded and Bangladesh is no exception. The primary responsibility for funding road safety activities lies with national governments. Sources of sustainable funding include central government allocations, local government allocations, road user charges, levies on private sector insurance, surplus from government insurance, use of traffic fines, and social impact bonds.
Bilateral and multilateral development agencies, banks, multinational corporations, and businesses can contribute to road safety efforts by ensuring the integration of road safety in development and corporate social responsibility activities. They also have an obligation to ensure that provisions for road safety are guaranteed as part of all development and CSR support provided. 
Role of NGOs in bringing about road safety
Globally, there is considerable expertise among NGOs that can help fill in important gaps within different areas of road safety. NGOs can also collaborate with the government to implement policy measures. NGOs and academicians jointly work to generate evidence in risk analysis, and find effective and sustainable solutions. NGOs advocate for road safety, take up initiatives for behaviour change, becoming deeply involved with communities and supporting policy development by augmenting evidence and bringing grassroots perspectives to the table.
As more non-state actors are becoming active on road safety in Bangladesh and globally, the scope of collaborations with the government is increasing. Utilising that scope is imperative to put a rein on the rise of road crashes and resulting casualties. 
Ahmed Najmul Hussain is director of the Road Safety Programme at Brac.