11 more lives lost in road accidents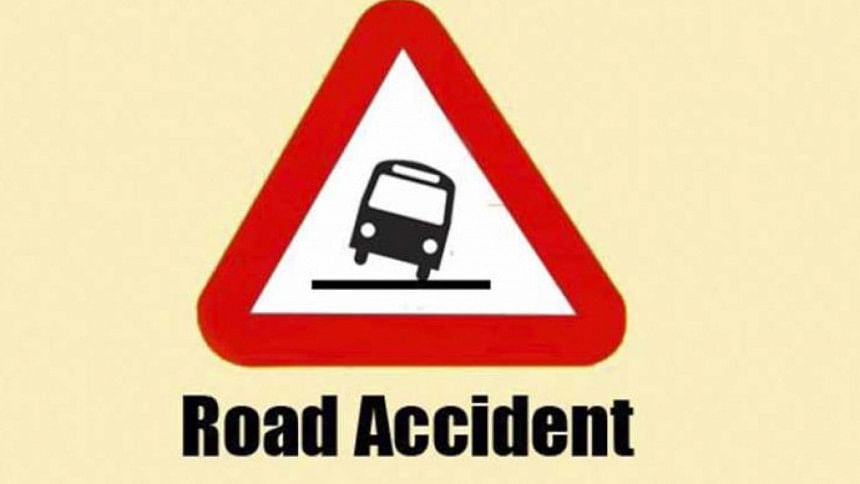 Deaths on roads continued as 11 people were killed and 42 others injured in road crashes in different parts of the country yesterday.
Six construction workers were killed and 31 others wounded in two road crashes in Kalihati and Ghatail upazilas of Tangail, while a mother and her child were killed and four others hurt as a bus hit a CNG-run auto-rickshaw in Mymensingh.
Besides, a man was killed and four others were injured when a bus heading for Rangpur overturned at Kalitonla in Gaibandha's Gobindaganj upazila.
In Thakurgaon, a schoolgirl was killed when a bus hit her bicycle. In another incident, an elderly man lost his life in an accident in Dinajpur Sadar upazila.
On Saturday alone, 52 people were killed, which is the highest number of casualties in a single day in recent times, according to Bangladesh Jatri Kalyan Samity, a platform working to ensure passengers' welfare.
YESTERDAY'S ACCIDENTS
Five construction workers were killed and 31 others injured when the driver of a truck lost control over the steering while overtaking a battery-run auto-rickshaw, locally known as easy bike, and plunged into a roadside ditch beside Tangail-Mymensingh highway near Kalihati Bus Stand around 5:30am, witnesses said.
The five are Rafiqul Islam, Abdur Razzak, Abul Hossain, Saidur Rahman and Abul Kalam. They hailed from Gaibandha.
Police with the help of locals took the injured to Tangail General Hospital, said Monsur Ali Arif, officer-in-charge (investigation) of Kalihati Police Station.
"All the deceased and injured are construction workers," said the police official, adding that they were going to Habiganj from Gaibandha on the truck to return to work after Eid holidays.
Another construction worker was killed and three others were wounded when the driver of a pickup lost his control over the steering due to its tyre burst on the same road in Nojunbagh area under Ghatail upazila around 9:30am.
The victim is Khalilur Rahman, 35, of Tangail's Gopalpur upazila.   
In Mymensingh, a road crash claimed the lives of a mother and her child and injured four others at Satrashia in Muktagachha upazila around noon.
They are Rifa Khanam, 27, wife of Mohammad Tareq, and their son Nabil, 3, of Garbajail village of the upazila.
The accident happened when a bus heading for Dhaka from Jamalpur hit a CNG-run auto-rickshaw on Mymensingh-Tangail road, said Ali Ahmed Mollah, officer-in-charge of Muktagachha Police Station.
All the victims were passengers of the three-wheeler.
Locals rescued the injured, including Rifa's husband Tareq and their daughter Morium, 5, and sent them to Mymensingh Medical College Hospital, said the OC.
Police seized two vehicles.
In Gaibandha, a man was killed and four others were hurt when a bus from Dhaka turned turtle beside Bogra-Rangpur highway at Kalitola in Gobindaganj upazila, said Akhtaruzzaman, officer-in-charge of Gobindaganj Highway Police Station.
The victim is Abdul Malek Rony, 35, of Nilphamari.
On information, police and firefighters rushed to the spot and rescued the passengers trapped inside the bus. The injured were taken to Gobindaganj Upazila Health Complex.
In another accident, Tofazzur Rahman, 65, of Dinajpur Sadar upazila, was killed when a truck hit the man while he was crossing Dinajpur-Gobindaganj road at Laxmitola in Dinajpur Sadar upazila in the evening. He died on the spot, said police, quoting witnesses.
In Thakurgaon, schoolgirl Naznin, 15, of Chhotopalashbari village, lost her life as a bus heading for Baliadangi hit her bicycle. Seriously injured Naznin was rushed to Thakurgaon Sadar Hospital where she died later.
According to Bangladesh Jatri Kalyan Samity, 2,123 people were killed and 5,558 others injured in 1,871 road accidents from January to April.
Some 7,397 people were killed and 16,193 injured in 4,979 road accidents last year.
Our correspondents in Tangail, Mymensingh, Gaibandha, Thakurgaon and Dinajpur contributed to this story.