Rifat Murder: Prime accused killed in 'gunfight'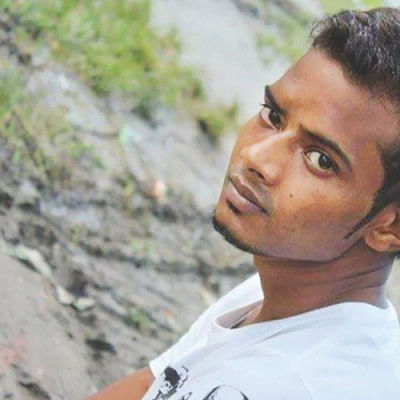 The prime accused in the Rifat murder case was killed in a "gunfight" between his accomplices and police in Barguna early yesterday.
A team of Barguna police rushed towards Purbo Burirchar area around 4:15am on information that Sabbir Hossain Nayan alias Nayan Bond who, along with another, hacked Barguna youth Rifat Sharif to death in broad daylight on June 26, was staying there.
As the team reached near Purkata ferry ghat, around 10 kilometres from the district town, it came under fire from Nayan's cohorts.
Police returned fire in self-defence, Maruf Hossain, superintendent of police in Barguna, said at a press conference at his office around 9:30am.
Nayan's body was found lying there after the "gunfight", he said.
The SP mentioned that law enforcers would have got more information about Rifat murder if Nayan had been captured alive.
Nayan and his close accomplice Rifat Farazi attacked 25-year-old Rifat, an internet service provider, with sharp weapons in front of Barguna Government College when Rifat and his wife Ayesha Siddika Minni were leaving the college premises on June 26 morning.
Later at night, the victim's father filed a murder case with Barguna Sadar Police Station, accusing 12 people including Nayan and Farazi.
Talking to The Daily Star over phone, Abir Hossain Mohammad, officer-in-charge of the police station, said Nayan had been accused in eight cases filed earlier over illegal arms, narcotics and mugging.
He further said Additional Superintendent of Police Shajahan Mia, who led the police team that came under attack, was injured along with three other policemen. Two of them were sent to Barishal as their condition was bad.
Police recovered three sharp weapons, a pistol and three bullets from the spot, the OC added.
Talking to this newspaper, some locals said they heard gunshots early in the morning. 
"We heard gunshots around 4:00am. Later, I along with several others went to the spot around 5:00am and saw the body [of Nayan]," said Md Kabir, a resident of Purbo Burirchar.
Police have so far arrested eight persons in connection with Rifat murder. Of them, Chandan, Hasan, Oli and Ridoy are on the list of 12 accused in the First Information Report.
Oli and Tanvir on Monday gave confessional statements before a local court, admitting their involvement in the murder.
Seven more accused, including Nayan's close cohort Rifat Farazi and his brother Risan Farazi, are yet to be arrested.
The Barguna SP yesterday said the other accused would be arrested any time.
Locals said Nayan had gained notoriety as a criminal in Barguna town and kept committing crimes under the shelter of politically influential persons in the district.
Nayan, a fan of James Bond movies, wished to pursue the lifestyle shown in the films, they mentioned.
He created a Facebook group named "007" where he planned various crimes with the group members. The plot to attack Rifat was hatched by this group, according to police.
REACTION OF RIFAT'S FAMILY
In an instant reaction, Rifat's wife Ayesha told The Daily Star, "I am happy and grateful to the government and law enforcers as my husband's murderer has been killed."
She hoped that the other accused would be arrested soon.
Rifat's father Dulal Sharif said, "I am happy with the police action and expect that law enforcers will catch the other accused soon."
ASK'S STATEMENT
In a statement yesterday, Rights body Ain o Salish Kendra expressed deep concern over the killing of Nayan in a "gunfight".
The rights body thinks this was an extrajudicial killing in the name of "gunfight" and also a heinous crime.
"We want to remind that the right to life and the right to get justice are the human rights of every individual, and this is recognised by Bangladesh constitution," read the statement.
The rights body also called for fair and neutral probe into the incident and also fair trial.
[Our Jhalakathi Correspondent contributed to the story]