Private hospitals treating Covid-19 patients charging at will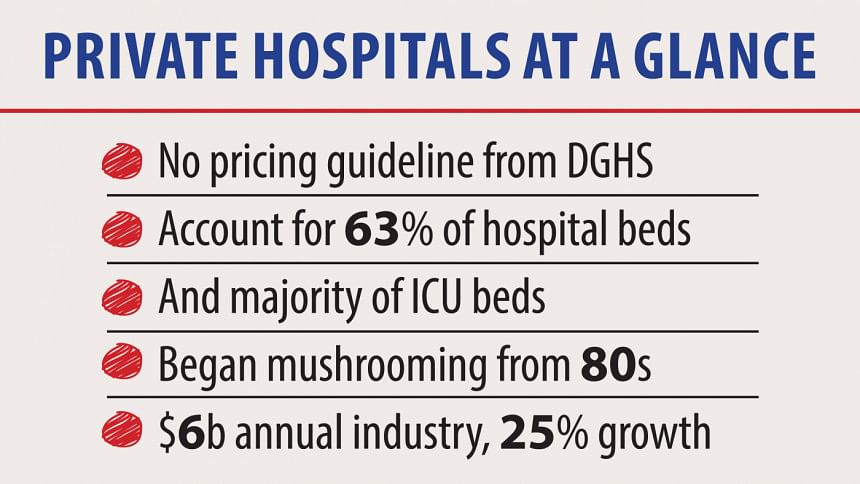 Desperate and discomposed, they would arrive at the doors of private hospitals to get treatment for Covid-19.
And the private hospitals, it appears, have taken to charging customers as they wish -- in the absence of a price guideline for Covid-19 treatment.
It is not that the government is not aware of the gulf in billing: a recent study by the health ministry's Health Economics Unit (HEU) and the Dhaka University's department of economics found that the cost of Covid-19 treatment in private hospitals is double that of public hospitals.
This begs the question: why has the Directorate General of Health Services not come up with a guideline16 months into the public health crisis?
The Daily Star inspected the hospital bills from 10 private hospitals in Dhaka of 30 Covid-19 patients and found no consistency in the charges.
Take the case of two critically ill elderly patients with pre-existing health conditions, who found themselves at the intensive care units of two private hospitals of the same tier at the same time when their lungs were failing them.
One of them, whose kidneys were vastly compromised, was admitted to Dhanmondi General and Kidney Hospital on Green Road, where he was on constant dialysis for the six days he was there.
The other, with hypertension, was admitted a few feet away at New Life Hospital, where he stayed for five days.
One would have thought that the patient with hypertension would have a lower medical bill. But it turned out to be the opposite.
The total bill of the hypertensive patient was Tk 196,000 and the renal patient's Tk 145,450.
Medication costs were excluded from the comparison because doctors said the patient with renal problems received less medication because her failing kidneys would not have been able to process them.
The main difference in cost between the two patients is the charge made for specific machinery: a syringe pump.
The cardiac patient was charged Tk 24,000 for a syringe pump and the renal patient Tk 14,400.
For oxygen, the renal patient was charged Tk 23,000 less than the cardiac patient even though the former's oxygen saturation was so low that she was on mechanical ventilation the entire time. The cardiac patient did not need any assistance breathing and yet he had to pay more.
Both, ultimately, died of cardiac arrest.
And here again, there was a discrepancy: for the cardiac monitor, the cardiac patient was charged double that of the renal patient.
New Life Hospital charges Tk 150 per hour for the two types of machinery, according to Mostafizur Rahman, its manager of HR and administration, while Dhanmondi General and Kidney Hospital charge Tk 120 per hour, said Shameem Mahboob, its director for administration.
Mahboob acknowledged that the rates for the two pieces of equipment were hiked at the beginning of the year due to a rise in the prices of the two.
Meanwhile, over at Green Life Medical College Hospital, not too far away from the other two medical institutions, a patient who did not need any intensive care support for the five days he was admitted was charged almost as much: Tk 160,000.
"We were forced to purchase all the medicines from the hospital pharmacy at the MRP rate. We could have purchased them at the discounted trade price from any drug store," the patient's son Yasri Al Saad told The Daily Star.
For instance, he had to purchase an injection from the hospital pharmacy for Tk 4,000. Outside, it was available for Tk 3,500.
The patient's total medicine bill was Tk 62,731.
His regular bed also cost more than the ICU beds in the other two hospitals down the road: Tk 9,600 per day.
An ICU bed in Dhanmondi General and Kidney Hospital and New Life Hospital both cost Tk 7,000 per day.
Quizzed, Md Mainul Ahasan, managing director of Green Life Hospital, said: "You need to consider that the salary and benefits of doctors, nurses and other support staff have increased due to the pandemic."
About eight kilometres away from Green Life Hospital is Ibn Sina Medical College Hospital in Kallyanpur.
There, a 30-year-old inpatient was charged a whopping Tk 206,030 for a ten-day stay at a cabin -- without any intensive care support.
Asked about the large bill for seemingly basic treatment, an Ibn Sina spokesperson told The Daily Star that the hospital's Covid-19 cabins are more expensive than the regular ones as it pays risk allowance to the doctors, nurses and support staff.
"We also have to keep them isolated on a regular basis and provide food and accommodation for them during that period," he added.
But the patient, who was moderately ill, says he was given more medication than needed to bump up the medical bill.
Each day, he was administered at least Tk 5,000 worth of medicines.
For instance, he was given three Meropenem antibiotic injections each day and each jab cost Tk 1,300.
His total medicine bill was Tk 63,440, which is significantly more than that of the cardiac patient at New Life Hospital.
If it isn't superfluous medication or indiscriminate charging for equipment or beds, a wholly new overhead has been created by some hospitals: isolation fee.
Farida Khanam was charged Tk 8,000 as an isolation fee for her 12-day stay at Popular Medical College Hospital.
"We don't know what that means," said her son-in-law.
Contacted, a spokesperson of Popular Medical College Hospital, said the hospital management has a dedicated 80-bed unit for Covid-patients.
"On some days, most of the 80 beds are vacant. To maintain this facility, we have added an isolation charge only once for the entire treatment," he added.
Khanam had to spend a day at the ICU, for which she was charged Tk 106,140. The bill does not give a breakdown of the charges.
"We had to pay Tk 4.48 lakh for hospital services for our entire stay. In addition, we had to spend Tk 98,200 for an injection to prevent a cytokine storm," her family said.
Some hospitals charge patients separately for personal protective equipment, masks and shoe covers meant for doctors, nurses and ward staff.
For example, a woman from Khilgaon receiving treatment at United Hospital for 12 days racked up Tk 33,141 in "medical disposables". These include PPE, shoe cover, masks, caps.
"This is so frustrating," said the woman's daughter.
The Daily Star inspected two other bills from the same hospital where a patient was charged Tk 62,401 for medical disposables for 12 days and another Tk 53,960 for 16 days.
This is a flat rate that all inpatients are charged, said Shagufa Anwar, United Hospital's director Of communication and business development.
"A lot of the hospitals merge this with room charges, but we do not so that patients know what they are paying for," she added.
The service charge also varied between hospitals.
While Popular charged a flat 8 percent of the bill, New Life charged a lump sum equivalent to one day's bed charge.
At United, patients were not billed service charges but had to pay separately for inpatient care service and nursing charges.
For instance, the Khilgaon resident was charged Tk 36,000 and Tk 45,00 separately for inpatient care and nursing charges.
Because United does not allow family attendants, there was a ward staff who the patients could ring a bell and call for if the they needed help, like going to the bathroom, the women's daughter said.
"We were charged for this service."
The nursing charge was what we had to pay for the nurses to come and administer medication, she added.
Ibn Sina charges a sum for "infection control management".
For most, no amount of money is as valuable as getting their loved ones back alive. But when a life is lost and there is confusion about the treatment, that is when the bills start to sting.
Elias Hossain was admitted to Anwer Khan Modern Medical College and Hospital on April 24th at 10am and died less than 24 hours later. And for the brief stint, his family had to pay Tk 126,694.
Hossain's oxygen level was fluctuating, so the attending doctors prescribed him intensive care support, according to his son Rony.
But, he was admitted to a cabin.
"We were told that they had high flow central oxygen supply, so my father would not face any problem."
But the central oxygen flow was not working properly, due to which Hossain's condition deteriorated rapidly.
"Then they sent him for a CT scan, which ate up precious time. Finally, when my father was admitted to HDU and got high flow oxygen, it was too late," he added.
The Daily Star obtained a copy of Hossain's prescription for verification.
Probed, AHM Enayet Hossain, a director of the Anwer Khan Modern Medical College, said the patient's bill was lower than what it should have been.
"We have to procure oxygen, expensive equipment and lifesaving drugs from various suppliers. While calculating the bills, we often consider the discounted price of oxygen therapy. If the patients are still not happy, tell them to go to the government hospitals. We are not forcing them to come here," he added.
The Green Life MD Ahasan, who is also the secretary-general of Bangladesh Private Clinic and Diagnostic Owners' Association, called upon the health ministry to take immediate measures to ensure quality service at an affordable price in private hospitals.
"It is really unfortunate that some hospitals are making a fortune by exploiting patients in this pandemic," he added.
The DGHS cannot take any action for indiscriminate charging in the absence of a pricing guideline for Covid-19 treatment, said Md. Farid Hossain Miah, director (hospital) of DGHS.
"Another fact is that different hospitals purchase medicines, oxygen and other equipment from different suppliers. So, they can fix the cost accordingly."
Work is on way to formulating a service standard and price regulation for private hospitals offering COVID-19 treatment, Miah added.
"We understand that private hospitals will charge for oxygen and other equipments that the government hospitals do not. But we are going through a crisis and this is the time to serve the nation," said Md Nurul Amin, director of research of HEU, who led the study team.