Paturia Ghat: Disruption in ferry service triggers chaos
Several hundred vehicles stuck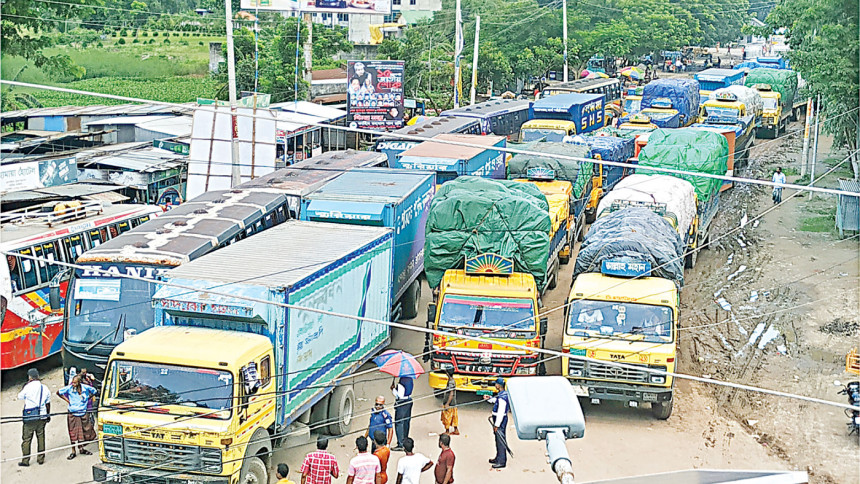 Commuters from south and south-western districts of the country traveling through the Paturia ferry terminal have been suffering long tailback.
As Shimulia-Kathalbari ferry route has been disrupted, people have come to Paturia-Daulatdia instead, increasing the queues of vehicles.
More than six hundred vehicles, including goods laden trucks, were seen stranded at the Paturia terminal around 3:00pm yesterday.
Three hundred trucks were stuck on Paturia's two truck terminals, 100 trucks had been kept on the Dhaka-Aricha highway, six kilometers away from the Paturia terminal. Around 50 trucks, along with 50 buses, were seen waiting to boarding the ferry.
Khandoker Tanvir Hossain, assistant general manager (commerce) of Bangladesh Inland Water Transport Corporation (BIWTC) Aricha Regional Office, said that the ferry services on Paturia-Daulatdia ruote is normal with 18 of 19 ferries are in operation.
Passengers and emergency-goods vehicles have been given priority. So several hundred goods laden trucks are now stranded at the Paturia terminal, he said.
On the other hand, many truck drivers alleged that some staffers of BIWTC are taking extra money from them for ferry tickets. They are taking Tk 2,000-2,500 against the actual price 1,460, they alleged.
BIWTC official denied such allegations.
"Nobody officially complained to the office. If anybody complains, we will take action against those found guilty," Khandoker Tanvir Hossain said.