Onion makes consumers cry
Onion prices have shot up dramatically in the country due to panic buying by consumers and price gouging by wholesalers in the immediate aftermath of India's decision on Monday to suspend onion exports.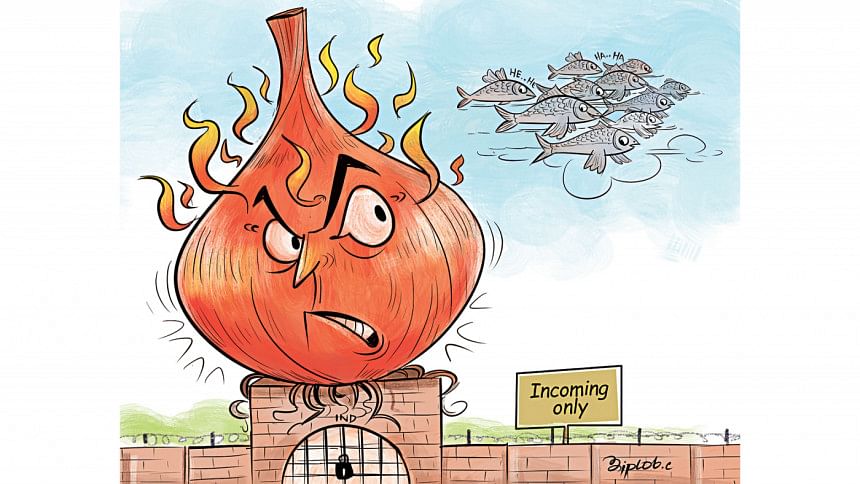 Onion prices have shot up dramatically in the country due to panic buying by consumers and price gouging by wholesalers in the immediate aftermath of India's decision on Monday to suspend onion exports.
News had broken of India's decision on Monday evening and many consumers in the capital, with the skyrocketing price of onions last year fresh in their minds, rushed to buy onions and stockpile on Monday night.
Since news of India's decision spread, onions have dominated discussions in social media, tea stalls, kitchen markets, and households over the past 24 hours.
India's decision had come on the day that Bangladesh exported hilsa to West Bengal for the first time.
From social media to tea stall, kitchen market to households, onion was the centre of all discussions in last 24 hours as the price of onion started to soaring as soon as the news of Indian government suspending onion exports spread on Monday evening.
The panic persisted even as Bangladesh Trade and Tariff Commission (BTTC) officials said the country still has a surplus of onions in stock to meet local demand.
Meanwhile, UNB reported yesterday that Bangladesh requested the Indian government to withdraw the suspension as soon as possible. State Minister for Foreign Affairs M Shahriar Alam said Bangladesh raised the issue with the Indian Ministry of External Affairs through the Bangladesh High Commission in New Delhi, immediately after being informed of the suspension.
The price of onions leapt nearly twofold by yesterday morning in kitchen markets across the country to Tk 100 per kg from Tk 55 of on Monday afternoon, placing serious pressure on a population already reeling from the economic fallout of the coronavirus pandemic.
In Dhaka, the price per kg of local onions was between Tk 80 and Tk 100 yesterday, up from Tk 60 to Tk 65 the previous day. Imported onions were being sold for between Tk 70 and Tk 80 whereas they cost Tk 50 to Tk 55 on Monday.
Sha Md Abu Raihan Alberuni, member (TPD) of BTTC, said, "We need 1.8 lakh to 2 lakh tonnes of onion every month to meet our domestic demands and in the [agriculturally] lean period from September to December we need around 8 lakh tonnes of onions. We already have 11 lakh tonnes of onions in the country, including 4.5 lakh tonnes imported from India."
BTTC officials also said production of onion was bumper this year and the government has a good stock in hand and requested people not to panic.
The government has already imported 4.5 lakh tonnes onion from India against its target of 6 lakh tonnes, which amounted to a surplus stock of 3 lakh tonnes of onion for the lean period.
He said the government has also started the process of importing onions from Turkey, Myanmar, and China.
Commerce Minister Tipu Munshi on Monday Told The Daily Star that the government has decided to import one lakh tonnes of onions as soon as possible to rein in skyrocketing prices in the local markets. Import of the widely consumed vegetable has already begun and it will continue until the next harvesting season, mainly to ensure affordable prices for consumers, he said.
TCB TRUCKS
The Trading Corporation of Bangladesh has started selling onions, lentil, sugar and soybean oil from 275 trucks at reasonable prices, which will continue until October 1.
Forty of the trucks are in Dhaka, 10 in Chattogram, seven in Rangpur, five each in Mymensingh, Rajshahi, Khulna, Barishal, Sylhet, Bogura and Cumilla, three each in Jhenidah and Madaripur and two each in the other districts.
A kilogramme of onion at Tk 30, sugar at Tk 50, lentil at Tk 50 and a litre of soybean oil at Tk 80 are being sold from the trucks.
However, that has not had an impact in the onion market due to panic buying, reports our correspondents in Dhaka, Chattogram, Rajshahi, Dinajpur, Khulna, Benapole, and Thakurgaon.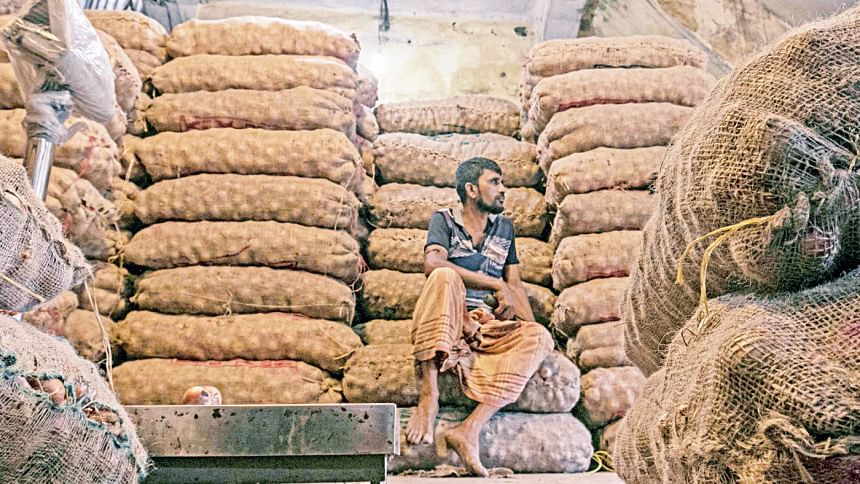 IN DHAKA
"I brought two sacks of onions to my shop yesterday [Monday] morning, but just after evening a good number of customers came to the shop and purchased all of my onions within half an hour, a stock that normally takes several days to run out," a retailer in Dhaka said.
During a visit to three kitchen markets in Dhupkhola, Sutrapur, Laxmibazar and one wholesale market in Shyampur, it was found that onion prices had shot up by Tk 20 to Tk 30 compared to the previous day. Many shopkeepers in different areas were charging Tk 100.
In Shyampur wholesale market, local onions were selling at Tk 65 to Tk 70 while imported ones were going for Tk 50 to Tk 60. The prices were up by Tk 20 to Tk 25 from just the previous day.
"We have nothing to do, the price has gone up as India stopped exporting onions. The price will drop again when India resumes export," said Monowar Hossain, a trader of Shyampur wholesale market.
IN CHATTOGRAM
Most wholesalers in Chattogram are not selling onions even though the prices have doubled in a day. They have stopped selling in hopes of further price hikes.
Wholesale traders said the price of onions has increased from Tk 35-40 to Tk 70-80 in a day at Khatunganj wholesale market due to the Indian export suspension.
Omar Farook, an importer and proprietor of ST Traders, told The Daily Star that in order to overcome this crisis, many traders have opened LCs [letters of credit] for onion imports from China and Egypt in the last few days.
According to the National Board of Revenue, on Sunday a total of 1,705 tonnes of onion entered Bangladesh through four land ports from India.
On the Indian side of Benapole border, at least 150 trucks were waiting to send their goods since Monday. As soon as traders came to know of India's decision, they increased the price to Tk 100 from Tk 60.
Hearing of the price hike, the UNO of Sharsha upazila conducted drives in some wholesale shops and fined Tk 5,000 to Tk 15,000 yesterday morning.
In Rajshahi city markets, the wholesale onion price rose to Tk 80 per kg yesterday. The price was Tk 62 two days ago.
Indian onion prices also rose to Tk 80 per kg from Tk 35.