NARAIL: For the love of the captain
People volunteer to work for Mashrafe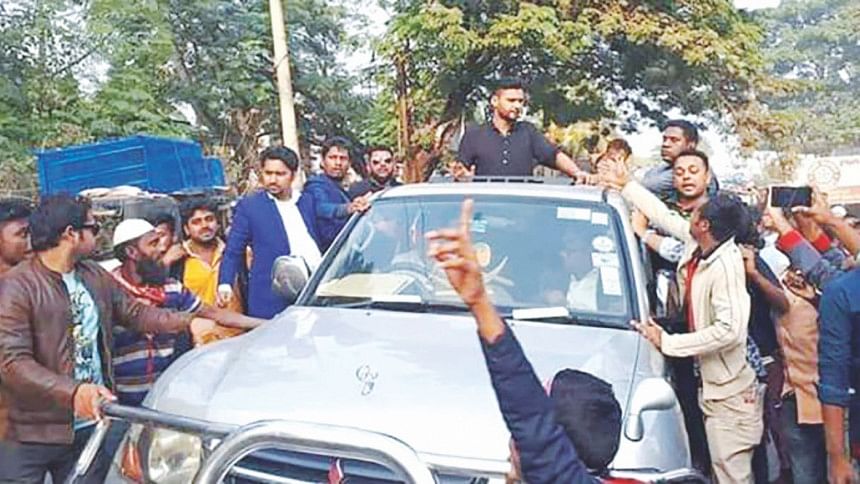 People from different districts are turning up in Narail to campaign for Bangladesh ODI captain Mashrafe Bin Mortaza.
They are hanging posters, distributing leaflets and asking people to vote for Mashrafe, Awami League candidate in Narail-2, said Golam Mortaza Swapan, father of the pacer lovingly called "Narail Express".
Many of them are doing these with their own money, he said.
"A group of 11 came from Pirojpur today with posters and leaflets and sought vote for my son," Swapan told The Daily Star over phone on Friday. "Many youths are staying in hotels,"  he  said.
He mentioned a young boy who came all the way from Bogura and was staying at a hotel in the district. The boy happily took the trouble only to see Mashrafe win.
 Not only the leaders and activists of the ruling AL, commoners were also holding rallies for his son, he added.
 Narail-2 has 317,763 constituents -- 157,084 males and 160,679 females.
During a visit to a number of key areas in Narail Sadar, these correspondents found that electioneering for Mashrafe was going on in full swing. Unlike campaigns in other constituencies, it was being conducted by people of all ages and political affiliations and they were campaigning spending their own money.
"Everyone, especially the youths, are raising funds to run the election camps and Mashrafe's campaign," said Azizur Rahman, who owns a pharmacy at Chachra-Gabtola Bazar in Narail sadar.
Awami League ward-3 President Mintu Biswas said, "I don't know about other areas but in my area, even leaders and activists of Jamaat-BNP are up for Mashrafe."
On December 19, the correspondents visited Mashrafe's campaign office at Chachra-Gabtola Bazar in the afternoon and talked to a number of people there.
Among them, Sher Ali Biswas said, "A few of us are bearing the expenditure. We will not take any money from Mashrafe even if he offers. People of this area love him a lot."
Mulia Union Parishad Chairman Rabindranath Adhikary made a similar statement when asked about the expenditure.
Narail Municipality Mayor Jahangir Biswas said, "I have been bearing all the expenditure for Mashrafe's campaign in the municipality."
Yesterday afternoon, Mashrafe reached Narail and started campaigning himself.
Mashrafe's main rival is AZM Fariduzzaman Farhad, who is contesting with "sheaf of paddy", the BNP's electoral symbol. Fariduzzaman is the chairman of National People's Party, a component of the Jatiya Oikyafront, led by the BNP and several other parties.
Awami League President Sheikh Hasina ran from Narail-2 in the 2001 national polls and won.