Mother's Day: Teach your sons to respect women
Mothers say changes must start at home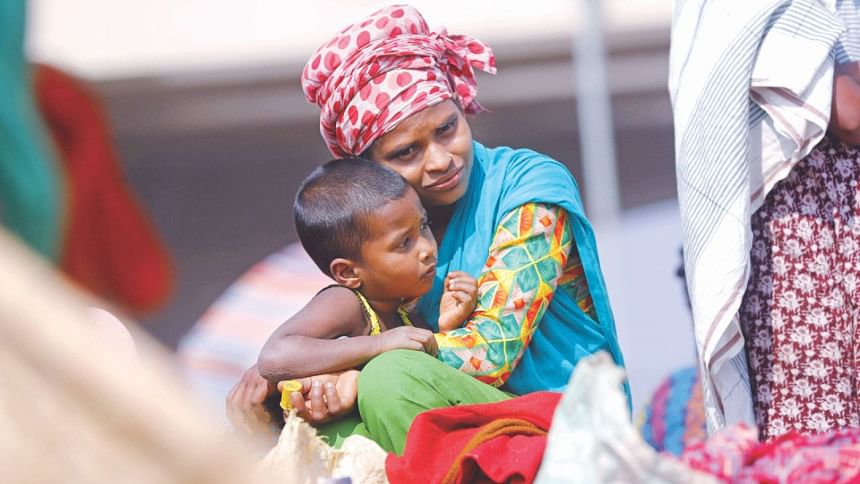 Born to the same family, a girl and a boy are raised differently; one is taught to be timid and be concerned about own safety and the other is lauded for exercising power and demonstrating strength.
Such treatment of children based on sex over centuries has marked their boundaries. It has trained women to be submissive and men to control women. And this is probably at the core of why we see abuse and violence against women -- be it at home or outside or at work.
This notion is shared by about a dozen mothers who had overcome all challenges to become successful professionals and be role models to their sons and daughters. The Daily Star reached out to them ahead of Mother's Day today.
They said teaching sons to share their familial and social space equally with girls was the first step for removing the double standards that have been instilled in generations.
Shamima Akhter, director of public affairs at Bangladesh chapter of an international beverage company, said in a society that always favours men, her eight-year-old daughter is expected to face greater risks and challenges than her 12-year-old son.
"She [her daughter] should know how to fight back. But it is more important to tell my son what challenges I have been subjected to and his sister will face" so that he learns to respect women, acknowledge their contribution to family and society, Shamima said.  
Her son is about to step into adolescence and Shamima thinks this is the time she should talk to him about the changes he and his female classmates will experience, physically and emotionally.
Girls around this age are often made fun of and bullied because of their physical changes, Shamima said, adding, "My son should be aware that his mother has gone through these stages and his sister will too. The physical changes are completely natural … There is nothing that girls should be ashamed of.
"Such conversation is very important." 
At the insistence of Shamima, her children attended boxing classes together. "It is to teach my son that 'you don't know what power someone can possess' within his or her physique and 'don't think you have more power as a boy' while to teach the daughter 'you are not weak'."
Sharmin Islam, a gender specialist and a mother of two, always discourages gender stereotyping at home.
"My daughter is just in her teen years, and my son is five. As children, both of them are equally vulnerable," she said, adding that as their mother she is responsible for talking to them about consent. She said she would need to have that conversation with them in future.
"Ultimately, the most important lesson for my son and daughter alike, is that they cannot discriminate. Every human being deserves equal respect, regardless of their gender, sex, or sexuality."
Sharmin has seen how gender roles have changed over the last few decades.
"When we were children, it was uncommon for women to work outside. Many thought it was the norm for women to do household work, while men made zero contribution to that end."
According to Bangladesh Bureau of Statistics, female labour force participation is 36 percent, up from 23 percent in 1990. 
With working mothers struggling to find a balance between work and family, it has become imperative that men share household activities.
Worsening the situation is an increasing number of incidents of workplace violence.
This is because men, who grew up in an environment that favours them, fail to understand what constitutes violence and abuse, said Shamima, who has worked in sexual harassment policy making and anti-sexual harassment committees in her company.
The High Court issued a set of guidelines in 2009, saying all educational institutions and workplaces across the country must form a five-member committee led by a woman for the prevention of sexual harassment.
Citing her experience in dealing with complaints, Shamima said many educated men in such committees were not gender sensitive enough. "They don't understand why some comments or statements might have psychological impact … This has to do with the familial upbringing they have had."
While talking to The Daily Star, Shahida, an RMG worker, who always fears for her teenage daughter's safety, said, "Men should be educated properly."
Times are changing and women's roles in society are not limited to that of a mother. They are now professionals, activists, change-makers.
As Sharmin aptly puts it, "People tend to think boys take after their fathers. But today, mothers are just as much of a role model."
Today's boys will be tomorrow's men, and their stance against gender violence can truly turn the tides, and create a truly equal world.