Magical way to get rich
The rise of five yaba lords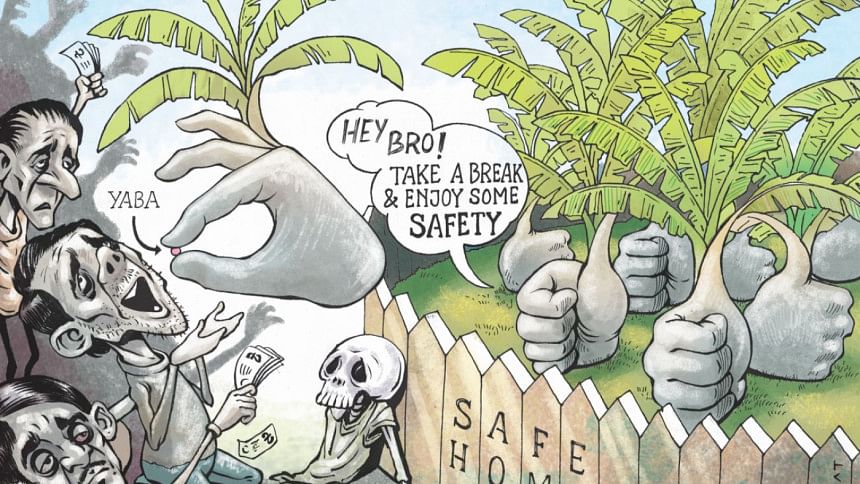 Take a trip down the Cox's Bazar-Teknaf highway, and you cannot miss the eye-catching duplex building by the main road near Leda station.
It belongs to Nurul Huda, 36, a member of Hnila union council in Teknaf. But that is not the only shoe he wears. 
He is also a listed drug dealer wanted in 10 cases. Luckily though, Huda is now safe in a government "safe home" like at least 62 more suspected "yaba kingpins" who surrendered to police last week.
More such surrender of listed drug dealers is expected in the coming weeks.
Huda's younger brother Nurul Kabir, also wanted in a number of cases, is also in the "safe home" inside the Cox's Bazar Police Lines compound, police sources said.
Only 10 years ago, Huda used to drive rented cars. His five brothers used to earn their living by fishing or working as day labourer in local salt fields. 
But thanks to the powerful magic of yaba, the crazy pink pill, the family now owns a dozen "luxury" buildings and acre after acre of land, police and locals said.
Visiting the area and talking to locals yesterday, The Daily Star managed to get a glimpse of the early life of four other listed yaba traders, and how they benefitted from their link with Awami League lawmaker Abdur Rahman Bodi.  
They are Bodi's brother Faisal Rahman, stepbrother Abdul Amin and nephew Shahedur Rahman Nipu and Teknaf municipal mayor Nurul Bashar Nawshad. All of them are now in the "safe home". 
According to multiple intelligence reports, Bodi is the top patron of the yaba trade in Bangladesh. But Bodi denies that he is the yaba godfather and claims a vested quarter had his name listed, by his own party government, to malign him.
CHANGED LIVES
Nurul Huda's life started changing in 2008, when his elder brother Noor Mohammad entered the yaba trade, locals and police said. 
Noor brought three of his other brothers -- Samsul Huda, Nurul Afsar, and Nurul Kabir -- into the business. Soon, wealth began to accumulate.
Within a few years, Noor built himself three "luxury" building in Damdamia, Nayntonghpara and Gudarbil in Teknaf. No one lives in those buildings anymore since Noor was killed in a so-called gunfight with law enforcers in 2014.
Their another brother, Samsul Huda, was killed by unidentified assailants near the Rohingya camp in Leda five months ago, while Nurul Afsar is serving a five-year jail term in a drug case.
Soon after the war on drug began in May last year, Nurul Huda and his younger brother Nurul Kabir went into hiding. They recently came out of their hideout on information about the surrender programme.
The Daily Star could not find any of their family members for comment.
The rise of Nurul Bashar Nawshad, ward-8 councillor in Teknaf, is no less magical.  
Once a tea stall vendor living in a hut, he now owns a duplex at Kulanpara in Teknaf.
It has everything to do with his marriage with the niece of top yaba trader Hazi Saiful Karim, locals said.
Soon after the marriage, Nawshad involved himself in the business, the beginning of a new life, said police and locals.
In the last municipality election in 2015, he beat his own uncle, Mohammad Amin Bulu, allegedly by "buying votes with the money he made from yaba business".
After the victory, he married a girl form Myanmar, which is reportedly a key manufacturer and supplier of yaba.
Nawshad's younger brother Mizan is also in the business, police sources said.
But their father, Md Younus claimed his sons were innocent and that some influential people had Nawshad's name listed.
"Still, I sent him to the safe home to keep him alive," he said, referring to the deaths in so-called gunfights with police and Rab.
At least 285 "drug dealers" have been killed in such "gunfights" since May last year.
Nipu, 31, Bodi's nephew, used to live in Chittagong in the past. But when Bodi got AL nomination in 2008, he came to Cox's Bazar to work for his election campaign, locals said.
Nipu's father Abdur Rahman retired as a police inspector.
Using Bodi's influence after the election, he started a clearing and forwarding business and got involved in yaba trade, police and locals said.
One of the top listed yaba dealers in the country, he now owns a "luxury" building in Saperang union in Teknaf.
Nipu, who was never arrested, reportedly went to Malaysia after the anti-drug drive began. He returned home about two weeks ago and surrendered to police, according to police sources.
Nipu's cousin Akter Kamal, also a listed drug dealer, was killed in a "gunfight" with police in October last year. His another cousin Shahid Kamal, himself a listed dealer, is now in the "safe home" with him.
Bodi's stepbrother Abdul Amin used to live in Dhaka until Bodi was elected in 2008. Sometime in 2009, he returned to Cox's Bazar and took control of C&F business at Teknaf port. He was also in charge of the supply chain of the contraband drug in different areas of the country, sources said.
Locals said although Amin had several cars, he used to travel in CNG-run autorickshaws. He had at least a dozen autorickshaws, which he used mainly to transport yaba.
Bodi's brother Faisal Rahman had equal number of autorickshaws that he used for the same purpose, added the sources.
Faisal's mother is a Rohingya. He got involved in yaba business using the link of his stepbrother, according to locals.
Asked about the involvement of his family members in drug business, Bodi said he requested all drug traders, including his family members, to surrender to end yaba business.