'Lockdown' goes lightly on first day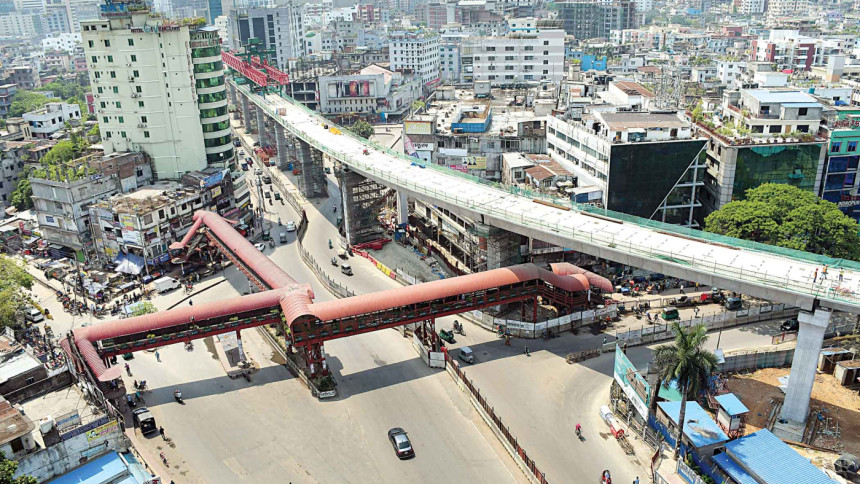 The government restrictions, imposed to rein in the rising number of Covid-19 cases and deaths, were not enforced strictly on the first day yesterday.
Many city dwellers continued to disregard health safety rules even in this grave situation. They did not wear masks, let alone follow social distancing.
Streets in the capital were less crowded, large malls remained closed, but shops in alleys were open. People thronged those shops.
Intercity and long-haul buses did not operate but cars, auto-rickshaws and rickshaws ruled the thoroughfares.
Commuters suffered during the morning rush as government offices and private firms were open on a limited scale.
Many rode rickshaws while many others took auto-rickshaws to get to work, spending extra. Some had to change vehicles multiple times and even walk to work.
Most shops on main roads could not avert the law enforcers and had to remain closed. Shops and convenient stores in neighbourhoods were open for business as usual.
In some places, law enforces were seen asking people to follow health guidelines. A Rab mobile court fined some for violating the rules.
Meanwhile, shop owners and employees in New Market and nearby areas demonstrated for the second straight day yesterday, protesting the government decision to put restrictions "on their businesses".
The situations outside Dhaka were almost similar, reported our correspondents.
Traders and businessmen in Rajshahi, Chattogram, Kushtia, Jhenaidah and Panchagarh staged demonstrations, demanding shops be allowed to remain open.
On Sunday, the Cabinet Division issued an 11-point directive to be followed from 6:00am yesterday to 12:00am on April 11 to contain the spread of the virus in the country. Punitive actions were supposed to be taken against violators of the directives.
The government's restrictions come at a time when the country reported 7,075 new infections yesterday with a positivity rate of 13.39 percent. Another 52 people died from the virus in 24 hours ending 8:00am yesterday, taking the death toll to 9,318.
Two correspondents of this newspaper visited the capital's Mirpur, Ibrahimpur, Bhashantek, Shyamoli, Tejgaon, Farmgate, Karwan Bazar, New Market areas and found most of the shops in the alleys open.
The circular said while shops and malls would stay closed, they would be allowed to sell products online.Besides, sellers would have to follow the health safety guidelines and no buyers would be allowed in person, the circular read.
In the morning, many had to come out of home as the restrictions were not applicable to office-goers and transports involved in maintaining law and order, emergency services, relief distribution, health services, and electricity, water and gas supply, fire, telephone and internet services.
Besides, banks remained open from 10:00am to 12:30pm. Industrial units and factories were allowed to stay open. Amar Ekushey Boi Mela remained open from noon to 5:00pm.
Despite being a mode of public transport, auto-rickshaws operated and carried passengers, often more than their capacity. Many passengers were seen sharing rides.
Many people took bike rides, even though it was prohibited as per the restrictions.
Many passengers in Rayerbagh area of the city's Jatrabari staged demonstrations on the Dhaka-Chattogram highway, demanding transport so that they could go to work.
A good number of garment factories are situated in the city's Mirpur area. As these factories were out of the purview of the restriction, many workers were seen walking in groups to their factories.
SHOP OWNERS STAGE DEMO
Shop owners and employees of different markets in New Market and nearby areas in Dhaka demonstrated for the second consecutive day yesterday.
They demanded that the government allow them to keep their shops open ahead of Pahela Baishakh and Eid by maintaining health safety rules
Witnesses said several hundred shop owners arrived in the market area around 10:00am and started demonstration.
Additional police members were deployed to keep the situation under control, said SM Kaiyum, officer-in-charge of New Market Police Station.
"We managed to convince them to leave the spot," he said.
Traders and shop employees in the city's Islampur area also demonstrated over the same demand.
In Rajshahi, traders demanded exclusion of small businesses from the "lockdown", reports our staff correspondent.
They blocked the Shaheb Bazar Road, right in the middle of the city, in the morning and staged demonstrations. Several shops in RDA Market near Zero Point area were kept open.
Our correspondents from Chattogram, Kushtia, Jhenaidah and Panchagarh also reported similar protests by shop owners.
SOME STEPS TAKEN
Rab yesterday conducted a drive in the capital to ensure that people wear masks.
The drive, led by Rab's Executive Magistrate Palash Kumar Basu, was conducted at the capital's Shahbagh intersection for two hours from noon.
At the spot, the mobile court fined 25 people a total of Tk 10,000 for not wearing masks and carrying passengers on motorcycles.
"Some people have been fined Tk 200 to Tk 500 each for not wearing masks in public. We are also trying to stop the unnecessary movement of people," the executive magistrate said.
He also said free masks have been distributed to about 2,500 people in those two hours.
The mobile court also fined a man as his 13-year-old son was driving their car. Asked, the father, who was sitting next to the boy, could not answer why it was necessary for them to come out of home.
Later, the members of the Rab team gave them a ride home in Paribagh.
The executive magistrate said the purpose of Rab's drive was to raise more awareness about the spread of the coronavirus.
Around 4:00pm, police in Bhashantek and Mirpur-10 areas were seen asking shoppers to close their shops immediately.
In Savar, a mobile court fined owners of a shopping complex, long-distance buses and four pedestrians for disobeying the instructions.
Drives were carried out in various markets, restaurants and transport services' offices in Savar and Hemayetpur areas as many shops remained open in those areas violating rules.