Join forces to stop violence against women
PM urges, asks media to publish photos of rapists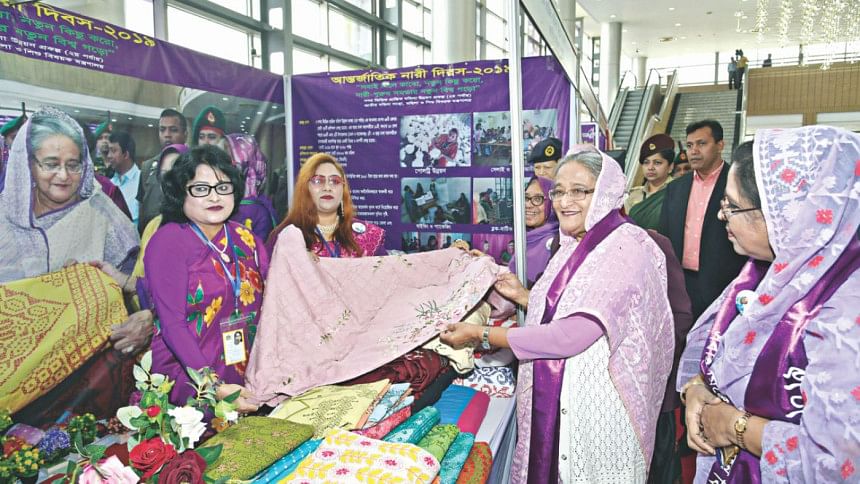 Prime Minister Sheikh Hasina yesterday put emphasis on creating awareness in the society to eliminate discriminations and violence against women.
"All have to remember one thing that enacting laws only won't help stop violence and disparities against women.... We have to create awareness in the society. To make it happen, women and men have to  work together," she said.
Hasina was addressing a programme marking the International Women's Day at the city's Bangabandhu International Conference Centre.
The PM, in charge of the women and children affairs ministry, said all have to remember that no society can be built leaving behind half of its population, who are women.
Expressing deep resentment over child and woman rape incidents, the PM said those who commit such a heinous crime are enemies of the society.
She urged all to publicise the names, addresses and pictures of rapists properly so that people hate them.
"This problem not only exists in Bangladesh, but also in developed and civilised countries."
The PM urged all to remain alert to discrimination against girl children as well.
Unlike in many developed and civilised countries around the world, Bangladeshi women already proved themselves, she said, adding that they showed that they can.
Recalling the role of the Father of the Nation in upholding the dignity of women, Hasina said Bangabandhu had ensured their equal rights in all spheres of life.
About various steps taken by Bangabandhu for the rehabilitation of those mothers and sisters who were tortured by the Pakistani occupation forces and their local collaborators in 1971, the PM said many parents did not accept their daughters violated during the Liberation War.
She said the successes of women was everywhere in Bangladesh and they along with their male counterparts were now moving ahead at the same pace in education, sports and creative works.
She mentioned that women were now holding very high positions in the civil administration, the judiciary, education, armed forces and law enforcement agencies.
The PM also elaborated various steps taken by her government for the development and welfare of women.
About the Lifetime Contribution for Women Empowerment Award, given to her by the Institute of South Asian Women, Hasina said she dedicated the award to the womenfolk of the world, including those in Bangladesh.
A documentary on women empowerment and achievements in Bangladesh was screened at the function.
Hasina also distributed "Joyeeta" awards among the winners for their achievements in life.
Later, she witnessed a cultural function and visited stalls of women entrepreneurs.
The women and children affairs ministry oraganised the programme, with Meher Afroz Chumki, chairman of the Parliamentary Standing Committee on the Women and Children Affairs Ministry, in the chair.
Mia Seppo, UN resident coordinator and UNDP resident representative in Bangladesh, was present as a special guest.