Fallout From Covid-19: Loan sharks feast on slum dwellers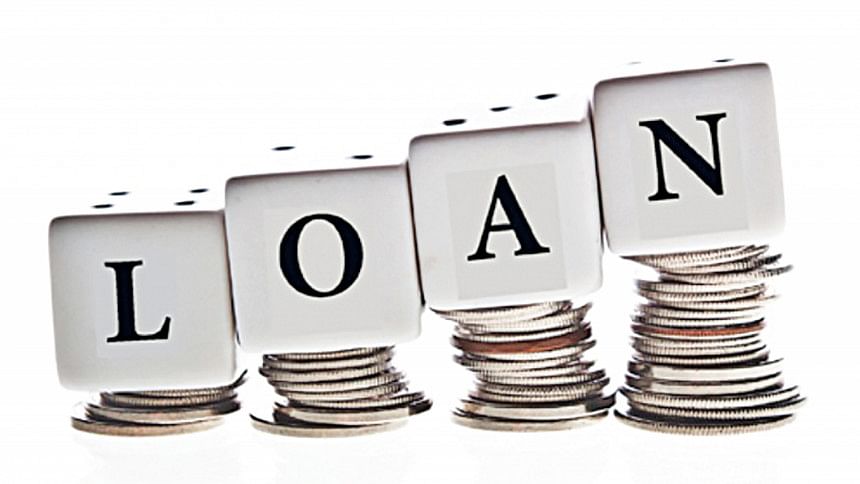 Three and a half years ago, life suddenly took a turn for Babu Hossain when a fire gutted his mobile phone repair shop at Bou Bazar in the capital's Karail slum.
Having lost everything he had in his shop, Babu took out a Tk 60,000 loan from a bank and another Tk 60,000 from an NGO.
The now 33-year-old turned his life around.
From the brink of losing his income source, he started earning Tk 800 to 1,000 a day. He had 10 years of experience in mobile repairs. Babu had also repaid most of the bank loan and half of the one taken from the NGO.
When he thought he had almost all things sorted, the pandemic ruined broke out in the country.
"The shutdown in our area was enforced so strictly that I couldn't open my shop, which is attached to my house," Babu said.
Making matters worse, two of his sons got sick and the treatment cost was around Tk 20,000. Meanwhile, his wife gave birth to their fourth child.
Babu had no option but to borrow money at high interest rates from two loan sharks in the slum to pay the medical bills.
"They are very strict about repaying the loan. So, I had no option but borrow more money. I took Tk 60,000 from six people," he said.
The easing of the shutdown should have helped him get out of the jam but it was not to be.
He became sick and his landlord started pressuring him to pay up the pending rent for four months, while the bank and the NGO also started asking for the loan repayments.
The walls started closing in on him.
"With poor health, I still go to the shop daily but the number of customers is very low and I can earn only Tk 300 to 400 a day," said Babu, who has no property in his village home in Kishoreganj's Pakundia upazila.
"I will go mad. I can't go back to my home either as I don't have anything there. [I] Don't know what to do now," he said.
Like Babu, many slum dwellers in the city are going through a miserable phase with no work and the burden of loans mounting.
The Daily Star spoke to over a dozen of them at various slums, including Karail and Bhashantek. Five shared their bitter experiences.
The shutdown left most slum dwellers without work or jobs to support their families, they told The Daily Star.
Many had to borrow money from loan sharks.
A group of people, backed up by local goons, have been lending money this way for years. But the number of loan seekers has increased sharply after the government declared a shutdown to slow the spread of the virus.
There were around 6.46 lakh people in around 3,394 slums in Dhaka. At least 1,639 of the slums, with 4,99,011 people, were under Dhaka North City Corporation (DNCC), and 1,755 slums, with 1,47,056 people, in Dhaka South City Corporation (DSCC), said Local Government Division Minister Tazul Islam in parliament in June last year.
According to the slum dwellers, many of them did not get adequate relief materials and were forced to take loans.
Cashing in on the situation, the lenders increased their interest rates, which is now between Tk 100 to 200 per month for every Tk 1,000.
They said one has to have their own house, rickshaw or auto rickshaw, a shop or at least belongings in a house worth something to qualify for loans from the sharks.
A local wishing anonymity said, "It is difficult to get loans if someone has none of these." 
Abdus Sobhan, president of Bou Bazar unit of Karail Slum Development Committee, said although the government and some NGOs distributed relief material among the slum dwellers, it was not adequate for the large number of people who live there.
Around 1.5 lakh people live in the around 30,000 houses in the slum, locals said.
Sobhan said many slum dwellers went to their village homes as there was no work in Dhaka. But those who do not have anything in the village still live here in difficult conditions.
Sheikh Sadi, a 25-year-old labourer of Karail slum, has been without work for the last three months.
He took out a Tk 25,000 loan to run his two-member family.
"Even after the withdrawal of shutdown, I am facing problems getting work. I owe two months' rent and monthly interest of Tk 2,500. Where will I get the money?"
Sadi came to Dhaka with his parents more than one decade ago after river erosion took their home in Patuakhali.
Md Shukkur, 29, a carpenter of Abuler slum in the capital's Bhashantek area, said he used to earn Tk 600 a day but he had almost no work after the shutdown was enforced.
"During the shutdown, I worked irregularly for a few days," he said.
His younger brother worked in a small garment factory which was closed after Eid.
"Now both of us are unemployed. We need around Tk 12,000 to 15,000 a month to run our five-member family," he said.
Finding no alternative, he borrowed Tk 10,000 from a loan shark at a monthly interest of Tk 2,000.
Although the shutdown was withdrawn, he still has no work.
"But the lender regularly demands her interest. We get into fights almost every day," he said.
Nagor Chairman is the major loan shark there and his business is worth over Tk 1 crore, locals claimed. 
"We see people gathered at his house regularly, taking part in arbitration over loan," a local said.
Nagor Chairman declined to talk to this paper.
Md Raju, 30, a labourer in a Bihari colony in Mirpur-11, is in dire need of money as his wife is likely to deliver a baby next month.
With no work, he could not manage the money that will be required at the hospital.
"So, I have talked to several lenders for Tk 2,000 so that I can take my wife to hospital. But nobody has agreed to give the money as I have no belongings worth something in my house," he said.
"However, some of them assured me that they would give me the money if I have to take my wife to the hospital," he added.