Dipu Moni slams Buet alumni, teachers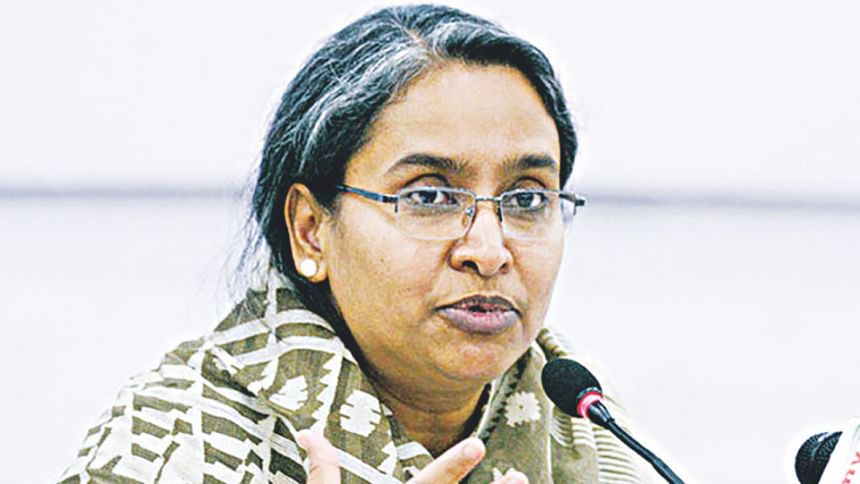 Education Minister Dipu Moni yesterday lambasted the Buet teachers' and alumni associations, who have been demanding the removal of Vice-Chancellor Prof Saiful Islam following the brutal murder of Abrar Fahad, for not raising their voice earlier.
Claiming that ragging is nothing new on the Buet campus, the minister said, "We could have resisted such inhuman incidents if they had raised their voice earlier." 
She came up with the remarks while speaking at the launching ceremony of Global Education Monitoring Report 2019 at International Mother Language Institute in the capital's Segunbagicha.
"Whether a VC would be in the chair or not is another matter altogether. But how did they [Buet teachers] allow to continue such illegal activities on the campus?" the minister said.
Asked about the general students' allegation that teachers cannot take action as the "torture cells" are run by Chhatra League men, Dipu Moni said it was not possible.
"As far as I know, such activities [ragging and torture cell] have been going on there even before the existence of Chhatra League," the minister said.
Asked about another demand of banning student politics in Buet, she said the prime minister had already made it clear on Wednesday.
"Ragging and bullying are common all over the world, but these do not go with the social values and education system of Bangladesh," the minister also said.
"We all will have to launch a social movement against it," she added.
Abrar, a second-year student of electrical and electronic engineering at Buet, was beaten to death by some Chhatra League men in the university's Sher-e-Bangla hall on Monday, sparking countrywide outrage.