Aspiring Migrant Workers: Dreams dashed as flights suspended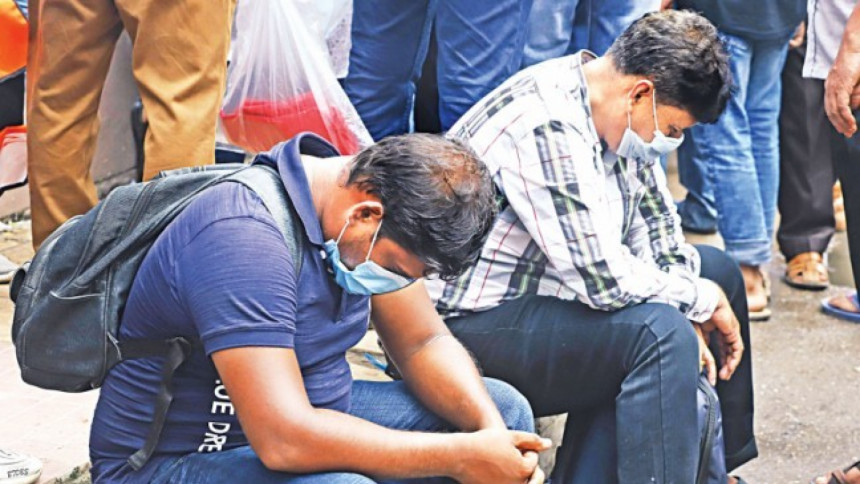 The government's decision to suspend all international flights for a week from Wednesday onwards to contain the spread of Covid-19 has put aspiring migrant workers in a perplexing situation.
Tarikul Islam, 38, was all set to board a Saudi Arabia-bound flight on April 17 after he readied all his necessary documents, including two years' work permit, visa, and air ticket.
He had been dreaming of a new life with the 1,300-Riyal-a-month job as a construction worker in the Middle East country, as it would help change the fortune of his four-member family in Mymensingh's Phulpur.
"We are already struggling due to the pandemic," he said, adding the flight suspension will ultimately delay his income opportunity, which is a dire necessity now.
He added that after learning about the flight suspension decision, he communicated with the recruiting agency that arranged his job in but officials there could not confirm a new flight date immediately.
Like him, thousands of aspiring migrant workers have been waiting to board their flights for overseas jobs. However, the fresh government decision is likely to delay them from reaching their goals.
According to an estimate of Recruiting Agency Oikya Parishad, a platform of agents, about 20,000 to 25,000 aspiring migrant workers were supposed to catch their due flights in a week starting from Wednesday.
President of the Parishad Tipu Sultan said recruiting agents had already "booked and confirmed" the tickets for the workers.
The suspension will now hinder the procedure, he said, adding, it happened in the past that many workers' visas got expired due to delay while undergoing different processes.
Besides, there are issues related to ticket shortage, he told this newspaper.
"Sometimes, you need to purchase a ticket at Tk 80,000 to Tk 1,00,000 whereas the original price of the ticket is Tk 20,000," he added.
Last year, due to extended suspension of international flights to contain Covid-19 many aspiring migrant workers saw their visas get expired.
Amid the pandemic, top labour receiving country Saudi Arabia alone asked for about 25,000 aspirants to resubmit their documents for reissuance of their visas, which had expired amid the pandemic.
On Sunday, Civil Aviation Authority of Bangladesh (CAAB) in a circular said the latest suspension will come to effect from 12:01am (Bangladesh standard time) on April 14 and will continue until 11:59pm on April 20.
However, medevac, humanitarian, relief, cargo, technical landing for refuelling only and the flights cleared under special consideration will remain out of the purview of this suspension, read the circular.
Authorities will be able to carry maximum of 260 passengers in a wide body aircraft and maximum of 140 passengers in a narrow body aircraft in the aforementioned flights, it said.
Such a government decision surprised sector-insiders and migrant rights activists.
Stressing on maintaining health safety guidelines rigorously to contain the spread of Covid-19, they said the suspension will make the country's overseas labour market take a step backward as after facing a crunch last year amid the pandemic, the sector was still trying to get back on its feet.
Last year, the number of overseas-employment dropped significantly to a little over 2.17 lakh from the previous year's over 7 lakh employment, says data from the Bureau of Manpower, Employment and Training (BMET).
On the other hand, about 1.44 lakh migrant workers found employment in the first three months this year, Expatriates' Welfare Minister Imran Ahmad told a discussion on April 5.
Remittance sent by migrant workers is considered one of the main pillars of the country's economy.
In 2019-2020 fiscal, migrant workers sent home about US$18.2 billion (about Tk 1,54,352 crore) in remittance whereas it stood at about US$ 18.6 billion (Tk 1,57,774 crore) as of March in the ongoing fiscal, showed Bangladesh Bank data.
At present, over one crore Bangladeshi migrant workers live in more than 160 countries.