Aedes Breeding: Terminals still a hotspot
Eid holidaymakers returning to city amid concern as dengue patients near 50,000 mark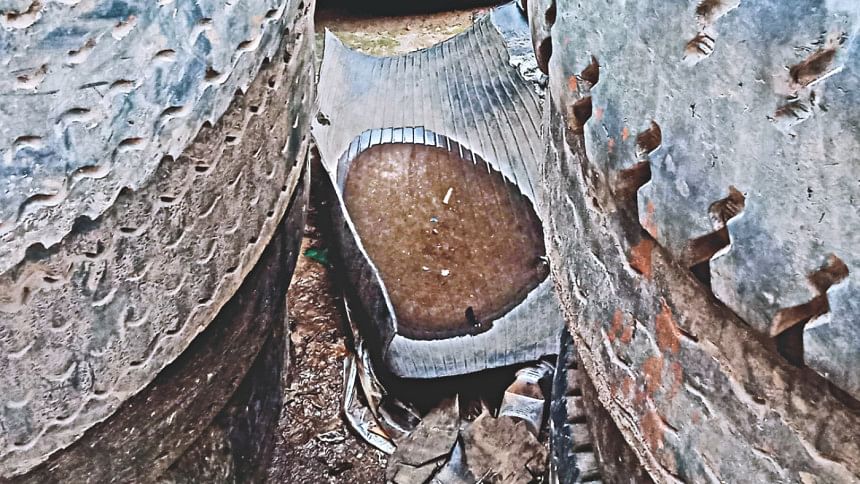 Major terminals in the capital remain ripe for Aedes mosquito breeding as hundreds of thousands of people are arriving in the city after Eid holidays.
Discarded tyres and plastic containers still litter the bus terminals in Mohakhali and Gabtoli, Tejgaon truck terminal and Kamalapur Railway Station, highlighting the risk, these correspondents found yesterday.
The terminal in Mohakhali is particularly risky with piles of old tyres containing puddles of rainwater ideal for the mosquito to breed.
"We started getting rid of the tyres after the Dhaka North City Corporation instructed us, but could not complete the task as owners of some tyres have not returned from vacation yet," said Saddam Hossain of a tyre shop at the terminal.
At the Gabtoli terminal, many abandoned tyres and fuel containers with clear water were found yesterday.
"We had no idea that Aedes could breed in this water," said Mohammad Shakil, owner of a small fuel shop at the terminal.
Piles of abandoned plastic bottles and plastic containers were found near platform-1 in Kamalapur Railway Station during the visit around noon.
These findings are consistent with the conclusion of a study by the Directorate General of Health Services.
From July 31 to August 4, officials of the Directorate General of Health Services visited 14 places in the capital, including the major terminals and two hospitals.
At the terminals, they found Aedes larvae in five of 112 wet plastic containers in Gabtoli; 92 of 292 in Mohakhali; five of 28 in Sayedabad; five of 58 at BRTC Bus Depot in Kamalapur; one of nine at Kamalapur Railway Police Outpost; and three of 55 at Mirpur-12 BRTC Bus Depot.
The researchers also visited Dhaka Medical College Hospital, Mughda Medical College Hospital, Rajarbagh Police Lines, Shajahanpur slum, Kalshi, ECB Chattar, Mirpur-12 Metro Rail project and Korail slum in Gulshan.
The two hospitals were found to be ideal breeding grounds for Aedes.
Of the larvae containing places, 78.17 percent were discarded tyres, 4.93 percent plastic containers, 4.23 percent plastic buckets, 2.11 percent discarded or broken commodes, 0.70 percent plastic mugs and 2.82 percent other objects.
Dhaka South City Corporation Mayor Sayeed Khokon said he had asked Khondaker Enayet Ullah, secretary general of Bangladesh Road Transport Owners' Association, to destroy all Aedes mosquito breeding hotspots at the terminals.
After the DGHS survey, the city corporation officials informed the health minister about the risk of Aedes breeding at some hospitals.
Khondaker Enayet said they took different initiatives before Eid.
"We will take strict measures again to destroy the sources of Aedes at bus terminals," he said.
He added that his organisation had purchased four fogging machines for the terminals and collected adulticide from the Gazipur City Corporation.
All the bus owners have been asked to use mosquito repellents inside their buses, he said.
But mosquito repellents are not being used inside many long-haul buses, putting passengers in risk of dengue.
Nazmul Hossain, driver of Dhaka-Gopalganj SAAD Super Deluxe, told The Daily Star in Gabtali that he was not aware of the risk of being bitten by Aedes inside buses.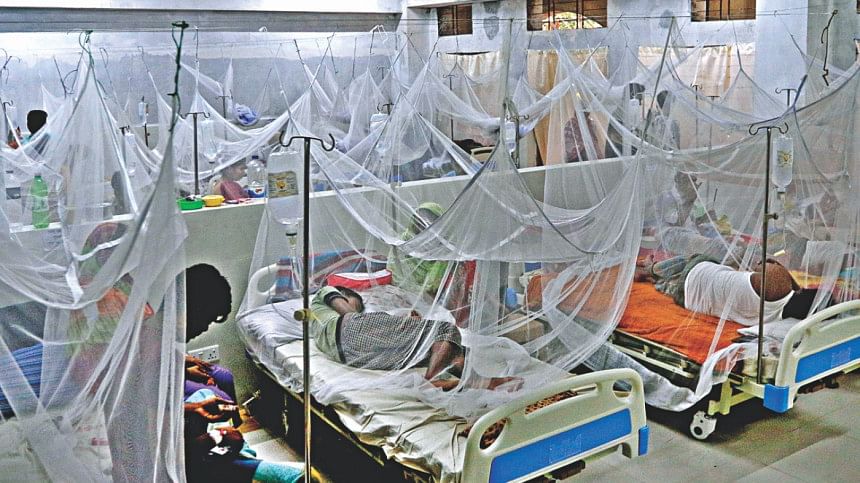 Nahid Hasan, 7, a street child who lives at the terminal, said he was diagnosed with dengue on July 29 and was hospitalised.
"Since I did not go anywhere from the terminal, I am sure I was bitten here," he said. 
NEARLY 50,000 INFECTED
A record 49,999 people got infected with the mosquito-borne disease so far this year, according to the DGHS.
Of them 7,716 are currently admitted in hospitals across the country.
The official number of deaths is 40 and the unofficial one is 93. At least 10,148 people got infected last year.
A total of 1,719 new patients -- 759 in Dhaka and the rest outside -- were admitted to different hospitals in 24 hours until 8:00am yesterday, according to the DGHS.