10 killed as train hits microbus
Bride, groom among dead in Sirajganj; level crossing was unmanned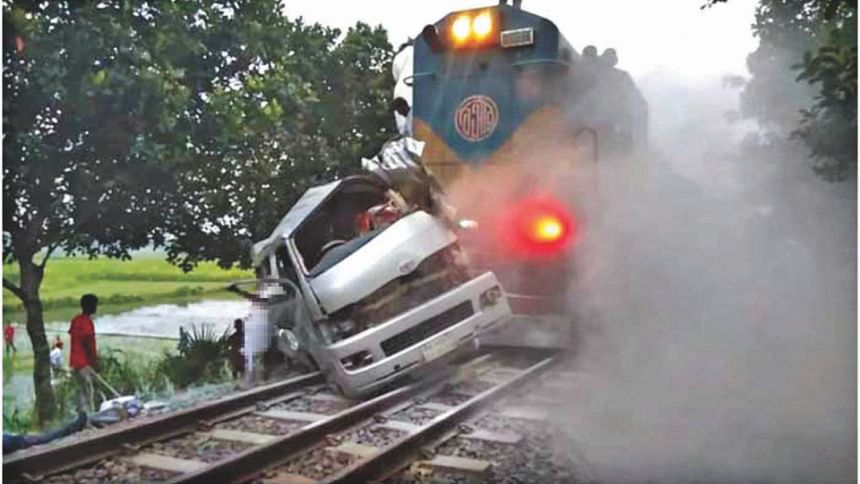 A newly-married couple and at least eight others of the bridal party were killed when a Dhaka-bound train rammed their microbus at an unmanned level crossing in Sirajganj's Ullapara upazila yesterday evening.
Two other microbus passengers were injured in the accident which took place around 6:40pm. They are undergoing treatment at the Sirajganj General Hospital.
"The accident happened when Md Rajan was returning to his home in Chargatina village with his newly-wedded wife and his relatives," Abdul Hamid, deputy director of Sirajganj fire service said.
After the collision, the train dragged the vehicle for about one kilometres, he said.
Locals managed to stop the intercity Padma Express and barricaded the rail lines for around 50 minutes in protest.
Nine of the microbus passengers died on the spot and another died at the hospital, Officer-in-Charge of Sirajganj Government Railway Police Station Md Harun said, adding that local police and firefighters rushed to the spot and rescued the victims around 7:30pm.
Eight of the victims had been identified as of filing of this report at 10:00pm. They are Md Rajan, 30, of Kandapara village in Sirajganj Sadar upazila, his newly-wedded wife Sumaiya Khatun, 21, of Chargatina village in Ullapara, their relatives Momota Khatun, 35, Md Sarif, 32, Sadik, 19, Abdus Samad, 45, Nure Alam, 35 and Md Khokon, 25.
In a similar incident in August 2014, at least 11 people were killed and 60 injured as a train rammed into a bus carrying a bridal party at an unmanned level crossing at Barobazar of Kaliganj in Jhenidah. The bride and groom escaped unhurt.
Meanwhile, Bangladesh Railway (BR) formed a four-member committee, led by Pakshi Divisional Transportation Officer (DTO) Md Abdulla Al Mamum, to investigate the matter. They will submit their report within three working days.
Talking to The Daily Star, the DTO admitted there was no gateman at the crossing but said the driver of the microbus was to blame as there were cautionary signboards on both sides of the crossing.
Md Sawkat Osman, chairman of Solop union parishad, said the railway authorities were reluctant to set a gateman at the level crossing.
"Solop level crossing is located in a road used by vehicles travelling to and from Kamarkhand to Ullapara upazila. Although many vehicles use this road, there is no gateman at the crossing.
"We have several times demanded that the railway authorities engage a gateman at the crossing but they are reluctant to do so," the chairman said.
Division Railway Manager (Pakshi) Mizarul Rahman told The Daily Star last night that the "unmanned" level crossing was constructed without taking their consent.
There around a thousand unmanned illegal level crossings across country, mostly constructed by different government bodies, railway sources said.
The latest incident comes at a time when BR is under huge criticism for poor maintenance of its rail tracks and bridges, which stemmed from two major accidents in less than a month.
At least four people were killed and more than 100 injured as a passenger train-- Upaban Express-- derailed on a bridge in Moulvibazar on June 23.
On July 10, an oil-carrying train derailed in Rajshahi's Charghat upazila, snapping Rajshahi's rail communication with the rest of the country for more than day.