The coaching centre falls silent after Mirsharai accident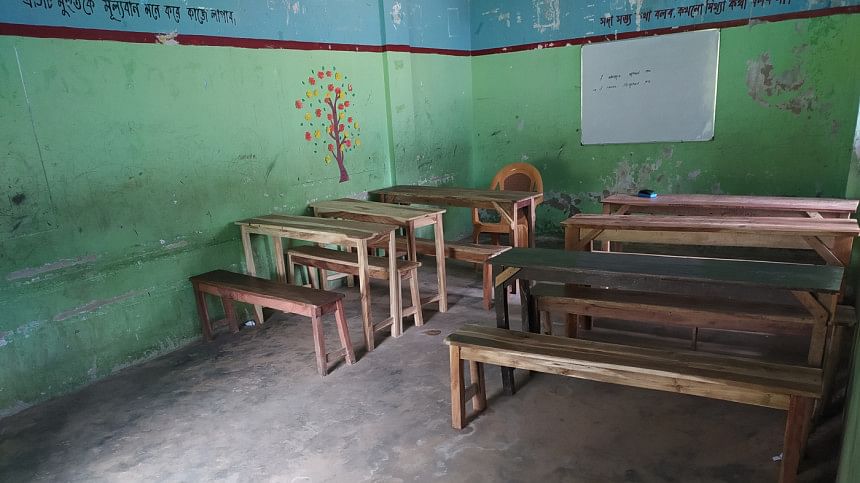 The coaching centre fell silent after it lost 10 teachers and students in a train-microbus collision in Chattogram's Mirsharai yesterday (July 29, 2022).
While visiting the centre at Amanbazar in Hathazari around noon, the coaching centre was found closed and all the classrooms were empty. 
Mohammad Mizan, a shopkeeper of a shop next to the coaching centre, said R&J Coaching Centre was opened a month and a half ago. It had two batches -- morning and afternoon -- with about 30 students each.  
But the accident claimed the lives of 10 including all the four founders of the centre -- Jisan, Sajib, Rakib, and Ridwan.
Nantu Karmakar, a businessman in the area, said the coaching centre building earlier housed a school. When the school shut down last year, the area became silent. The area got life after the coaching centre started operations a month and a half ago.
But the R&J Coaching Centre fell to silence again with the deaths of the 10. 
Risat, another teacher at the coaching centre, was fortunate enough to survive as he could not join the trip since he had a football match.
"Maybe the coaching centre will shut down and the memory of my friends will be lost."
The coaching centre organised a picnic to boost the morale of a batch of SSC and HSC students. But the vehicle they rented for the trip got hit by a train at a level crossing in Mirsharai, Chattogram. Eleven people in the vehicle died at the scene and six others were critically injured, while one escaped with minor scratches.