10-Day Shutdown: Lax enforcement a cause of worry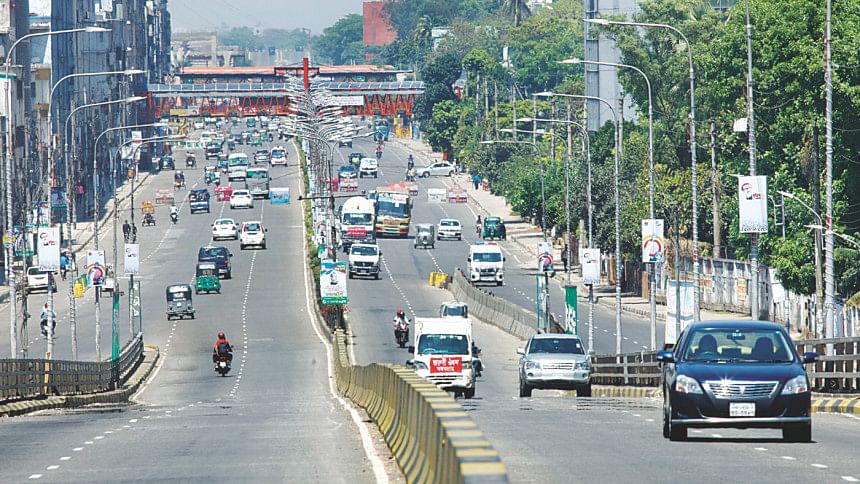 As the authorities are set to extend the shutdown to contain the spread of coronavirus, experts have pointed out that lax enforcement of the ongoing nationwide closure has raised questions about the effectiveness of the government move.
Amid a slack surveillance, many are still roaming on streets and alleyways in cities and other urban areas, ignoring the government advice to stay indoors.
Besides, a good number of people from the low income bracket, including day labourers and rickshaw pullers, have to go out to earn their living as they struggle to survive.
The situation in villages seemed even worse. A large number of the people, who went there from the capital after the government announced the shutdown, were showing least interest in following the government advice, The Daily Star correspondents reported.
These increased the risk of coronavirus transmission among people.
The experts said the government must ensure that all stay home at any cost and urged it to do everything possible to make them stay indoors, saying the country is now passing through a very crucial time in the fight against coronavirus.
They called for enforcing the shutdown very strictly.
Prof Muzaherul Huq, a former adviser (Southeast Asia Region) of the World Health Organization, said the shutdown should be extended by up to two weeks and it must be enforced "effectively".
"Currently, the shutdown is being implemented loosely. Many people are roaming on the streets, posing risk. So the shutdown must be enforced effectively," he told The Daily Star on Monday.
He said, "Community transmission is going on. People with coronavirus symptoms should be segregated and tested. Those who will be tested positive for the virus must be kept in isolation.
"I think the shutdown should be extended for at least two weeks."
On March 23, the government announced closure of all public and private offices from March 26 to April 4 to contain the spread of the virus.
Hospitals, kitchen markets, drug stores, media outlets and emergency services remained outside the purview of the closure.
Besides, people were advised not to go out of their home unless they need to collect food, medicines or receive treatment.
The following day, the government decided to suspend all public transport services, inching closer to enforcing a lockdown.
Prime Minister Sheikh Hasina yesterday said the shutdown might be extended till April 9. In that case, offices will reopen on April 12 after weekly holidays on April 10 and 11.
Following the announcement on March 23, people in droves left the capital for their village homes, ignoring the government advice to stay at home.
Dhaka wore a deserted look.
CHANGING SCENARIO
In the last two days, people's movement increased in the capital in compared to the previous days of the shutdown.
The number of cars on roads also rose.
Although there was hardly any crowd on the main thoroughfares, many thronged the alleys.
Visiting different areas in the city, including in Jhigatola, Hajaribagh, Chankharpul and Mirbagh, these correspondents saw locals gathering at tea stalls and other small shops, which are supposed to remain closed.
In Farmgate, Nakhalpara, Rayerbazar, West Dhanmondi and Rajabazar areas, people were seen thronging kitchen markets without wearing any sorts of safety gears and without maintaining social distancing.
Although there was some circles marked in front of many shops, people bothered least to stand in them while buying commodities.
Around 10:30am yesterday, some 10 people, all in their 40s, were seen standing and talking with each other at an alley in Kalunagar area of Hazaribagh area.
Only three of them wore masks.
When one of these correspondents asked them why they came out of their home, one of the men named Shamshul Alam said, "Yes we fear the virus, but how long we can stay at home?"
There was a tea stall nearby where five to six people were sitting and gossiping. Yards away, several children were seen playing.
Around 2:00pm yesterday, The Daily Star correspondents saw several hundred poor people gathering in front of Ward-14 councillor's office near Hajaribagh Tannery Intersection. They were waiting to get some food.
"We've been waiting for several hours here since morning. We are coming here for the last three days, but are yet to get any assistance," said Safura Khatun, a domestic help.
Without wearing any safety gears and maintaining safety distance, they were seen standing very close with each other.
Asked, Khalilur Rahman, personal assistance of the ward councilor, Mohammad Selim, said as per the instruction of mayor of Dhaka South City Corporation Sayeed Khokon, they prepared a list of 500 poor people who are supposed to get food assistance from the DSCC.
"We submitted the list to the mayor office but we are yet to receive any assistance for distributing it among the destitute," Khalilur said while talking at the councilor's office.
Khalilur said they sought assistance from the local police station to avoid such crowd as it poses health risk. But police failed to drive them away from the spot.
Our correspondents from Lalmonirhat, Noakhali, Dinajpur, Tangail, Khulna and Barishal reported similar situation there. People, especially in the countryside, gathered at different markets in the afternoon and gossiped for hours, they said.
Contacted, Sohel Rana, assistant inspector general of Police (media) at the Police Headquarters, said two lakh police members were working across the country to implement the government instructions regarding coronavirus, upholding human rights and abiding by the law.
"There were some allegations against a few police members of doing excesses and the police high-ups took it seriously so that all police personnel can carry out their duty showing respect to the country's citizens," he told The Daily Star last night.
"We will make people cautious and make them understand that they should stay at home for the safety of their own and others," Sohel Rana added.