'Muscle power won't work'
Annisul firm on drive to free roads for traffic, pedestrians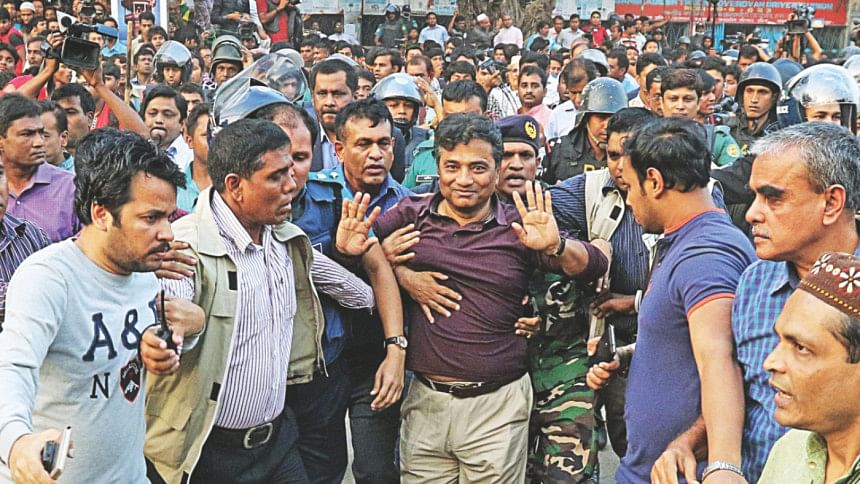 Dhaka North City Corporation Mayor Annisul Huq said he would not back off from his stance on making the city roads available for traffic and pedestrians.
"I am telling you this mayor will be very tough in future and showing muscle power won't work. There will be no compromise," he said after an eviction drive led by him at the capital's Tejgaon Truck Terminal yesterday turned into a clash between police and transport workers resisting it.
"There are some people with vested interests here. We know each of them," the mayor told journalists as he was sitting inside the office of Bangladesh Truck and Covered Van Drivers Union while the clash was raging outside. Some truck owners and drivers were there with him.
"They make a lot of money by illegally grabbing space here … Some trucks are here for years. Vehicles are being repaired and painted, taking a long time. The terminal space is not meant for this."
Referring to his duty as an elected mayor, Annisul said the prime minister, the Awami League and the people of Dhaka have entrusted him with reducing traffic congestion in the DNCC area in a systematic way.
"But it is not acceptable that somebody will throw brick chips or some 500 people will scream in protest and we will back off. I knew what would happen before I came here. I'm ready for anything," he said, adding local political leaders and truck owners were with him.
"I want one thing only: Don't park vehicles on the roads and don't illegally occupy the terminal space."
"People remain stranded on the road for hours. Even pregnant women suffer in traffic congestion here due to illegal parking of trucks."
Some 500 trucks are illegally parked on the road in Tejgaon terminal area 24-7, the mayor said.
"It's a big road. Let people use it," he appealed, calling upon all to stand beside in his efforts to clear the roads from illegal occupation.
Later, he made an announcement through a megaphone that a proper truck terminal would be built there so that illegal parking of vehicles doesn't disrupt traffic in Shat Rasta, Karwan Bazar, Farmgate and Nakhalpara areas.
"We have been able to clear a significant part of the area and will continue to do it to make the entire area free," he told an unruly mob of several hundred transport workers.