Reckless Driving
Mother killed in front of six-year-old son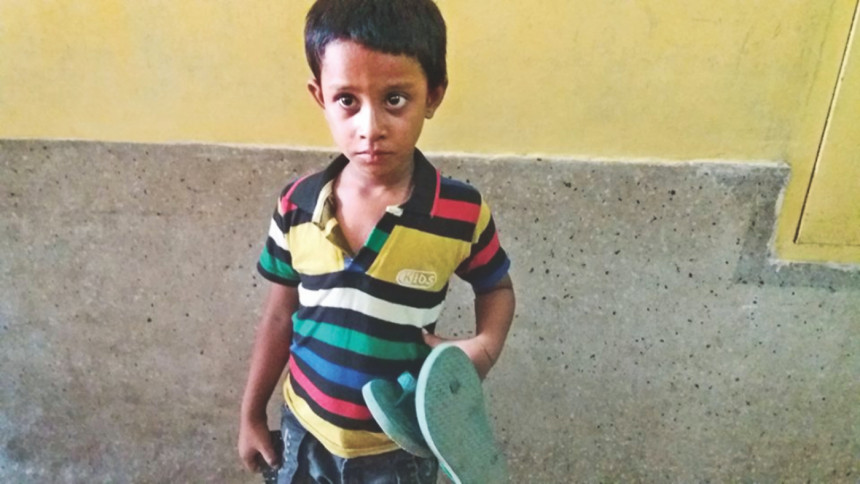 Six-year-old Mohammad Yusuf was holding a pair of sandals of his mother at Dhaka Medical College Hospital yesterday, hoping she would put them on soon.
"Ma is ill…she will put the sandals on once she is well," he said in front of the emergency mortuary of the hospital around 1:15pm.
The child was too young to understand what death is. His mother Sakhina Begum, 45, will never use those sandals again.
Reckless driving of an illegal battery-run auto-rickshaw claimed her life just a couple of hours ago.
All this happened before the very eyes of Yusuf at Tin Rastar Mor in the city's Mohammadpur around 11:00am.  
Sakhina along with her son was riding the three-wheeler on her way to her daughter Afsana's Mohammadpur home from South Keraniganj. The two were seated on one side of the auto-rickshaw which by design had no doors.
When they reached Tin Rastar Mor, the auto-rickshaw driver swerved to avoid a head-on collision with another vehicle. Within a blink of an eye, a CNG-run auto-rickshaw hit the battery-run three-wheeler, throwing the mother and son off the vehicle, according to witnesses.
With injuries to her head and face, Sakhina was taken to Zainul Haque Sikder Women's Medical College and Hospital and later to Dhaka Medical College Hospital where doctors declared her dead. 
The child miraculously escaped unhurt.
Defying a ban, battery-run auto-rickshaws have been plying many roads across the country for years, largely due to lax enforcement of law. These three-wheelers often cause fatal accidents.
Rana Hasan, who took the two to the hospitals, said he saw the child kneeling beside the woman on the road and went to help them.
Sakhina's nephew Babul Mia said Yusuf is the youngest among the three daughters and two sons of the deceased. His father Babul died when his mother was pregnant with him.