DMCH Interns' Demonstration
Patients suffer as outdoor unit locked for hrs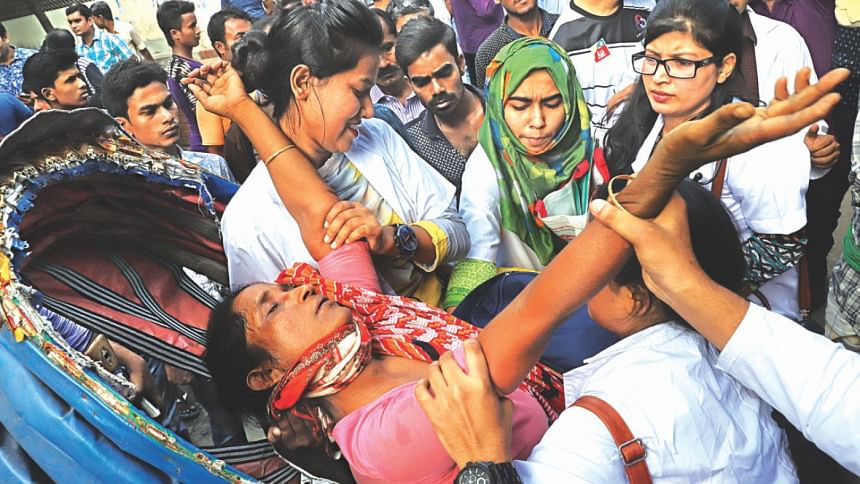 Treatment at the outpatient department of Dhaka Medical College Hospital remained suspended for about four and a half hours yesterday, causing suffering to patients.
Interns locked the main entrance to the department around 9:30am and started agitating, demanding punishment for those who assaulted their colleagues on Sunday over the death of a patient and that the authorities ensure their security at the workplace.
Some staff doctors also joined the demonstration after serving at the outpatient department for around an hour from 8:30am.
Several hundred patients who bought tickets and queued outside doctors' rooms were left baffled as the physicians came out in a show of solidarity with the interns. Most of the patients had to leave the hospital after waiting for hours, according to witnesses.
Trainee physicians at the emergency complex of the country's largest public hospital abstained from work on Sunday for three hours, protesting assault of their colleagues by some relatives of a patient. Four doctors and three Ansar men were injured in the incident.
As a large number of seriously ill patients come to the DMCH from across the country, the closure of its emergency complex yesterday left more than 100 patients in dire straits. Many of them had to seek treatment at other city hospitals.
However, some DMCH physicians expressed surprise at the strike and disruption in treatment as four people were already arrested by police over Sunday's attack and a hospital committee was probing the incident.
"It was totally an irrational programme which would damage the image of all the hospital employees," said a senior doctor on condition of anonymity.
"Assaulting doctors is not acceptable. Similarly, suspending treatment of patients for some reasons and pressing home some demands is not justifiable either," he added.
Hospital sources said 2,500 tickets are sold to patients, mostly from low-income families, daily on average, but the number came down to 552 yesterday.
With tickets in hand, some patients were seen walking around the hospital. Many expressed frustration about not getting tickets and treatment.
Khairun Nahar, aged about 70, along with her daughter Sheuly rushed to the outpatient department around 10:00am, but the interns didn't provide treatment to her.
Hoping that the protest would end soon, the two waited outside the department for about two and a half hours. At one stage, Khairun Nahar fell unconscious.
She was later taken to the emergency complex, witnesses said.
Another woman, aged around 45, fell unconscious in front of the outpatient department around 1:30pm. However, some protesting interns came forward and gave her primary treatment. 
PROTEST CONTINUES
Holding placards, some interns said they were continuing with the movement as it became difficult for them to provide proper treatment to patients with lax security.
"We are giving service to people, but we have no security at our workplace. We can't save your life under security threat," said a trainee doctor on a loudspeaker at the sit-in.
"It is the doctors' duty to try to serve the patients. Doctors don't want to kill anyone as they have no enmity with patients. A patient might die during treatment. But why the doctors will be assaulted?" questioned another intern. 
Yesterday's demonstration ended around 2:00pm when the outpatient service at the hospital came to a close as usual.
Doctors launched the movement on Sunday, staying away from work at the emergency complex for three hours.
The hospital authorities filed a case with Shahbagh Police Station accusing four named and seven to eight unnamed people in connection with the assault on interns. Police on Monday arrested the four accused, Iqbal Hossian Tipu, Riaz Uddin, Maksud Ahemd and Faruk Hossain, and sent them to jail through a Dhaka court.
Mosharraf Hossain Sijan, general secretary of the DMCH Intern Doctors Association, told The Daily Star that they were staging protests to press home their five-point demand. 
Meanwhile, the trainee doctors yesterday postponed their movement for seven days upon assurance from Health Minister Mohammed Nasim of meeting their demands.
The minister visited the injured doctors and Ansar members at the DMCH.