Middle-class expanding
By 2025, one-fourth of population to be in middle-class income category, says BIDS study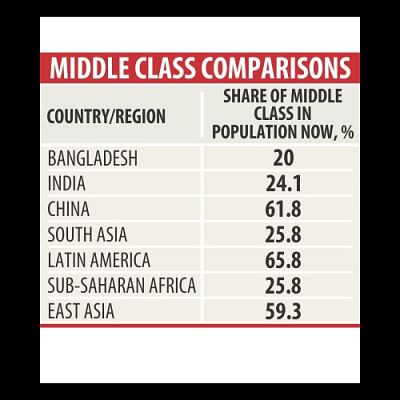 One-fourth, or 25 percent, of the total population will belong to the middle-class income category by 2025, thanks to greater access to education, finance and IT services, and private sector employment, a recent study found.
At present, 20 percent of the population belongs to the middle-income category in Bangladesh in contrast to 24.1 percent in neighbouring India.
A person belongs to the middle-class category when his/her income ranges between $2 and $3 per day.
If the present trend continues, the middle-class will comprise one-third, or 33 percent, of the national population in 2030, said Binayak Sen, research director of Bangladesh Institute of Development Studies.
Sen conducted the study styled 'size and growth of the middle class in Bangladesh: trends, profiles and drivers'.
The findings of the study were revealed yesterday at a programme chaired by BIDS Director General KAS Murshid at the institute's auditorium in Dhaka.
In 1992, only 9 percent of the national population belonged to the middle-class category. The amount increased to 20 percent in 2010.
The growth of middle-class has been driven by human capital accumulation and property price appreciation, Sen said.
Human capital accumulation means more people now posses post-secondary or higher levels of education.
Access to post-secondary education, especially English education, salaried jobs in the private sector, digital divide, access to financial saving and credit instruments, access to international migration and initial land or flat ownership appear to be separating the middle-class from the poor, he said.
According to his findings, 48.4 percent of the middle-class population is employed in the private sector and 20.4 percent in the public sector.
About 67 percent of the middle-class population chooses Bangla as their medium for education, while 23.5 percent opts for English. "We need to lay special emphasis on English and make it a second language after Bangla," Sen said.
Some 96 percent of the middle-class people have bank accounts, while 24.3 percent have fixed deposits, 16.8 percent savings certificates, 12.3 percent institutional credits and 19.3 percent investments in the capital market.
Of the middle-class population, 61.3 percent has internet connection at home, 49 percent owns land in urban areas, 33 percent owns flat and 31 percent has earnings in the form of house or flat rent.
Describing the middle-class as a good component for inclusive growth, he said the countries with higher middle-class density are able to reduce poverty faster than those with lower density.
Addressing the event, Planning Minister AHM Mustafa Kamal said the middle-class will be the driving force behind economic development.
By strengthening the middle-class, a sustainable development will be possible, he said.
Kamal urged the BIDS to widen its research areas to marginalised people.
About 2 crore people live in the haor areas and sustainable development is not possible by keeping them out of the economic purview.
"We need to take up area wise projects to bring the marginalised people to the main economic domain," he said, adding that the project will not be applicable for the hill tracts.
He also stressed on the importance of increasing the revenue collections for implementing such projects. By doing some reforms, an additional Tk 80,000 crore to Tk 100,000 crore can be collected, Kamal said.
The minister also said all updated data up to 2015 will be available by June next year.
Presenting the findings of a study styled 'employment and labour market: structural change and real wage growth', BIDS Research Director Rushidan Islam Rahman said assessment of Bangladesh's labour market showed some significant improvements in terms of employment growth and performance.
Although the underemployment rate increased from 16.6 percent in 1996 to 24.5 percent in 2006, it gradually declined to 17.8 percent in 2013.
The decline of underemployment rate despite the high rate of growth of labour force reflects an increase in labour demand. This has resulted in the growth of real wage, she said.
The real wage has risen in both agriculture and non-farm sectors, although the changes have not been uniform over the two decades.
Referring to the total unemployment rate that declined to 4.3 percent in 2013 from 4.5 percent in 2010, she said additional domestic employment generation was only 1.3 million during the 2010-13 period.
During this period, 0.5 million workers were absorbed annually through overseas employment, which shows high dependence on foreign employment with associated uncertainty and other repercussions, she said.
Another aspect of the performance of the labour market where improvements are required is the predominance of informal employment: 80 percent of all employment was of the informal sort.
Despite the observed shortcomings in the quality of employment, progress towards higher employment growth, especially women, can help both economic growth and social change in future, she added.
Presenting another research styled 'capital flows to LDCs: lessons for Bangladesh', BIDS Senior Research Fellow Monzur Hossain said the behaviour of foreign direct investment inflows to least-developed countries has changed in the 2000s.
The FDI inflows are not directed towards countries having natural resources in this decade; rather, they were diverted to the LDCs having higher trade openness, human capital and financial depth, he said.
Maintaining macroeconomic stability, developing the financial sector and liberalising the trade regime could be important policy options for LDCs like Bangladesh to receive more external capital to finance development.
Internal harmonisation of policies would provide leverage to LDCs to bargain under the Istanbul Programme of Action (IPoA) for receiving more external financing for development, he said.
"Nevertheless, the pipeline has been built up with undisbursed aid in many LDCs including Bangladesh due to poor project implementation capacity that led to delays and cost escalation."
Subsequently, the issue needs to be addressed with utmost importance for receiving more Official Development Assistants, Hossain added.