Love for language wins finally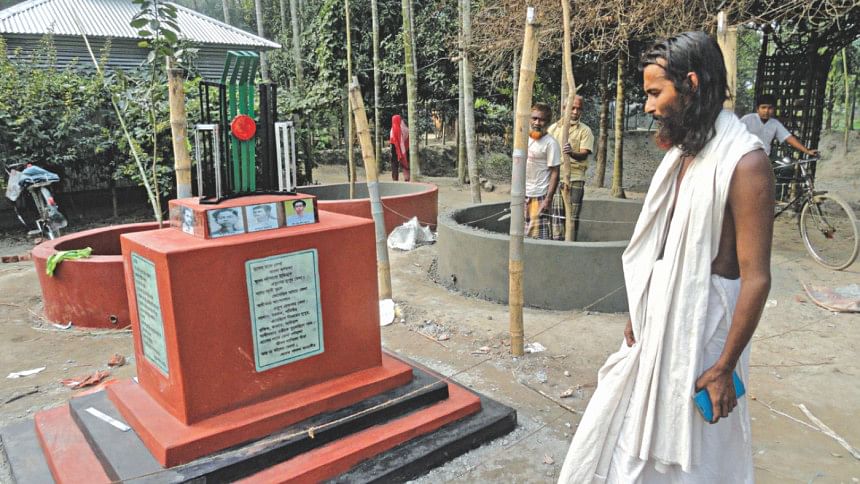 Some influential local bigots had always stopped others from setting up a Shaheed Minar in Durakuti village of Aditmari upazila in Lalmonirhat.
They would describe placing wreaths at the monument for showing respect to the Language Movement martyrs as an act against their religion and a sin.
However, Pagla Jahangir, a poet and a sadhu, which literally means "good man", accompanied by some educated progressive villagers have defeated the zealotry and constructed the first ever Shaheed Minar in the area, 64 years after the movement.   
The monument stands on the premises of Kadamchand Bidyapith, a school established by Jahangir for the school dropouts in the village. 
As the clock struck 12:01am yesterday, the International Mother Language day, teachers, students, among the progressive of the village, paid homage to the language heroes, placing wreaths at the Shaheed Minar.  
An emotional Jahangir said, "We built the Shaheed Minar to keep alive the memories of the heroes who laid down their lives to establish Bangla as a state language. We want our upcoming generations to know what they [the martyrs] did for us."
Placing wreaths at the Shaheed Minar, Robin Khan, a local social worker and director of business firm Rangpur Group, thanked Jahangir and the others for their efforts.
Sadeque Ali, 48, a villager, said, "We had tried to build a Shaheed Minar in the village several times earlier but every time we faced obstructions from some influential people."   
"But, we have finally defeated the religious zealotry and we are proud of that," he said.