Huge amount of fertiliser kept out in the open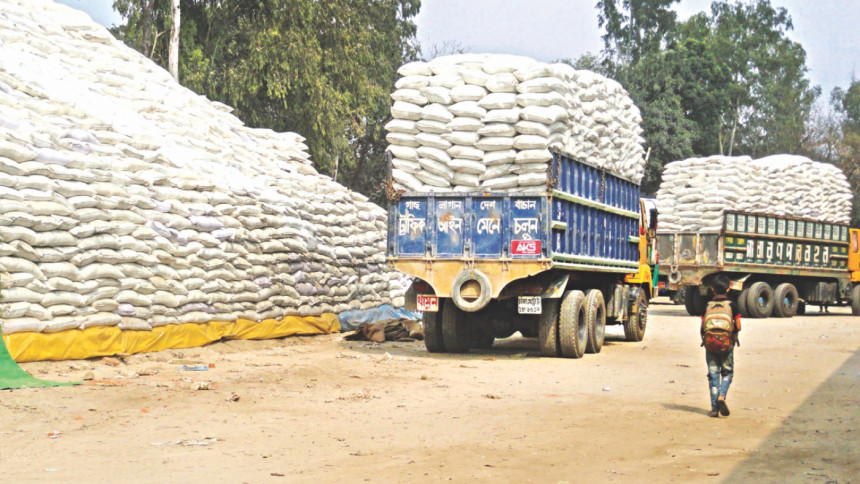 A huge quantity of urea fertiliser stored in the open in front of the Mahendranagar Warehouse in Lalmonirhat sadar upazila is at risk of being lost due to rainfall.
Workers of the Bangladesh Chemical Corporation at the warehouse complex told The Daily Star that urea fertiliser is routinely stored in the open due to lack of warehouse space.
Officer-in-charge of the warehouse Abdul Hanif said that the storage capacity for fertiliser is 9,000 tonnes, but the supply required for Lalmonirhat farmers is 23,000 tonnes. "A lot of fertiliser is stored outdoors," says Hanif, "but measures are not taken to protect it from rain."
The district's 51 registered fertiliser dealers have been taking supplies from the warehouse daily, Hanif said and believed that better storage will be available for the remainder soon.
The Lalmonirhat buffer warehouse was built 32 years ago when a total storage capacity of 12,000 tonnes with 9,000 available for urea fertiliser was adequate. Since that time no initiative has been taken to increase storage capacity, despite increased need.
"Requirements for fertilisers have multiplied," says Hanif. "The government has decided to build 13 new warehouses across the country this financial year, but Lalmonirhat is not on the priority list. The quality of rain affected, clotted fertiliser remains intact unless it is melted, so dealers and farmers need not worry."
Nonetheless fertiliser dealers and farmers in the district have demanded the government build a new warehouse for fertiliser storage, to ensure effective supply in this agriculture rich region.
Lalmonirhat sadar upazila agriculture officer Enamul Haque is likewise concerned by current practice. "Urea fertiliser should be stored with care before use in the field," he says. "Fertiliser stored in the open might be ruined."