Of a farmer with passion for education
Abdur Rashid is a marginal farmer revered and respected for a completely different role he has been playing for the last nine years in the remote village of Lalmonirhat's Dakkhin Dalgram Parshurampara.
The 60-year-old set up a school for children with special needs in 2011.
To do that, he gave up 20 decimal of his 35 decimal homestead land, the only property he owns.
He built a tinted house with three rooms from his own coffer and with the support of locals, arranged specialised teachers motivated enough to volunteer like him for a "feel very happy" cause.
Rashid named it Kaliganj Pratibandhi Bidyalay, which is now bustling with 110 children; 25 mentally, 35 speeches and hearing, 20 visually and 25 physically challenged.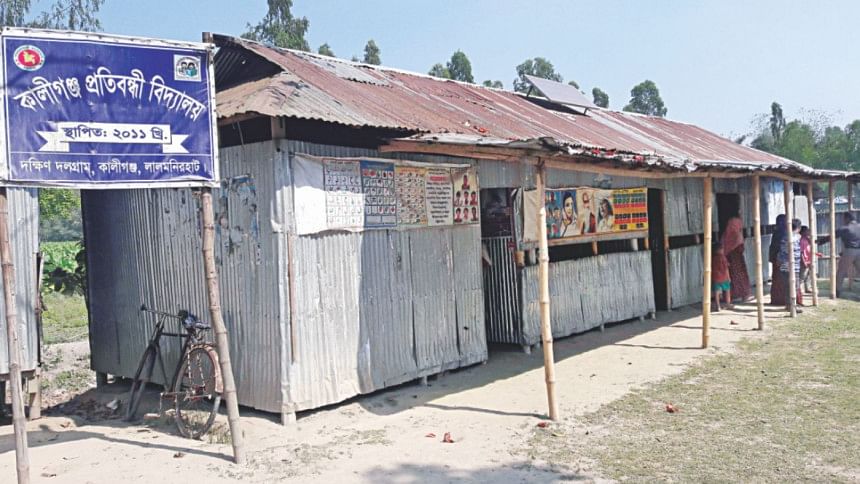 "I spend four to five hours in the school every day. When I sit with the children and teach them something new, they become extremely happy. It makes me happy too," Rashid said, adding that the time he passes with the kids gives him an unparalleled peace.
Festivity was all around when this reporter reached the farmer's school after a 40-kilometre ride from the district headquarters. The children were in the assembly and singing the national anthem before enjoying their education in those not too specious yet festive ambiences. 
There are 20 teachers, including nine females, and 15 teacher's assistants, all provide voluntary service and teaches by rotation. Since it's a specialised school, all the teachers took training for three months. Professionally, they are businessmen and kindergarten school teachers. Some are university students.
The school also has two vans for the students. Solvent parents pay for transporting their children while it is free for the needy ones. 
Asked what motivated him to take up the challenge to work with the children with special needs, Rashid said it was primarily need-based.
"Many parents considered their challenged children as burden. Some of them turned to me for advice and at one point, I said to myself if I could to do something for those kids," said Rashid, a proud father of four daughters.
"But it was very challenging when I started," said Rashid, who claimed to have studied up to class X.
"Parents were not interested in exposing their challenged children in public domain. I had to create awareness among the parents and convinced them that their children would only get better through the school," Rashid said while reflecting on those tough days when he took door-to-door campaign at 20-25 villages in five unions of Kaliganj upazila.
Nowadays, parents are willingly to send their children with special needs for learning, he said.
"Many such children are at the primary stage of their illness and proper treatment and support might help them get cured. I can't help in this regard. I'm trying to do what I can do best," he said.
"I purchase books, khatas, pens and other educational accessories for the children with the money I earn selling hens, ducks, goats and even cows. I also get help in the forms of wood, bamboos, tin from the local people to build the school," said Rashid.
Abdul Hakim, a teacher at the school, said, "We teach some children by Braille system and sign language. Those with physical disabilities are given general teaching."
Rawshana Begum, a guardian from the village, said her physically and mentally challenged daughter was very happy now to know how to read and write. Besides, the girl enjoys most when at school with other children.
Another local, Shahjahan Sazu, said Abdur Rashid and his Kaliganj Pratibandhi School showed that children with special needs are not burden and instead can become resources if given proper support.
Rashid applied to the social welfare ministry for registration of his school.
Deputy Director in Lalmonirhat Social Welfare Department Mosharraf Hossain said all the school's all necessary papers were at his office and the ministry concerned and that the school would get the approval soon.
"It's great job by a farmer," he said, as he showered Rashid with praise.