Dried up Teesta hits livelihood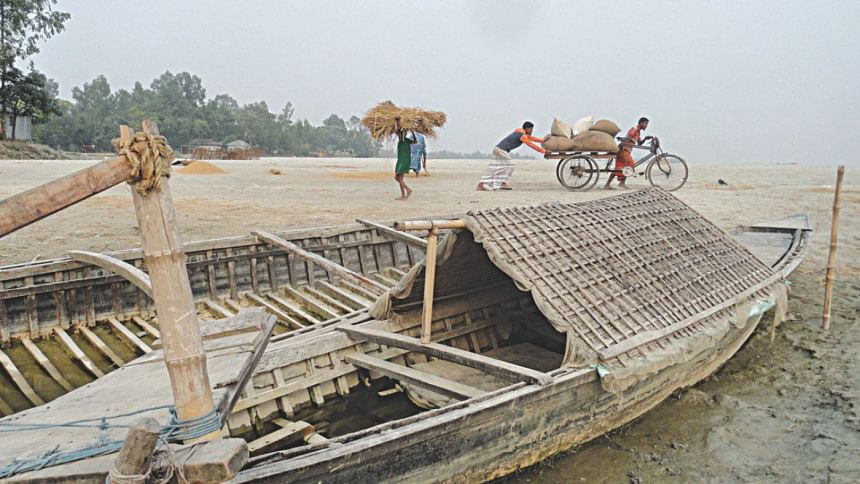 "We used to have bumper crops here," says farmer Mahir Uddin of Char Kalmati village in Lalmonirhat. "The Teesta River used to flow year-round but nowadays there's not enough water in winter for optimal agriculture."
Across the villages situated on Teesta river shoals in Lalmonirhat, the outlook is similarly gloomy. Rachima Begum, a farmer of Gobordhan village located on a shoal in Aditmari upazila says because they need to access underground irrigation water by machine, farming has become less profitable.
"The people of the shoals need never face poverty if the river had water year-round," she says.
The Teesta, which can be up to 2.5 kilometres wide, is currently reduced to a width of about 70 metres, with water only knee-deep.
"The river is all shoal and no water," locals complain, as they describe how they can walk for miles along sand deposit stretches which now connect many island communities to the mainland.
It's bad news for boatmen like Noor Hossain of Char Parulia village in Hatibandha upazila who finds himself unemployed entirely. "It was unthinkable only a few years ago," he says, "that people could easily cross the River Teesta by foot here."
His colleague Abdul Gony, of the same village, blames the unilateral construction of the river barrage across the Teesta at India's Gazaldoba, around 100 kilometres upstream of the Teesta Barrage Irrigation project at Dalia in Lalmonirhat's Hatibandha upazila, for the poor river condition.
Over one lakh people live on 95 shoals in five upazilas in the district and with boats impractical they are often compelled to walk several kilometres across sand stretches to pursue mainland-based livelihoods.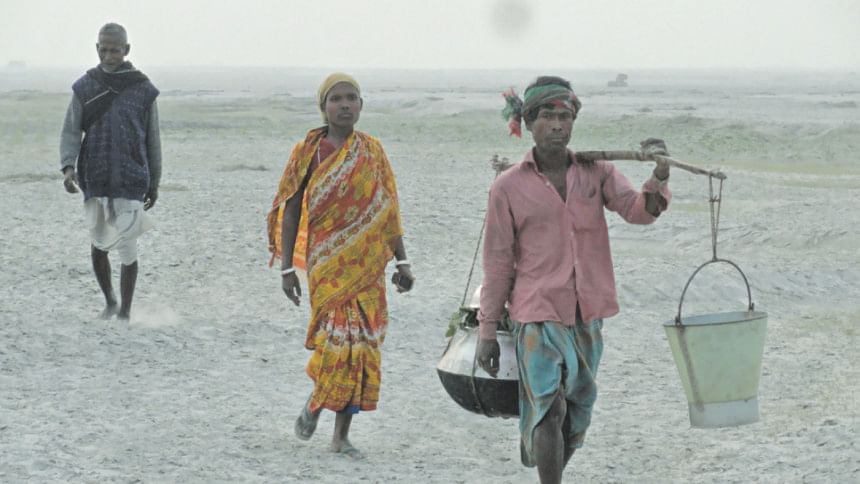 Meanwhile Ranjit Chandra Das of Char Kalmati, by family heritage a fisherman, is also suffering. "Once I could catch about 10 kilograms of boirali fish every day," he says, referring to the Indian flying barb, an endemic species traditionally caught in the area. "These days I can only catch about half a kilogram."
The species, which is at risk of extinction, no longer breeds in the river for lack of water, he adds.
Lalmonirhat's executive engineer of the Bangladesh Water Development Board, Shibendu Khastagir, says the water level fell sharply in September, with all the district's rivers drying at an alarming rate.
Farmer, fisherman, boatman and general shoal dweller alike, people here hope and wait for the government to take much-needed measures, including the finalisation of a fair water sharing treaty with India, in order to restore the year-round navigability that can alleviate suffering.