Flood-Affected North: Crises of food, drinking water worsen misery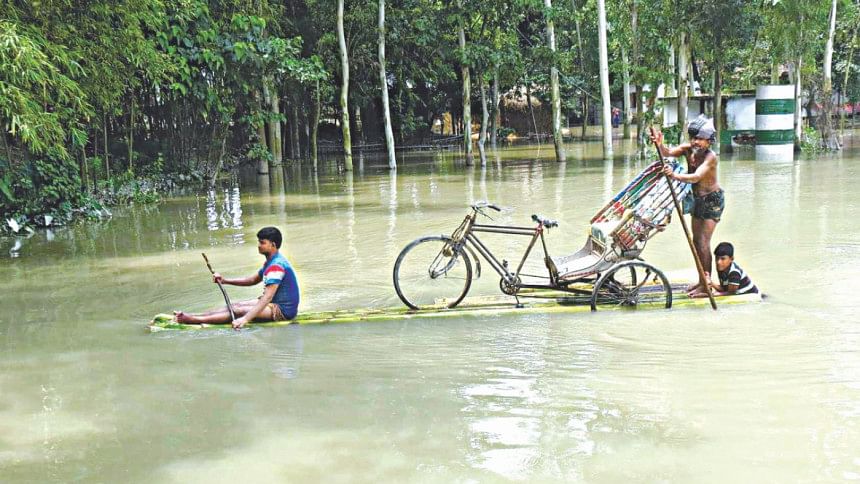 All she had left was two kilograms of rain soaked rice. Seeing the sunlight finally break through days of heavy clouds yesterday, a fleeting sense of hope returned for Joyna Bewa, 75, a resident of Kulaghat in Lalmonirhat Sadar upazila.
She would now be able to dry her rice and cook it for dinner.
Joygun Bewa with her son, Mayenuddin, 48, daughter in law and grand children took shelter on the Lalmonirhat-Moghalhat road in Sadar upazila five days ago as their houses were inundated by floodwater.
Like her, nearly three thousands families, along with their cattle, goats, hens and other pets have also taken shelter on Mogholhat-Baraibari road and on the flood protection embankment beside the Dharla river. 
But unlike Joyna, most of these families have already run out of food.
Jahanara Begum,42, a woman from Shiberkuti village in Lalmonirhat, took shelter on the flood protection embankment of the Dharla river along with her husband Shahed Ali and two children. She said they have been starving since Monday night.
"We had three kgs of rice but that was finished on Monday noon," said Jahanara Begum, yesterday noon.
"I didn't get any help from govt or non-govt [agencies] and I had no money to buy food for our two children," she said in tears while holding onto her two children, Jannati Akhter, 9, and Tazul Islam, 5.
But lack of food isn't the only prevailing problem as Akhlima Begum from Kurigram shows. 
Aklima, 45, hailing from North Naoabash village in Kurigram, who took shelter in Araji Bhogdanga Government Primary School six days ago, said they were facing problem as they did not have any cooking arrangement. 
"My husband collected rice but we aren't able to cook it. Like us, some families are living with our cattle here. But there is no fodder for the cattle," Akhlima said.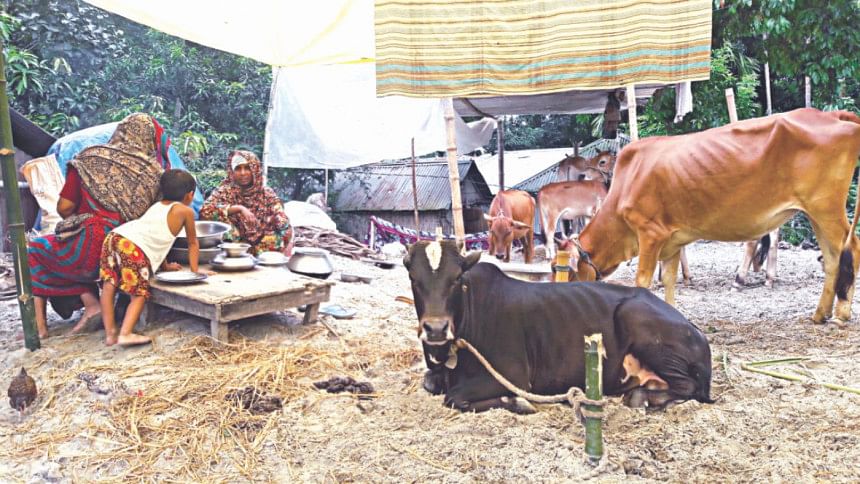 Our correspondents from different flood hit northern districts including Kurigram, Nilphamari, Lalmonirhat, Thakurgaon, Gaibandha, Dinajpur, Jamalpur report increasingly worsening conditions. 
The sufferings of flood affected people living in remote areas are perhaps the most alarming.
Visiting Chinaduli union by boat, our Jamalpur correspondent saw that around 300 families from Paschim Bamna, Purbo Bamna and Dakkhin Gilabari villages of the union, along with their cows and goats, taking shelter on the Paschim Bamna dirt road for four days.
Farmer Samsul, 60, of Dakkhin Gilabari, Hasna Amiron, Hawa Bibi and Parul of Paschim Bamna village, all told our district correspondent that they had been surviving merely on puffed rice.
"No one has yet come to us with relief materials", they alleged, adding, "If the situation prevails, we will soon starve after our stocks of dry food run out."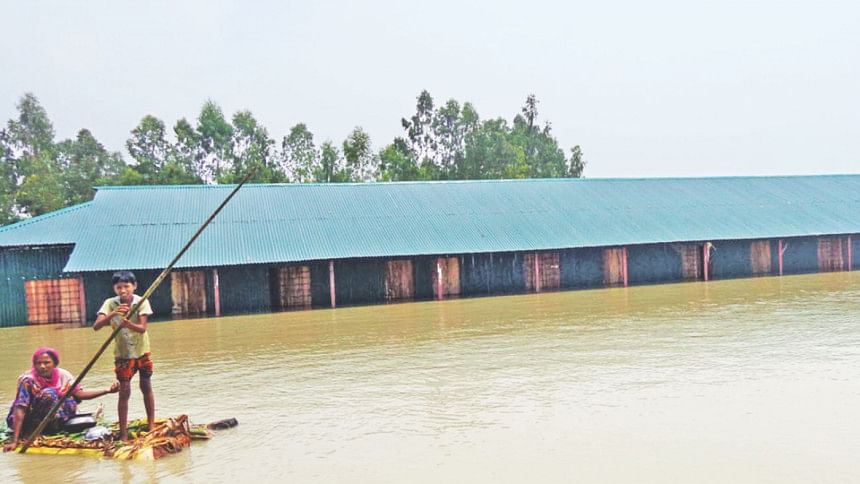 Fazal Mia, 70, Razzak, 35 and Majiran Bewa, 50 of Faliamari village of the union, echoed the sentiment.
In Dinajpur, our correspondent, while visiting shelters in Dinajpur Sadar, Chirirbandar and Biral upazila, noted that the affected people are getting food, but not enough to meet their daily demand. There was also an acute shortage of drinking water as water sources, including tube wells, all went under floodwater.
Around 3,000,00 people in 13 upazilas have been affected by the flood. People are even facing problems during burial and cremation.
About 13 lakh people making up five lakh families were affected as the flood situation deteriorated in Kurigram, Gaibandha, Bogra and Sirajganj during the past 24 hours with improvements seen in Panchagarh, Thakurgaon, Dinajpur, Nilphamari, Rangpur and Lalmonirhat districts. 
Divisional Commissioner Kazi Hasan Ahmed said relief activities have been intensified further and members of Bangladesh Army, Border Guard Bangladesh and Fire Service are assisting the civil administration and authorities in tackling the situation, reported BSS yesterday.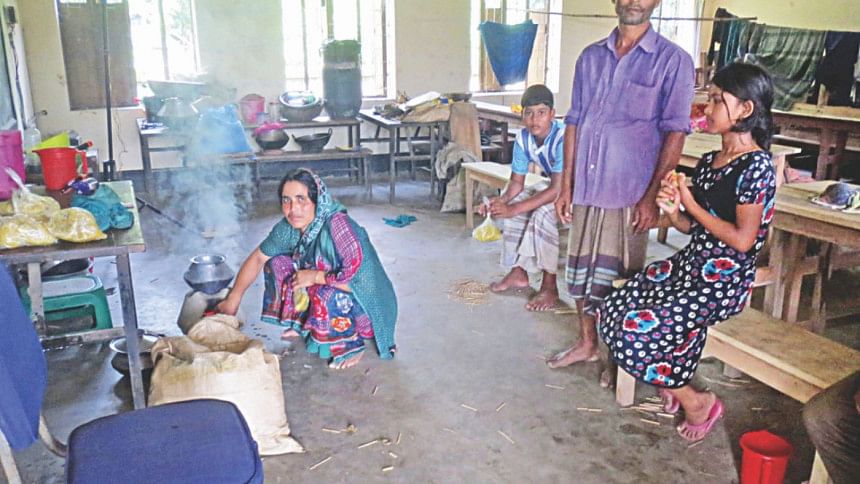 FLOODWATER'S RISE AND FALL
Floodwater continues receding in Panchagarh, Thakurgaon, Dinajpur, Nilphamari, Rangpur and Lalmonirhat district. However, as the water barrels down from upstream, new areas in the central part of the country are being affected.
The water of the river Jamuna has increased by 37 centimetres at Aricha point under Shibalaya upazila in Manikganj in the last 24 hours, reports our Manikngaj correspondent, citing officials from the Water Development board. 
Different places on the banks of the river Jamuna and new areas, along with croplands, have also gone under water. Thousands of people in these areas have become marooned after floods damaged roads and dams.
"The water level of the Jamuna river remains steady while water from other small rivers in the northern region show a falling trend. So if the fresh deluge does not start upstream, the situation may start improving from day after tomorrow," said Sazzad Hossain, executive engineer of Bangladesh Flood Forecasting and Warning Centre.
Though the water level of the Ganges was increasing, Sazzad Hossain said, it had not yet crossed the danger mark.
Currently, water levels at 56 river stations monitored by the Flood Forecasting and Warning Centre have seen a marked rise while 32 stations recorded fall and thirty are above danger level.
FOUR DROWN IN FLOODWATER
Four more people drowned in floodwater in Dinajpur on Tuesday.
They were Abtabur Rahman, 55, of Parbatipur, Humayun Kabir, 16, Malia Murmu, 59 of Dinajpur Sadar upazila and Masudur Rahman, 15, of Biral upazila. 
A total of 24 people were killed in the last 3 days in different districts.