Flood-hit people's plight not over
Homeless flood victims still living on dykes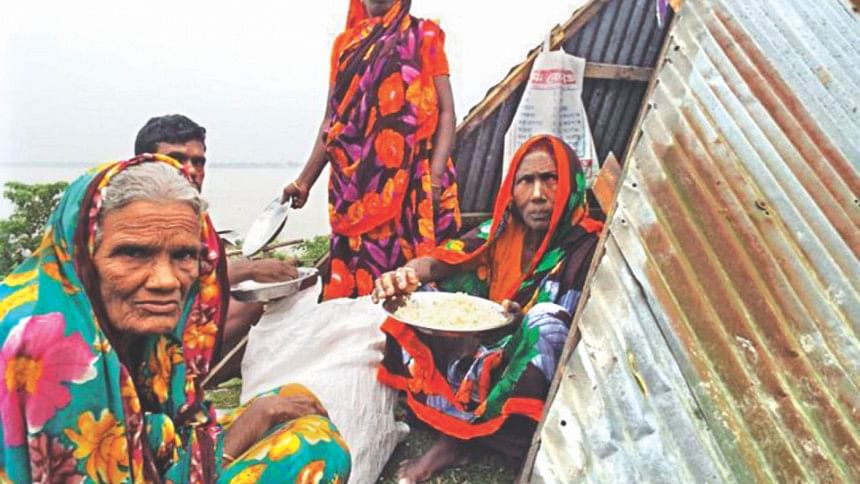 For the last 42 days, the Water Development Board's dyke has been Delwar Hossain's home.
He along with his five family members took refuge on the embankment in Lalmonirhat Sadar after floodwater washed away his house at Gobordhan village on August 12.
All his belongings, crop and livestock were lost to the swirling water of the Teesta river.
Floodwater receded from the village in the last week of August. But his plight is far from over as it's almost impossible for the 52-year-old farm labourer to rebuild his house without financial support.
"Only Allah knows how long we will have to live like this on the dyke," he said.
Hasina Bewa, another flood victim, is luckier than Delwar.
The 32-year-old woman, who has been staying in a makeshift house beside Lalmonirhat-Fulbari road with her husband and their two kids since August 11, got a bundle of corrugated iron sheets and Tk 3,000 in aid for rebuilding her house.
"This is too inadequate to build a house anew," said Hasina whose family is now fully dependent on government relief.
She said she needed around Tk 35,000 to reconstruct the house.
Like Delwar and Hasina, many flood victims are still living in makeshift houses on WDB dykes and at the roadside. Most of them depend on relief from government and NGOs for survival.
More than five million people of 27 districts have been affected by flood resulting from onrush of water from upstream and incessant rain in August. Floodwater badly damaged roads and caused huge losses to the farmers.
Though floodwater receded in most of the districts, the situation in some flood-hit districts is still dismal with many families raising allegations of inadequate rehabilitation support from the government.
In Lalmonirhat, 102,750 families were hit hard by flood. Of them, 12,000 became homeless, and the district administration has so far provided 1,200 families with corrugated iron sheets and money as rehabilitation support.
Rezaul Alam Sarker, acting deputy commissioner (general) of the district, said each of the families got one bundle of iron sheets and Tk 3,000.
"We would continue the rehabilitation support for the homeless flood victims," he added.
A number of the affected people said they are surviving on relief support from some non-governmental organisations and individuals.
"I along with my five family members still depend on relief as I became jobless after the flood," said Nazu Mia of Basuriya village in Lalmonirhat Sadar.
The 55-year-old labourer said he got 25 kg of rice, 10 kg of wheat, five kg of pulse, four litres of edible oil, dry food and Tk 2,000 from different NGOs, clubs and kind-hearted persons.
He said they got support from the government initially, but that stopped recently.
ADC Rezaul Alam Sarker, however, said flood victims in the district have been getting sufficient relief support from the government and NGOs.
District Relief and Rehabilitation officials said 620 tonnes of rice and Tk 20 lakh were distributed among the flood-hit families.
Maidul Islam, project manager of non-governmental organisation RDRS Bangladesh, said his organisation provided rice, edible oil, pulse, salt, dry food to 10,000 flood affected families over the last seven days.
The picture is similar in Dinajpur, which was also hit hard by flood. Many families in the district remain homeless for failing to rebuild their houses due to lack of rehabilitation support from the government.
Hazrat Ali of Bolorampur village in Kaharol upazila said he was yet to get any government support for rebuilding his house.
"We need at least Tk 40,000 for reconstructing the house which was washed away on August 13. So far we have been able to install only the roof with the help of my relatives," he said.
However, some people in Kasba and Ishwargram areas said they received corrugated iron sheets and money for rebuilding houses.
According to district relief and rehabilitation officials, around 59,000 houses were damaged by flood in eight upazilas of the district.
In six upazilas of Sirajganj, around four lakh flood victims are still suffering due to lack of rehabilitation support.
Floodwater damaged 5,548 houses completely and 34,053 houses partially, said the district relief and rehabilitation office.
"We have already prepared a list of damaged houses. We have sought a fund of Tk 101.94 crore for rehabilitation of the homeless but it is yet to be sanctioned," said Md Abdur Rahim, district rehabilitation officer.
In Tangail, floodwater is yet to recede in some parts of Bhuapur upazila where many people are still staying in makeshift structures on embankments and at the roadside.
"Our house is still under water," said day labourer Motaleb Mia of Matikata village.
He along with his wife and three children now lives on Pingna-Jokarchar embankment.
According to the district relief and rehabilitation office, 5.26 lakh people of 771 villages in eight upazilas were affected by flood.
Reports on the flood damage have already been sent to the ministry concerned, said one of the officials there.
Tangail DC Khan Mohammad Nurul Amin said the rehabilitation work would start soon.
[Our correspondents from Lalmonirhat, Dinajpur, Pabna and Tangail contributed to the report]