Long list with many surprises
BNP announces national executive committee; controversial figures, family members of war criminals, senior leaders find place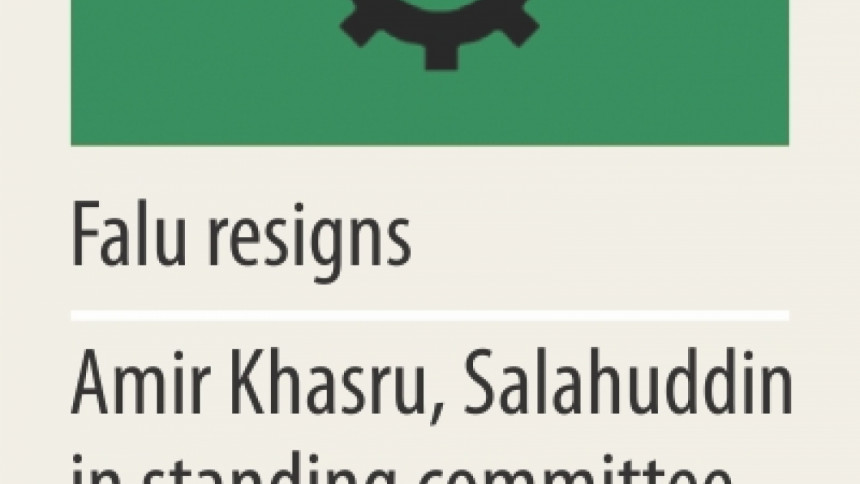 More than four months after its national council, Bangladesh Nationalist Party announced the biggest ever executive committee of the party yesterday.
Surprising many, controversial leaders and sons of two war criminals have been included in the 502-strong national executive committee, according to the list announced by BNP Secretary General Mirza Fakhrul Islam Alamgir at a press briefing yesterday.
Family members of some prominent BNP leaders also have got different positions in the committee.
Khaleda Zia and her elder son Tarique Rahman have long been holding the posts of chairperson and senior vice-chairman. They were reelected uncontested in the council held on March 19.
Khaleda formed the 502-member committee as councillors had empowered the chairperson to form all committees of the BNP.
The previous national executive committee comprised 386 members.
The new committee includes sons of executed war criminal Salauddin Quader Chowdhury and convicted war criminal late Abdul Alim. Hummam Quader Chowdhury and Foysal Alim are now the 104th and 85th member in the executive committee.
SQ Chowdhury's lawyer Fakhrul Islam too has a place in the committee.
Now in jail, the lawyer is one of the seven accused in a case over leaking of the draft verdict of International Crimes Tribunal-1 in SQ Chowdhury's war crimes trial.
For committing crimes against humanity during the 1971 Liberation War, SQ Chowdhury was hanged on November 21 last year. Abdul Alim, who was sentenced to imprisonment until death, died of cancer on August 30, 2014.
Mirza Foysal, brother of Mirza Fakhrul, and Maruf Hossain, Aninda Islam Amit and Naosad Jamir -- sons of BNP standing committee members Khandaker Mosharraf Hossain, Tariqul Islam and Jamiruddin Sircar -- are in the new executive committee.
Mir Helal, son of former Chittagong city mayor Mir Nasir; Tabith Awal, son of Khaleda Zia's adviser Abdul Awal Mintoo; Aparna Roy, daughter of BNP standing committee member Goyeshwar Chandra Roy; Afroza Abbas and Mirza Khokon, wife and brother of BNP standing committee member Mirza Abbas, among others, have been given different posts in the committee.
Tahmina Rushdi Luna, wife of BNP leader M Ilias Ali, who has been missing since 2012, has become a member of the BNP chief's advisory council.
The new executive committee members also include controversial BNP leader like Lutfuzzaman Babar, convicted in the 10-truck arms haul case.
Another controversial BNP leader Abdus Salam Pintu, who is behind bars and an accused in August 21 grenade attack case, has been re-selected for the post of vice-chairman in the new committee.
Another accused in the grenade attack case, former BNP lawmaker Kazi Shah Mofazzal Hossain Kaikobad is among the 33 vice-chairmen in the new executive committee. He is a fugitive.
During the press briefing at the party's Naya Paltan headquarters, Mirza Fakhrul also announced the names of 17 members of the 19-strong BNP standing committee. Two posts -- 17th and 18th -- remain vacant in the policymaking body. 
Khaleda has picked late BNP leader Nasiruddin Ahmed Pintu's wife Nasima Akhtar Kalpana as an executive committee member and Afroza Khan Rita, daughter of the BNP chief's adviser Harun Ur Rashid Khan Munnu, as a member of her advisory council.
Former deputy speaker of parliament Akhtar Hamid Siddique has been made Khaleda's adviser.
He was allegedly involved in misappropriation of Tk 2.5 crore from the parliament secretariat between November 2001 and January 25, 2009.
A parliamentary probe body in the ninth Jatiya Sangsad found evidence of corruption and misuse of power by Akhtar and two others. 
Those who were not even primary members of the party have been given positions. For example, Kader Gani Chowdhury, a journalist of pro-BNP daily Dinkal, has become assistant secretary for information and research affairs.
FALU, SHAMIM RESIGN 
Hours after being made a vice-chairman in the new committee, Mosaddek Hossain Falu resigned from the post citing "personal ground". He was previously an adviser.
Shamimur Rahman Shamim also resigned "out of displeasure" after he was given the post of assistant publicity secretary, party insiders said.
NEW FACES; FEMALE LEADERS
Khaleda picked over 130 new faces for different posts in the 502-member committee and they include a good number of female leaders. Many of the new faces are from former and current leaders of pro-BNP student body Jatiyatabadi Chhatra Dal.
A total of 38 new faces, including 13 female leaders, are now members of the executive committee.
Besides, 28 more female leaders have got different posts including vice-chairman, adviser, organising secretary, secretary and assistant secretary in the committee.
The party chose Sarwari Rahman as the number one member of the 73-member advisory council of BNP chief. She was dropped from the BNP standing committee on health grounds, party source said.
There were 31 members in the previous advisory council.
Of the new faces, barrister Rumin Farhana has become assistant secretary for international affairs.
Sahrin Islam Tuhin, son of Khaleda's sister Selima Islam, and Vice-Chairman Nitai Roy's daughter Nipun Roy have also got positions in the committee.  
At the briefing, Fakhrul said this is a dynamic committee which will be able to "get democracy restored in the country" by playing a constructive role in politics.
TWO NEW STANDING COMMITTEE MEMBERS
Amir Khasru Mahmud Chowdhury, a former adviser, has been promoted to member in the party's highest policy making body.
BNP joint secretary general Salahuddin Ahmed, who is facing trial at a Shillong court in India on charges of trespassing, is now a standing committee member. 
His wife Hasina Ahmed has got a position in the executive committee.
M Shamsul Islam, who was a member of immediate-past standing committee, has got no position in the new committee. His son Moyeenul Islam Shanto, however, has been made an adviser to the BNP chief.