Life at death yard
Lack of safety measures, monitoring puts ship-breaking workers in peril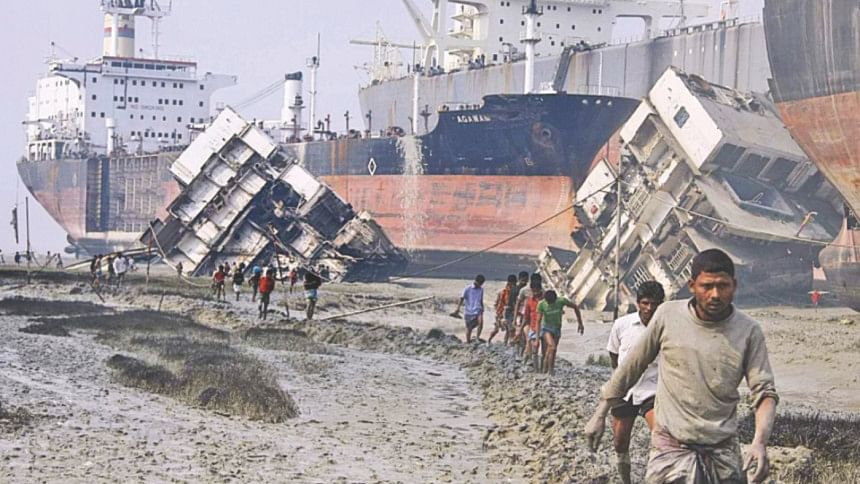 Frequent accidents have been claming lives or seriously injuring many workers in Chittagong shipbreaking yards over the years, largely due to lax safety measures and monitoring.
The High Court had issued directives asking the government to ensure workers' safety. The government also set safety guidelines on shipbreaking, yet 60 workers were killed and 125 injured in accidents in the last five and a half years, according to Shipbreaking Workers Trade Union Forum.
Last year, accidents killed at least 13 workers, including three at RA Enterprise Shipbreaking Yard. The three were badly burnt on October 13, and later they died at Chittagong Medical College Hospital (CMCH) on October 18 and 19.
Dr MS Khaled of the Burn and Plastic Surgery Unit at the hospital said they over the years treated most of the injured workers for inhalation wounds.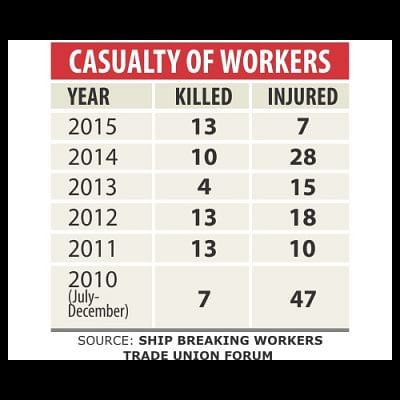 Syeda Rizwana Hasan, chief executive of Bangladesh Environmental Lawyers Association (Bela), held the negligence of owners responsible for repeated accidents.
Referring to the September 5 accident at Shital Enterprise Shipbreaking Yard which left four workers killed and as many injured, she said it reportedly occurred due to a cylinder blast in the changing room when some workers went there with burning cigarettes.
"Why the yard authorities kept gas cylinders in the changing room? It indicates sheer negligence of the owners towards workers' safety," she added.
According to a High Court verdict, nobody can enter a shipbreaking yard with a burning cigarette, but the authorities of Shital Enterprise didn't comply with the order, said Rizwana.
The HC also said the accidents in shipbreaking yards must be probed by independent inquiry committees, but the "directive has never been followed", lamented the rights activist.
She accused the owners of not allowing workers to exercise their rights.
Talking to this correspondent at the CMCH, some workers said they were not wearing safety gears when accidents struck.
On January 19, 2014, Mokhles had brought his coworkers Tapan Jaladas and Md Lalu from Kabir Steel Shipbreaking Yard to the CMCH after an explosion there. He said the two were not in proper safety gears at their workplace.
Tapan Dutt, convener of Shipbreaking Workers' Trade Union Forum, said as per international rules, ships must be cleaned of toxic materials before they are brought to shipbreaking yards for dismantling. But most of the owners don't follow the directive.
The rules also stipulate that owners must train the workers in shipbreaking before employing them, but the majority of the owners hire unskilled workers, he claimed.
Bangladesh Ship Breakers Association (BSBA) had opened a training centre for workers at Halishahar of Chittagong city a few years ago, but it is not operating now, said Tapan.
He complained the workers were not provided with adequate safety gears, resulting in high casualty numbers.
As per international rules, workers must use personal protective equipment (PPE) at work. The equipment include gears for protection of head, eye, face, foot, hearing, respiratory, hand and body. The workers must use helmet, safety glasses, gloves, full sleeved shirt, long pants and flashlight.
BSBA President Abu Taher claimed the owners were now more careful about workers' safety than anytime before. "We've strictly instructed the owners to provide the workers with safety gears and make sure that all the workers wear them."
The number of accidents has come down significantly in recent years due to owners' awareness, he said. "There was a time when around 50 to 60 workers were killed every year. But the situation has changed due to the measures taken by our association."
Taher said around 45 yards have been in operation now and most of them provide safety equipment to workers.
Abdur Rahim Master, general secretary of Bangladesh Ship Breakers Workers' Federation, said workers in around 60 percent of the firms use PPE.
Abdul Hai Khan, deputy inspector general of Department of Inspection for Factories and Establishment (DIFE) in Chittagong, admitted that some owners didn't provide their workers with PPE.
"But many workers don't want to wear safety gears for feeling uncomfortable. Although it is mandatory for the owners to compel each worker to be in safety gears, many don't do so," he added.
The DIEF official said they cannot monitor all the shipbreaking yards regularly due to shortage of inspectors. "We have only two inspectors in Sitakunda for around 100 shipbreaking yards and hundreds of shops and factories in the upazila."
During their visits to shipbreaking yards, the inspectors assess safety and rights issues of workers. If a firm is found lacking in any of the issues, a notice is served on it to make those up. Legal action is taken against the firm only if the owner doesn't take corrective measures.