Extortion on rise ahead of Eid
Truck drivers, footpath hawkers forced to pay more to extortionists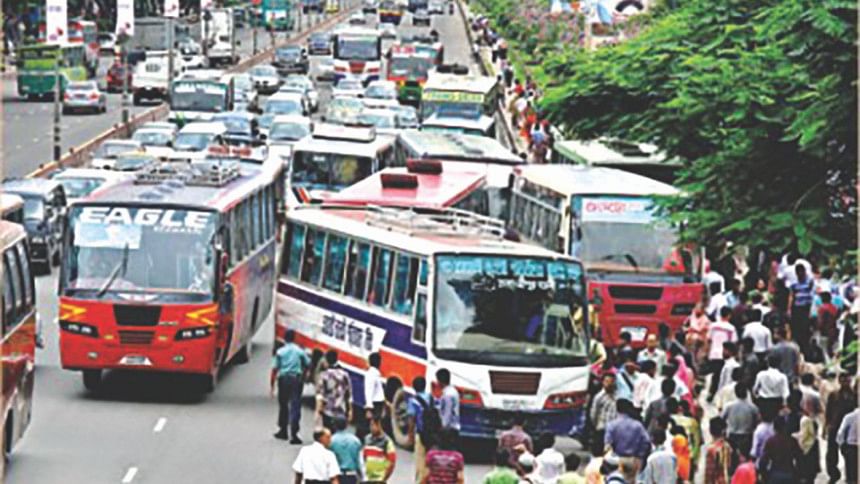 With a brinjal-loaded truck, driver Sabuj Mia came to the capital's Karwan Bazar kitchen market from Tangail's Madhupur early Sunday. 
He generally takes Tk 6,000 to 6,500 from the goods owner for a trip. But at the end of Ramadan, he charges the owner Tk 1,000 to Tk 1,500 extra.
"What will I do? I don't take the money for my trips. I have to pay it to law enforcers, market lessee and labourers as Eid tips," Sabuj told The Daily Star.
Sabuj said he entered the Karwan Bazar kitchen market soon after midnight and it took only one and a half hours to unload the truck, but the toll collector still charged him Tk 200 as parking fees. The fees for parking a small truck for eight hours are Tk 120.
Asked about taking extra, Mohammad Alauddin, one of them who collects tolls from vehicles that enter Karwan Bazar, said they were collecting the additional toll as "Eid bonus".
Sabuj said he usually gave labourers Tk 400 for unloading goods from his vehicle. "But this time, I have to pay them Tk 200 additionally for this work as tips.
"I pay police Tk 3,000 a month to bring goods from Tangail to Dhaka. Ahead of Eid, I have to give them Tk 100 to Tk 200 at different points in addition to that," he claimed.
Humayun Kabir, former president of Bangladesh Truck and Covered Van Drivers' Union, alleged that their drivers were extorted heavily by the highway police on Dhaka-Tangail, Dhaka-Khulna and Dhaka-Chattogram highways.
"Most of the drivers give police a specific amount a month even after having all valid documents to avoid harassments in the name of checking vehicles."
Drivers said they pay Tk 3,000 for small trucks and Tk 5,000 for large ones.
Quoting his drivers, Humayun said highway and traffic police collected toll heavily from drivers at Daudkandi and Cumilla Cantonment points, Feni's Lalpur, Mirsarai and Fouzderhat in Chattogram, Joydebpur and Tongi of Gazipur and Elenga of Tangail.
"We have visited the highways and found different workers' associations are mainly collecting tolls, but police always get the blame," said Atiqul Islam, deputy inspector general of highway police, adding that police were not involved in any toll collection.
"If any policeman is seen collecting tolls, please take a snap and file specific complaints with us. But don't make any general statements against police."
Asked, Osman Ali, general secretary of Bangladesh Road Transport Workers Federation, refuted the allegation of collecting tolls.
"We have to pay tolls to metropolitan, district, and highway police," he alleged.
"Some workers' associations might collect tolls, but we already requested the law enforcers to take action against them."
On May 26, Inspector General of Police Mohammad Javed Patwary through a video conference from the Police Headquarters (PHQ) instructed all police units to show zero tolerance against extortion on roads and highways across the country ahead of Eid.
Sohel Rana, assistant inspector general at PHQ, said a racket always tries to collect tolls ahead of Eid. "Special instructions have already been given to different police units so that it does not happen and they are working on it."
FOOTPATH EXTORTION
A 45-year-old woman, who sells seasonal fruits on footpath near the Pragati Insurance Bhaban at Kawran Bazar, said she pays Tk 150 daily to "linemen", who collect tolls, to run her business on the footpath, but it is Tk 280 in Ramadan.
This has become common at all points in the capital. On the footpaths of Mirpur-1 and -10, a hawker pays "linemen" Tk 200 to Tk 600 ahead of Eid. It was Tk 100 to Tk 300 before the Ramadan.
A hawker has to pay Tk 300 to Tk 800 in Farmgate area, while a hawker in Motijheel area pays Tk 200 to Tk 400. The amount was half before the Ramadan.
This newspaper got the picture after talking to dozens of hawkers in the last couple of days.
Hawkers and influential locals employed the "linemen".
Arif Chowdhury, executive president of Bangladesh Hawkers Federation, said around three lakh hawkers are now in the capital.
"We give money to extortionists, police and city corporation employees through linemen round the year to do business, but the tolls become double just before Eid," he alleged.
Masudur Rahman, deputy commissioner of Dhaka Metropolitan Police, said they did not receive any specific allegations of extortion. "If any specific allegations were made, they would take action against it."