'Blindfolded, taken away on microbus'
Farhad Mazhar gives statement under 164; family takes him to hospital from court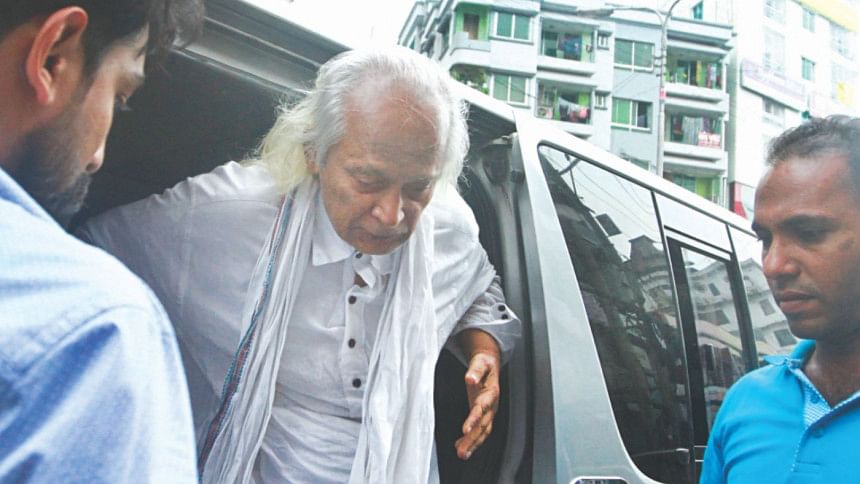 Writer and poet Farhad Mazhar in a judicial statement yesterday said several unidentified men forced him into a microbus and blindfolded him minutes after he came out of his Adabor house to buy medicine early in the morning on Monday, according to court sources. 
While giving the statement under Section 164 of Code of Criminal Procedure (CrPC) before a magistrate in Dhaka, he also said law enforcement agencies rescued him from a bus in Noapara of Jessore as he was heading for the capital after the abductors released him in Khulna.
He thought that a vested quarter orchestrated the incident to put the government in an embarrassing situation, the sources added.
Yesterday afternoon, he was placed in his own custody following an application after Metropolitan Magistrate Ahsan Habib recorded his statement. His wife Farida Akhter and other relatives were present at the courtroom.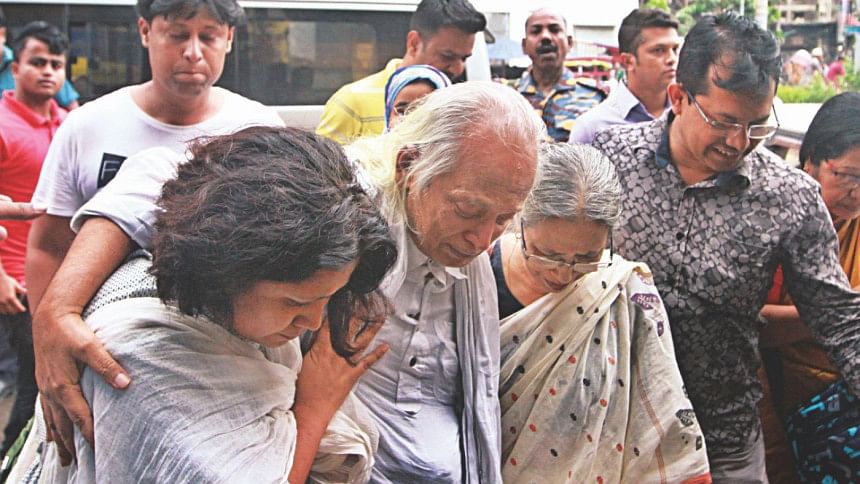 The family took him to Birdem Hospital from the court as he was feeling sick, Farida's sister Sayyida Akhter told The Daily Star around 9:00pm.
A joint team of Rab-6 and Abhoynagar police in Jessore found Farhad on a bus in Jessore around 11:30pm on Monday, more than 18 hours after he reportedly went missing from outside his home.
Later, he was immediately taken to Phultola Police Station in Khulna and from there to Adabor Police Station in Dhaka around 8:00am. He was shifted to the office of Detective Branch where top officials interrogated him.
The writer was at the DB office from 10:00am to 2:30pm before being sent to the Metropolitan Magistrate's Court.
"Farhad Mazhar was blindfolded, picked up and taken away," DB Joint Commissioner Abdul Baten quoted him as saying while briefing reporters.
Farhad's statement before the magistrate and police officials, however, contradicts a statement of Khulna Range DIG Didar Ahmed that he was travelling alone and apparently in good health.
"He seemed completely alright. He was carrying a bag which had in it an extra shirt, towel, mobile charger, some cash and other necessary things people usually carry during a journey," Didar told journalists around Monday midnight.
Footage of CCTVs installed near his house shows Farhad leaving his apartment at 5:05am alone and there was no one with him. No bag was seen with him in the footage.
A mid-ranked police official, who interrogated Farhad in DB office, told The Daily Star that the writer was completely traumatised after the incident and he could not remember many things during interrogation.
Farhad told police that he woke up early in the morning for doing his writings like other days. He went out of his house around 5:00am to get medicine for his dry eyes from a 24/7 pharmacy in front of Suhrawardy Hospital.
He was picked up when he reached near Shyamoli intersection, the police official quoted him as saying. "They kept him on the footwell between two rows of seats on the microbus and hurled abusive words during the journey."
Tracking his phone, police found his presence in six areas --Gabtoli, Manikganj, Aricha, Faridpur, Jessore and finally in Khulna.
"Before releasing him around 7:30pm near Khulna Shibbari area, the abductors gave him a bus ticket and asked to go back to Dhaka. They said they would be following him."
Farhad then went to a restaurant near Khulna New Market to have a meal before boarding the Hanif Paribahan bus.
Meanwhile, Khondoker Rafiqul Islam, commanding officer of Rab-6, said Farhad Mazhar told the elite force that he was tied up in a sack for some time on the microbus.
"CCTV footage in Dhaka shows him leaving Dhaka on a microbus. The vehicle is yet to be traced," he told The Daily Star.
Farida Akhter had filed an abduction case on Monday night saying her husband was kidnapped by unknown persons. DB Joint Commissioner Abdul Baten said they would investigate the case based on the judicial statement.
Hours after Farhad reportedly went missing, his wife at a press conference at their house said she got a phone call from his number at 5:29am. "He told me that some people were picking him up. He said they would kill him."
She said Farhad again called her from his number around 6:21am and requested her to arrange Tk 30 to 35 lakh to be paid as ransom.
The family received three to four more phone calls from him. The last one was at 7:30pm, she said.