Heart wrenching appeal from families of missing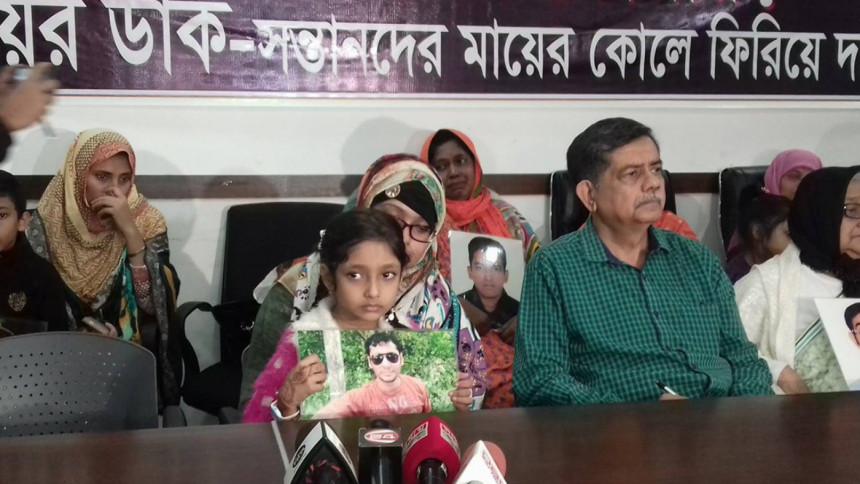 Adiba Islam Hridi, the seven-year-old daughter of Chhatra Dal leader Parvez Hossain who remains missing since 2013, has sought Prime Minister Sheikh Hasina's intervention in finding her father.
"Please bring my papa back or send me to my papa. I want to go to school with my papa. Sheikh Hasina aunty, please return my papa," said Hridi.
When the little girl made this emotional appeal at the Jatiya Press Club in Dhaka today, it was difficult for everyone present there to hold back tears.
Her father Parvez Hossain remains missing after he was picked up on December 2, 2013, from Shahbagh of the capital.
Hridi was only two that time and her mother Farzana Hossain was then expecting her brother, Araf Hossain, who never saw his father.
Like Hridi, family members of 25 such victims, who disappeared since 2013, called upon the government to set up an independent investigation commission to find out the fate of their loved ones and to punish those involved in their "forced" disappearances.
The family members organised the press conference on the occasion of International Human Rights Day.
With photos of their loved ones in their hands and tears in their eyes, fathers, mothers, children and wives of the victims called upon the PM to relieve them of their pain.
Ferdousi Rahman, sister of BNP leader Sajedul Islam Sumon, could not hold back her tears while sharing her words.
"I came up here with the demand (to get back my brother) at least 20 times in these past four years. He [Sumon] was picked up in front of everyone. Every time we meet the law enforcers to know of any updated they just tell us that they are looking into it," she said
"Please at least show us the body, or show us his graveyard. So that we can pray for him," the grieving sister added.
Eight people including Sajedul Islam Sumon, general secretary of BNP ward No: 38, were allegedly picked up by Rapid Action Battalion (Rab) between 8:00pm of December 4 and 2:00pm of December 5 in 2013 from the city's Bashundhara and Shaheenbagh area.