It was not a drama, I was abducted
Mazhar also claims police scripted his judicial statement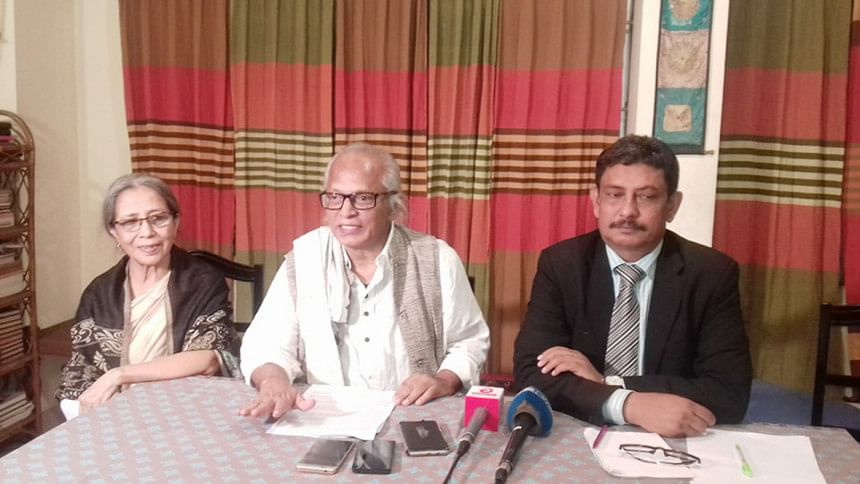 Poet and writer Farhad Mazhar yesterday insisted he was a victim of abduction, rejecting law enforcers' claim that it was a stage-managed drama.
A staunch critic of the government, Mazhar also claimed the statement he submitted before a Dhaka court was scripted by police.   
"I can assure you I have not staged any drama. Rest 100 percent assured about it," he told a press conference at his Adabar house in the capital.
Mazhar was talking to the media for the first time since he was allegedly kidnapped near his house on the morning of July 3. He was found in a bus in Abhynagar of Jessore about 18 hours later.
The evidence that police supplied to the media, including footage of his movement in Khulna, sending money through bKash and making a phone call to a woman are all a set-up by the abductors, he claimed.
He did everything as instructed by his captors to save his life, he added.
"The place where the abductors released me was totally unknown to me. I realised that the abductors were watching me. They asked me to take a back seat in the Hanif Paribahan bus after I boarded it as per their instructions," said Mazhar.
His family held the press conference two days after a Dhaka court ordered police to sue Mazhar and his wife Farida Akter for staging a "false drama over the abduction".
Accepting the probe report submitted by detectives, Metropolitan Magistrate Khurshid Alam passed the order and asked the Adabar police to file a case against the couple in this regard.
Police last night confirmed that they were yet to get the Metropolitan court order.
Mahbubul Haque, inspector of the Detective Branch of police, who investigated the abduction case filed by Mazhar's wife, submitted the final report to the Chief Metropolitan Magistrate's Court of Dhaka on November 14. The report also sought the court's permission to sue the couple.
The report said that Mazhar "staged the abduction drama" in efforts to get some money from his family.
In the briefing, the writer outright rejected the charge.
"I underwent operation in both my eyes. On July 3, I woke up early and found my eyes dry when I tried to write something on my computer," he said.
He then went out of his home around 5:00am to buy some medicines from a drugstore that remains open for 24 hours. On his way, three unidentified men forced him into a white microbus and blindfolded him, he said. 
"Luckily, I was able to make a call to my wife whose number was the first on my dial list," said Mazhar.
On his way back to Dhaka, he suddenly woke up to a noise inside the bus, he said, adding that some plainclothes men tried to forcibly take him out of the vehicle.
"I was frightened, thinking they might hit me." 
But some Rab men appeared on the scene and took him to their vehicle after an altercation with the plainclothes men. They locked in an altercation after the plainclothes men pointed a gun at the Rab men, he said.
The Rab vehicles were stopped by someone on the way by putting a barricade and taken to Abhynagar Police Station in Jessore.
"Despite being a victim of abduction who was rescued just moments before, I was dragged down from the Rab vehicle and misbehaved," he said. 
"No victim of forced disappearance spoke about their ordeal in public before. I am the first one to talk and I am taking this risk. I am inviting danger for me; I know that. But I will keep fighting."
On why he was holding a press conference after so long, he asked back, "Was the situation favourable for it? If it were, I would certainly have talked to the press."
He said he now had no other way but to speak up. "If my no confidence petition were accepted [in the court], I would not be here to talk to the press. This statement would have been included there [in court documents]."
About the judicial statement before the court, the writer said, "I am a victim. I was traumatised and panicked and under physical and mental stress. Their first responsibility was to take me to a hospital. But instead, they kept interrogating me at the DB office although I was shocked, tired and exhausted.
"From there, I was given a written statement and sent to the court for making judicial statement under section 164. In a state of complete bewilderment, I could only tell the honourable court that I am extremely exhausted and I am yet to recover from trauma. I am giving you whatever the DB office made me to write. I then collapsed on a sofa in his [magistrate's] room with his permission."
He said he later came to know that his captors tried to take him to India through Jessore-Khulna border.
Asked, he said he would think about withdrawing the statement after consulting his lawyer.
Contacted last night, DB Joint Commissioner Abdul Baten denied that they gave a written statement to Mazhar for submission before the court.