Heavy Metals in Soil: Food chain exposed to contamination
Say experts; no govt standard set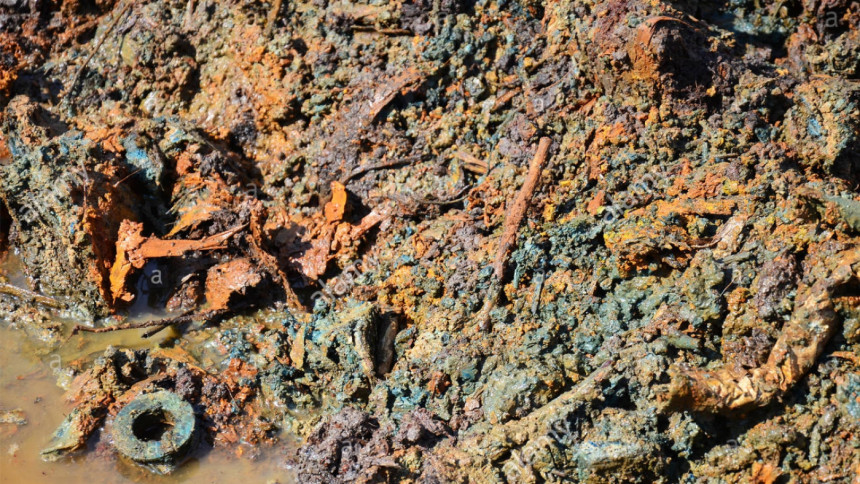 Heavy metals like chromium, cadmium and lead are found beyond acceptable levels in soil from many parts of Bangladesh, posing a public health risk as the substances enter food chain by various means.   
Experts say cadmium comes from fertilisers while chromium and lead enter soil mostly from industrial, electronic and medical waste.
"If there is contamination in soil, it will certainly get into the food chain through edible and non-edible plants," said Prof Imamul Huq, former teacher of the Department of Soil, Water and Environment at Dhaka University.
"Soil in the industrial areas is highly polluted. Soil in the rural areas, on the other hand, is comparatively less contaminated with heavy metals," he told The Daily Star recently.
Some heavy metals from deep in the soil come to the surface through groundwater irrigation.
Besides, fertilisers, pesticides and industrial pollutants, polluted water contaminate soil, said Prof Mohammad Mofizur Rahman Jahangir of soil science department at Bangladesh Agriculture University.
He observed that people are not much aware of soil pollution, so the situation is getting alarming. "This pollution is also threatening the food safety issue."
ABM Farooque, former pharmacy faculty dean at DU, said heavy metals have long-term adverse impacts on health.
"Primarily, liver and kidney get affected, subsequently leading to cancer," he added.
No government has yet set any standard for permissible level of heavy metal concentration in soil.
Dr SM Munjurul Hannan Khan, additional secretary of the environment, forest and climate change ministry, said the environment department never checks the quality of soil -- whether it was polluted or to which extent it was polluted.
"We have our capacity to evaluate pollution of water and air. We are taking a project to get details about the country's soil. Hopefully we will start it soon," he told this correspondent last week.
According to a four-year study, conducted by Md Tanvir Ahmed Chowdhury, assistant professor of Department of Soil, Water and Environment at Dhaka University, the presence of heavy metals in soil of many areas is well above the global average.
A total of 1,444 soil samples were collected from 57 upazilas in 17 districts from 2012 to 2014 and analysed till 2016 to determine the concentrations of a range of heavy metals in soil. The research paper was partially published in Science of the Total Environment journal in 2017.
The researcher took samples from irrigated paddy fields and adjacent uncultivated land in both industrial and non-industrial zones in Bagerhat, Barguna, Bogura, Chandpur, Cumilla, Gopalganj, Jashore, Lakshmipur, Magura, Mymensingh, Rajshahi, Satkhira and the industrial districts of Gazipur, Manikganj, Narayanganj, Tangail and Munshiganj.
"We have found high concentrations of chromium, cadmium and lead in agricultural land. In the land irrigated by groundwater, we have found high concentrations of arsenic," said Tanvir.
He observed that soil in Bangladesh is highly variable and concentration of mineral elements such as zinc, copper and nickelvary drastically from one place to another.
According to his findings, the range of chromium concentration in the paddy soil samples was 18 to 727 mg/kg, averaging 72 mg/kg. For soil samples of uncultivated land, the range was 21 to 313 mg/kg, averaging 66 mg/kg.
Both the averages were higher than 60 mg/kg, the global average of chromium concentration in soil as per data of different countries found from multiple scientific journals,the researcher said.
Referring to the chromium concentration, Tanvir said, "This is way beyond the normal range. Chromium as much as 727 mg/kg is found only in highly contaminated soil."
Besides chromium, cadmium concentration was found up to 5.58 mg/kg in paddy fields and up to 2.66 mg/kg in non-agricultural and non-irrigated land. The global average is 0.41 mg/kg. 
Lead and arsenic concentrations were also high in some of the soil samples.
The study found arsenic concentration up to 88mg/kg in the samples from paddy fields and 24.27 mg/kg in the samples from uncultivated land. The global average ranges from 5 to 10mg/kg.
According to experts, groundwater extraction is one of the key sources of arsenic pollution in soil.
The study also found lead up to 91 mg/kg in paddy field and up to 36 mg/kg in non-agricultural and non-irrigated land.
About 13.5 percent paddy soil samples and seven percent uncultivated soil samples had lead concentration more than the world average of 27mg/kg.
Mohidus Samad Khan, associate professor at Buet's chemical engineering department, said the current situation could become acute due to industrial growth and pollution.
Noting that polluted floodwater from upstream could be a possible source of contamination, he said, "These heavy metals may contaminate food cycle, water bodies and aquatic life cycle."
It is difficult to neutralise contaminated soil, he added. "It is a long-term process and may require a series of treatments."
Bidhan Kumar Bhander, director of Soil Resource Development Institute, said they usually do not monitor the heavy metals concentration in soil, rather measure nutrients of soil using 13 parameters.
"We conducted a survey a few years ago and we found that soil was not that much contaminated with heavy metals," he added.