Restricted abortion rights in the US will affect us all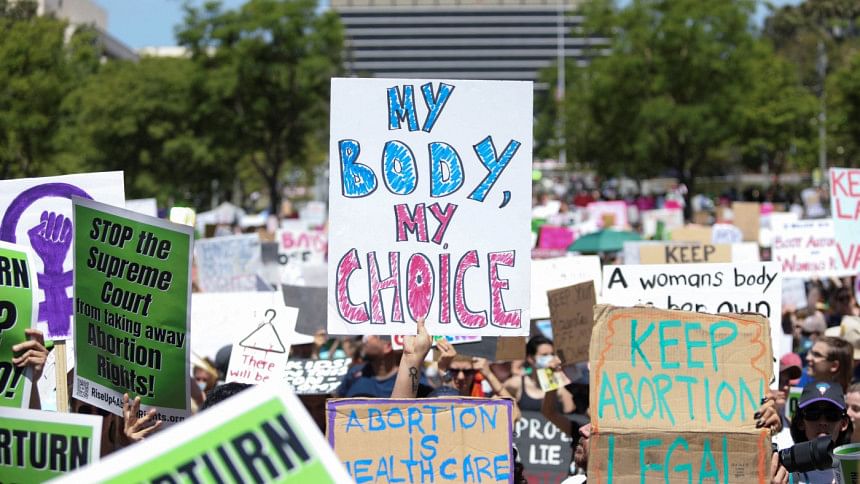 When the Democratic Party came into power in early 2021 after the last US elections, feminists and human rights activists all around the world followed the countdown till the very last minutes, anticipating what changes could occur next. Not surprisingly, very early on in his role as President, Biden rescinded the "Global Gag Rule" – a devastating anti-abortion policy that undermined the health and rights of women around the world. The rule had denied funding for foreign organisations and NGOS/INGOs providing abortion information or services. It also meant that development organisations using funding from USAID would no longer be able to carry out abortion-related work, even with funding from other donors, if they wanted to continue receiving funding from the US. The withdrawal of the Global Gag Rule was a light of hope for civil society organisations around the world.
In 2021 alone, the United States provided over USD 96 million to support the Covid response in Bangladesh. While the US has helped fund "public health" in Bangladesh for the last five decades, abortion rights have not fallen under this. And now the overturning of Roe v Wade has taken us backwards, not just in the US but around the world, and curtailed the progress that had been made on women's rights and abortion access globally.
You might think the overturning of Roe v Wade has not made much difference in the context of Bangladesh, but a deep dive into the matter tells us differently. At a recent round-table, Marcia Soumokil, the Indonesia country director at Ipas, an international NGO that works to increase access to safe abortions and contraception, said, "The overturning of Roe v Wade could affect broader legislation across the world as well. When access to abortion is severely restricted in the US, it will send signals to the rest of the world governments, in Indonesia and other countries, that abortion rights are not part of human rights."
"Conservative factions in society and government will interpret this change as a declaration that government does not oblige to protect abortion rights," she added. And so, in the current situation, not only will funding opportunities for abortion rights from the US become a diminishing possibility, stigma and barriers to safe abortion access will also be aggravated worldwide.
Under Bangladesh's penal code of 1860, induced abortion is illegal except to save a woman' life. Menstrual regulation (MR), however, has been part of Bangladesh's national family planning program since 1979. Despite the availability of MR services, many women resort to underground (and unsafe) abortions because of stigma and lack of availability of information/resources. According to the Center for Health and Population Research at ICDDR,B, the incidence of abortion was 35 times higher for unmarried women in Bangladesh than for married adolescents. Additionally, there is a huge data gap, especially with regard to younger women getting abortions, so how big a problem access to safe abortion is remains largely underrepresented.
In 2020, a high court ruling asked why the abortion related sections in the Penal Code of Bangladesh should not be declared void as it is contradictory with the fundamental rights guaranteed in Bangladesh's Constitution. At present, if rape victims become pregnant, they are unable to abort the unwanted foetus, and since 2020, things have not moved in this regard.
Although we tend to focus on the positives, like our achievements in bringing down fertility rates and maternal mortality, the fact remains that due to a number of circumstances, women will get abortions. And unsafe routes to abortion results in several complex problems, including endangering the life of both the woman and the child, suicide, and negative impacts on mental health.
Needless to say, marginalised groups such as young women, rural women, women with disabilities and queer people are doubly and triply affected by such issues. To say that Roe v Wade does not affect us is simply untrue. Asking "if we have the option of MR, why do we need abortion rights?" may help us escape from reality for a while, but it will not help strengthen the fight for reproductive health and justice in the long run. We must fight head on – socially, legally and individually to get past the stigma and oppression that limit women's bodily autonomy, agency and rights, and we must hold decision-makers accountable. As feminists and activists, we should bring back the movement of "My body, my rights," and use data-driven advocacy to do so.
Syeda Samara Mortada is a feminist activist, working as a Coordinator in Bonhishkha, an organisation working to remove gender-based stereotypes.