Hasina meets Modi, holds 'productive' meeting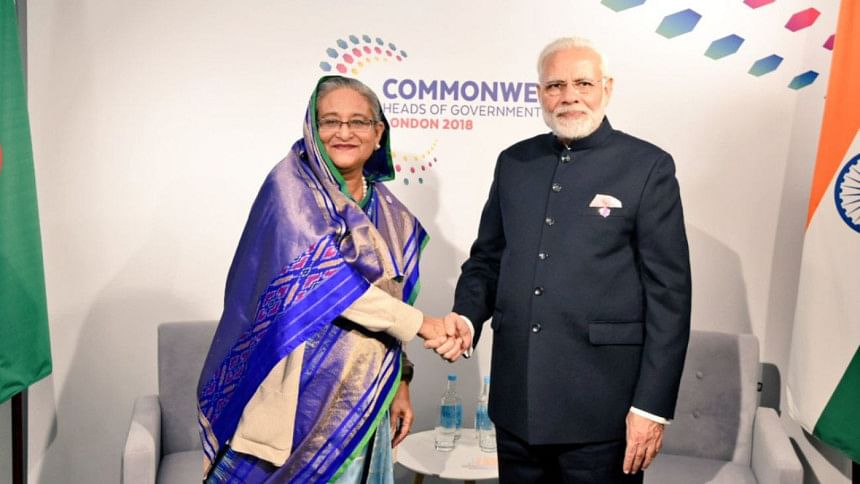 Prime Minister Sheikh Hasina yesterday had a "productive" meeting with her Indian counterpart Narendra Modi discussing various issues of bilateral interest on the sidelines of Commonwealth Summit in London.
It was the first meeting between the two leaders since Hasina's official visit to India in the first half of April last year, reports our correspondent in New Delhi.
Commenting on the meeting, Spokesperson for India's External Affairs Ministry Raveesh Kumar tweeted: "Neighbourhood first! Connecting with a neighbour and a close friend, PM @narendramodi and Prime Minister of Bangladesh Mrs. Sheikh Hasina had a productive exchange of views on various issues of bilateral interest on the sidelines of #CHOGM18."
Among others present in the Hasina-Modi meeting were Foreign Minister AH Mahmood Ali and Indian Foreign Secretary Vijay Keshav Gokhale.
"On the sidelines of the CHOGM, the two premiers held the meeting at Lancaster House here this afternoon [yesterday afternoon] and discussed issues related to bilateral interests," Foreign Secretary Shahidul Haque said while briefing reporters after the meeting, reports BSS.
Replying to questions whether Rohingya and Teesta issues came up for discussion, the foreign secretary said all issues were discussed.
While talking about the Rohingya issue, he said India had changed its position on this issue, which is "much closer to us". "India is helping with rehabilitation of the Rohingyas," he said.
The foreign secretary said the inauguration of "Bangladesh House" at Biswa Bharati University in Indian state of West Bengal in the presence of the two premiers also came up for discussion.