Gun attack kills 5 in Rangamati
Gunmen open fire on mourners of slain upazila chairman; leader of a UPDF faction among dead, 7 injured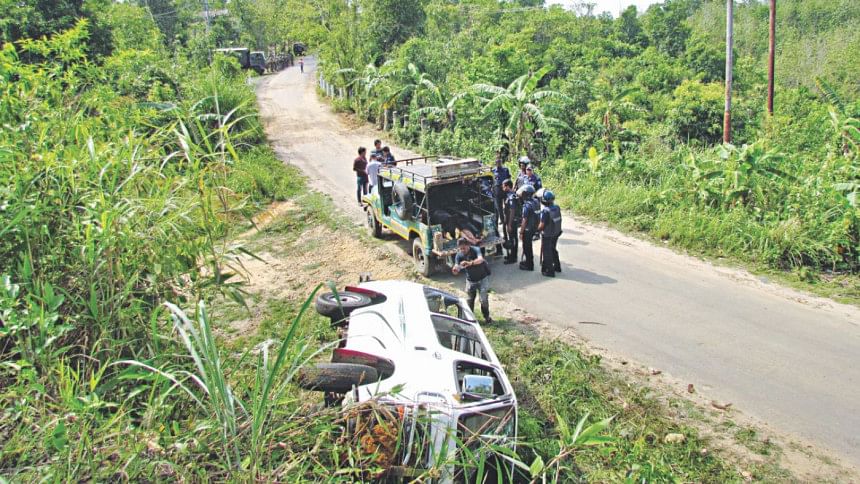 Just a day after the killing of Shaktiman Chakma, chairman of Naniarchar Upazila Parishad in Rangamati, another five people were shot dead in the hill district yesterday.
The five, including a Bangalee driver, were on a microbus full of political leaders and activists headed for Hugurmara area of the upazila to attend the funeral of Shaktiman.  
Unidentified gunmen ambushed them in Betchhari area around 12:15pm, also leaving seven others injured. 
Tapan Jyoti Chakma, 50, alias Borma, president of UPDF (Democratic); Sujon Chakma, 28, general secretary of Mohalchhari unit Pahari Chhatra Parishad (PCP), and Pronok Chakma, 23, a member of Jubo Samiti, died on the spot.
Setu Chakma, 30, another member of Jubo Samiti, and driver Md Sajit, 32, died on their way to hospital.
With Shaktiman and yesterday's five, at least 17 people were killed in Khagrachhari and Rangamati over the last six months. Of them, nine were from UPDF, two from PCJSS-MN Larma, four from UPDF (Democratic), and one was a UPDF supporter.
UPDF (Democratic) is a breakaway faction from the United Peoples Democratic Front (UPDF), a political party of hill people opposing the CHT Peace Accord of 1997.
Shaktiman was a vice president of PCJSS-MN Larma, a group which, according to sources, recently formed an alliance with the UPDF (Democratic).
PCJSS-MN Larma came into being after Santu Larma-led Parbatya Chattagram Jana Samhati Samiti (PCJSS), which had signed the peace accord with the government, split during the past caretaker rule in 2007-08.
Following the killing of Shaktiman, his fellow activists said it was an act of the UPDF, an allegation the party has rejected.
About yesterday's shooting, Rangamati SP Alamgir Kabir said, "The victims came under attack as they were going to attend the funeral of the slain Naniarchar chairman."
Jimit Chakma, a member of UPDF (Democratic), who was in another vehicle behind the microbus, told The Daily Star that the miscreants had taken position on a roadside hilltop and opened fire from there. 
First, the driver got shot and he lost control over the wheels, he said. "Later, the gunmen came down from the hilltop and fired at others on the microbus."
Some 12 passengers were on the microbus, going to Hugurmara from Khagrachhari, said Jimit, known as a close aide to Tapan Jyoti Chakma.
The injured are Kriti Bikash Chakma, vice president of Rangamati unit of PCJSS-MN Larma, and its members Sumonto Chakma, 38, Ashim Chakma, Nitimoy Chakma, 30, Digonto Chakma, 25, Dipu Chakma, 30, and Kalomoy Chakma. They were taken to Chittagong Medical College Hospital.
No cases were filed over the killings of last two days, said Abdul Latif, officer-in-charge of Naniarchar Police Station.
Meanwhile, the funeral of Shaktiman Chakma was held at Huugurmara village in Naniarchar yesterday, while the Chittagong Hill Tracts (CHT) Commission strongly condemned the killing which took place in broad daylight. 
In a statement, signed by its co-chairs Sultana Kamal, Elsa Stamatopoulou and Myrna Cunningham Kain, the Commission also called upon the local administration and the government to take measures to stop recurrence of such incidents. 
"In recent days, incidents of killing and kidnapping have taken place in Chittagong Hill Tracts. But no news of arrest has been heard in this connection," it said, seeking exemplary punishment of those responsible. 
POLITICS OF FACTIONS
Though the situation in the hills was relatively calm for the last three years following a "secret meeting" of UPDF and PCJSS, violence returned after the rise of the UPDF (democratic), local political activists claim.
On November 15, 2017, the faction announced its separation from UPDF at a press conference in Khagrachhari.
However, Onggo Marma, general secretary of Ganotantrik Juba Forum, the youth wing of UPDF, claimed that members of the so-called faction were actually expelled from the main party for breaches of discipline.
This is nothing new in the CHT. Among numerous other troubles, intra-party conflicts have long been an issue in the hills.
PCJSS founder Manabendra Narayan Larma, popularly known as MN Larma and a leading proponent of the Jumma people's rights, was killed in an attack by a splinter group of his organisation on November 10, 1983.
On December 2, 1997, under the leadership of MN Larma's younger brother Santu Larma, PCJSS signed the CHT Peace Accord that a large group of students of the hill districts refused to accept, leading to the formation of UPDF.
Conflicts continued between PCJSS and UPDF until the beginning of 2015, when a resolution was finally reached following the "secret meeting". By this time, hundreds of activists had already been killed.
Besides, during the last caretaker rule, PCJSS split and PCJSS-MN Larma established control over Khagrachhari district and three to four upazilas of Rangamati. Enmity ensued between the two factions.
On November 15, 2017, the UPDF (Democratic) was formed under the leadership of Tapan Jyoti.
'A DESTRUCTIVE ROAD'
Amid incidents like killings and abductions, the feuding groups keep pointing fingers at one another. 
Doya Sona Chakma, one of the two Hill Women Federation leaders who returned home in late April around a month after being kidnapped, alleged that UPDF (Democratic) members had picked them up.
The Hill Women Federation is an associate organisation of UPDF.
But Shyamol Chakma, member secretary of UDPF (Democratic), rejected the allegation and said the abduction was a result of the UPDF's internal feud.
Sajib Chakma, the PCJSS central publicity spokesperson, said, "More than three hundred supporters and leaders of PCJSS had been killed over internal feud in the CHT after the peace accord. If the accord is fully implemented the conspirators would never get the chance to create anarchy in the CHT."
Michael Chakma, spokesperson for UPDF, said around 280 leaders and activists of his organisation were killed over internal political feud in the CHT after the peace accord. He added they wanted unity. 
"We lost around 12 activists and a leader of our group [PCJSS-MN Larma] after 2007," said Sudha Khar Tripura, spokesperson of the faction.
Goutam Dewan, president of CHT Nagorik Committee, said, "Such types of endless killings will never bring good in the CHT and we would not let it continue any longer.
"We are paving a destructive road made of internal conflict and it must be stopped as soon as possible in the CHT."