CHT Accord implementation still incomplete
How much longer must the people of CHT wait?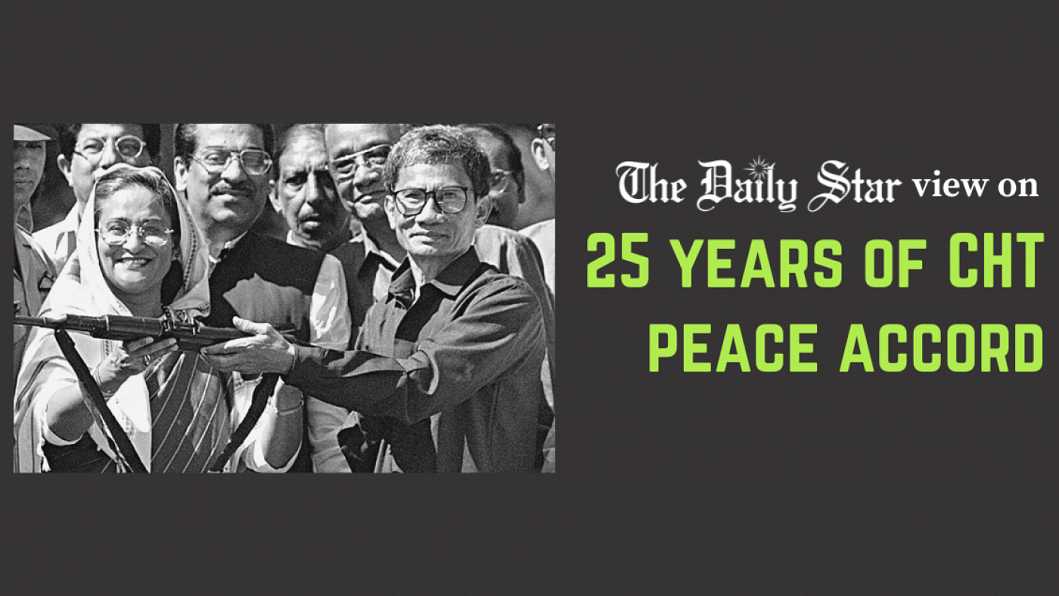 Twenty-five years ago today, the Chittagong Hill Tracts Peace Accord was signed between the government and Parbatya Chattagram Jana Samhati Samiti, bringing an end to armed conflict in the region and ushering in what many considered to be a new chapter in the history of the country. The Accord was a milestone in Prime Minister Sheikh Hasina's first term at the helm of the nation, exemplifying the government's intention to steer the country towards fairer winds and generating confidence in the newly elected PM's ability to do so.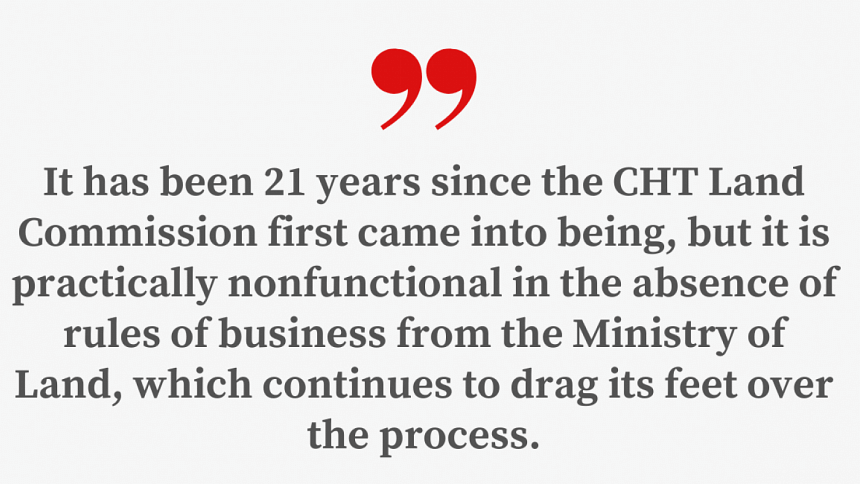 However, a quarter of a century since the Accord, we are pained to find that its implementation remains fundamentally incomplete. Of course, certain steps have been taken. Laws have been enacted in accordance with the CHT treaty, leading to the establishment of the CHT Regional Council, the reconstitution of Hill district councils, and crucially, to the formation of the CHT Land Dispute Resolution Commission. In 2016, an amendment to the Land Dispute Resolution Commission Act of 2001 finally recognised the customary rights of the Indigenous Jummas and confirmed that land disputes in the hills would be resolved "in consonance with the law, custom and practice in force in the Chittagong Hill Tracts."
Unfortunately, a lot of the reforms so far, while they are steps in the right direction, have stopped short of dealing with the fundamental issue of land, and failed to put power into the hands of Indigenous communities to ensure peace and stability in their region. 
The effective functioning of the CHT Land Commission is one of the biggest concerns in this regard. It has been 21 years since it first came into being, but it is practically nonfunctional in the absence of rules of business from the Ministry of Land, which continues to drag its feet over the process. Experts have argued that the commission does not have the required budget and workforce to operate effectively, either. 
On top of that, the region is still being plagued by recurring incidents of violence, and we continue to witness reports of land-grabbing and environmental destruction in the name of development. The recent recommendation from eminent citizens to create a probe committee spearheaded by a higher court judge to probe these violent incidents, and to provide due authority to the regional council and district councils, should be taken seriously. 
If the government does not act soon, it runs the risk of neutralising any of the good that has come from the CHT Accord so far. There have been many instances in history where such issues, left unaddressed, have festered in a community, turning hope into resentment and eventually becoming a major challenge for government. An incomplete implementation of the Accord will not just be a broken promise – it could create greater instability within the region and ultimately disillusion the Indigenous communities who have already waited 25 years to see its fruition.