Grievances now forgotten
Says Khaleda; asks govt to hold dialogue, elections immediately
BNP Chairperson Khaleda Zia yesterday urged the government to initiate talks with all political parties to find a solution to the "ongoing political crisis and restore democracy" in the country.
She also renewed her party's demand for holding a free, fair and inclusive national election immediately, but didn't announce any agitation programme to press for it.
"Let's find a solution through talks and restore democracy. We don't have any grievances, gripes and grudges against anybody ... we have suffered a lot, but have forgotten it. You [the government] need not be afraid. Be good, be gentle … and admit that whatever you've done is a mistake," Khaleda said at a huge rally in front of her party's Nayapaltan central office in the capital.
The BNP organised the rally to observe the day as "Democracy Killing Day", denouncing the 10th parliamentary polls held on January 5 in 2014.
Leaders and activists of the party and its front organisations started thronging the venue several hours before the rally began around 2:10pm with recitation from the holy Qur'an. Many of them were carrying banners, placards and party flags, and chanting slogans.
By 1:30pm, both sides of the VIP Road from Fakirapool intersection to Nightingale crossing got almost filled with party men and supporters, forcing traffic police to divert traffic from the busy road.
Tight security measures were put in place in and around the venue with members of law enforcement agencies keeping a close watch.
Twenty-one CCTV cameras were installed around the stage set up in front of the BNP office.
Party leaders and activists seemed jubilant at the rally, the first at this venue in more than four years.
The BNP chief also looked cheerful while delivering her speech at the rally that ended peacefully.
 "We all are very delighted today. I cordially thank you all for attending the rally in huge numbers following just a 24-hour notice," she said.
It was Khaleda's first rally in more than a year. She last attended a rally at Kanchpur in Narayanganj on December 13, 2014.
Twenty other BNP leaders, including five standing committee members, four vice chairmen of the party and Khaleda's two advisers spoke at yesterday's rally.
No leader of any component of the BNP-led 20-party alliance was seen there.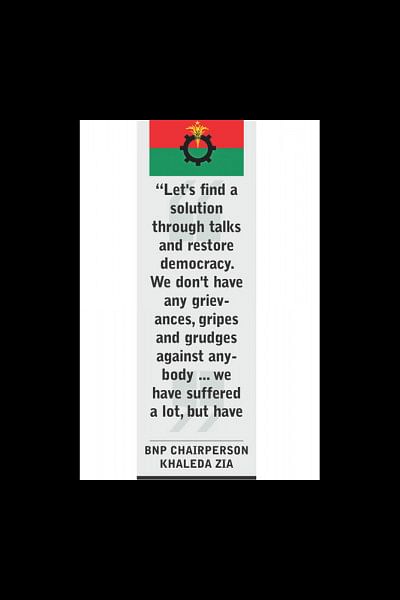 In her 75-minute speech, Khaleda called upon people from all walks of life to raise voice peacefully against the present government to end its "misrule and restore democracy".
Referring to the December 30 municipal polls, Khaleda said it has been proved once again that no fair and acceptable election is possible under this government and the current Election Commission.
The ruling party resorted to "vote rigging and irregularities" in the election to show people that it still has huge popularity, she alleged.
"If you want to prove popularity, hold a fair election under a non-party administration," she said pointing to the government.
The BNP chief praised the government for allowing her party to hold the rally, and urged it to restore "all democratic rights of people", saying that otherwise, nobody can say when people will rise up and put up a strong resistance.
Khaleda demanded the release of her party's detained leaders and activists as well as other political prisoners, including Nagorik Oikya Convener Mahmudur Rahman Manna. She asked the government to withdraw "all false cases" against them.
She called upon law enforcers not to repress people or carry out the government's unjustified orders, and gave assurance that none of them would lose job if her party returns to power.
The BNP chief demanded that the government bring down the charges of utility services, including that of electricity, gas and fuel.
Khaleda also urged it to meet the demands of agitating public university teachers and "restore their due dignity".
She alleged that the government is making new laws one after another to repress the opposition. "People won't accept the law which is not meant for their welfare."
The former prime minister said if her party comes to power, it would establish good governance and promote officials on the basis of seniority, competence and merit.
"No more vandalism and torching… we want real development of the country. We will reopen all closed factories and mills, ensure a congenial atmosphere at educational institutions, and introduce free education for girls after class-XII if we return to power."
Pointing at the present government, she said, "Whatever initiatives you have taken to establish monarchy in the country will not do any good to you."
The BNP chief also accused the government of resorting to killing and forced disappearance for clinging to power.