Govt allocates 2,000 acres for Rohingyas
Biometric registration may start tomorrow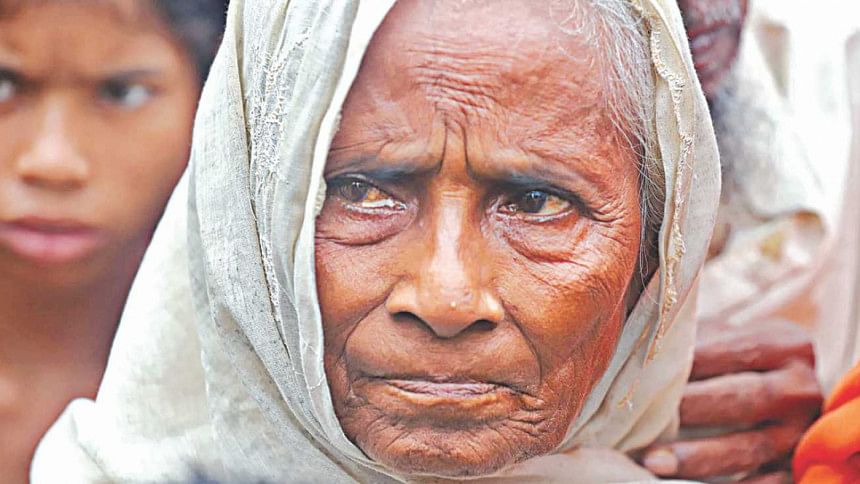 The government has decided to shelter the Rohingyas, who have entered Bangladesh since August 25, in a particular place and bring all of them under biometric registration.
It has allocated 2,000 acres of forest land to build a temporary camp for the refugees. More land will be allocated, if necessary.
Home Minister Asaduzzaman Khan Kamal told journalists about the government decision after a meeting at the ministry yesterday afternoon.
The meeting came in the wake of fresh refugee inflow triggered by the counter-offensive launched by the Myanmarese military following insurgent attacks on 30 police posts and an army base in Rakhine State on August 25.
Also yesterday, Relief and Disaster Management Minister Mofazzal Hossain Chowdhury Maya informed parliament that the government would shelter all the Rohingya refugees, including the new arrivals, at Thengar Char in Hatia until their return to Myanmar.
Nearly 3,00,000 people have arrived in the last two weeks, pushing the number of Rohingyas living in this country to over 6,00,000.
The home ministry meeting decided to restrict the movement of refugees and make all-out efforts so that they are not listed as voters and do not get Bangladeshi passports.
Besides, the meeting stressed the need for cooperation from local government bodies for the documentation of Rohingyas.
It also recommended monitoring public representatives so that they cannot help Rohingyas get listed as voters to create vote bank.
The meeting, attended by top bureaucrats and chiefs of law enforcement agencies, decided that Rohingyas will be given identification cards in the presence of international representatives.
According to meeting sources, the biometric registration will start tomorrow and 10 teams from the Department of Immigration and Passport will supervise it. 
Asaduzzaman Khan Kamal said, "We allocated 2,000 acres of forest land in Ukhia under Cox's Bazar for Rohingyas and we will allocate more land in the area, if necessary."
Rohingyas who are not biometrically registered will not be allowed to board any transport within Bangladesh's territory. They will not get any kind of support without it, he said.
The home boss also said the new Rohingya camp in Ukhia will be fenced with barded wires and members of law enforcers will be deployed for their security.
"We are sheltering Rohingyas on humanitarian grounds and we are taking initiatives so that they stay here in peace. We will do everything in this regard," he said.
In parliament, ruling Awami League MP Kamal Ahmed Majumder wanted to know the government measures to mitigate sufferings of the Rohingya people. 
In reply, Maya shared his experience of Friday's visit to Ukhia, saying he saw an elderly Rohingya who reached Bangladesh border after walking 65km, taking his mother on his back.
"Nobody will understand their sufferings unless they visit the area," he added.
Maya also told the House about the decision to shelter all the Rohingyas at Thengar Char until they are taken back by Myanmar.