GODFATHERS remain untouched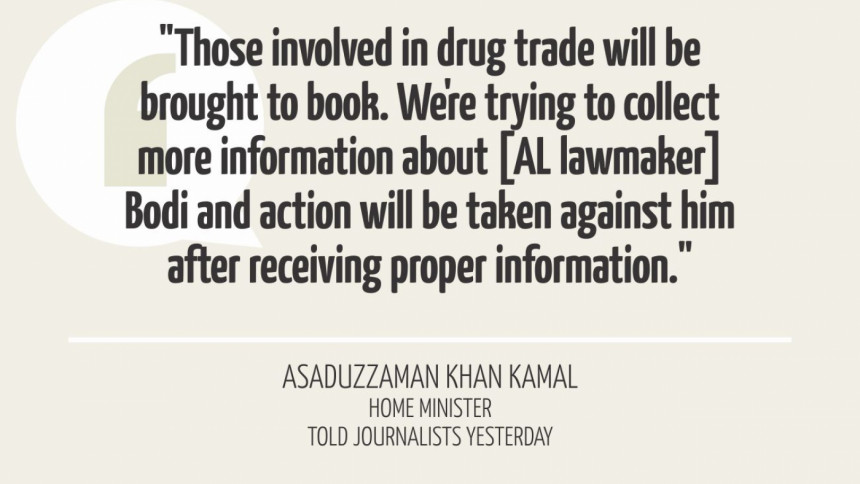 As the special drive against yaba peddlers goes on in full swing, questions arise why some alleged yaba godfathers in Ukhia-Teknaf, the gateway of smuggling the crazy drug into Bangladesh, whose names have prominently figured in multiple intelligence reports, remain out of the net.
Abdur Rahman Bodi, the Awami League MP from Teknaf, has long been known as the godfather of yaba trade and he has allegedly set up a powerful network that includes his five brothers, personal assistant Mong Mong Sen and Teknaf Upazila Chairman Zafar Ahmed to spread the drug across the country.
The lawmaker's name has figured in at least three reports -- one by the narcotics department, one by the Border Guard Bangladesh and one by a joint intelligence body formed to tackle the drug trade in Cox's Bazar-Teknaf area.
The lists were also sent to the home ministry, but nothing has happened.
Interestingly this time, as the crackdown goes on, Teknaf-Cox's Bazar area is yet to see any major drive. But across the country, more than 30 alleged yaba traders have been killed in "gunfights" with Rab and police over the past few days.
In the latest move, the narcotics department sent a list of 141 yaba godfathers to the Anti-Corruption Commission in December 2017 that includes the names of Bodi and his gang. The department requested the ACC to investigate their wealth.
Earlier, Bodi was jailed for three years for concealing wealth but he is now out on bail.
The narcotics department report said Bodi was one of the main controllers of yaba trade in Bangladesh. Nothing happens without his nod.
In November 2012, the Department of Narcotics Control initially prepared a list of 554 top yaba traders. Later in 2014, intelligence agencies, the narcotics department, police and Rab prepared a list of 1,200 yaba traders. The list was revealed by the media in the middle of 2014.
Bodi and several of his relatives and associates were on the list, including Bodi's brothers Abdul Shukkur and Mujibur Rahman, step brothers Abdul Amin and Faisal Rahman, in-laws Akhter Kamal and Shahed Kamal, uncle Haider Ali, cousin Kamrul Islam Russell and nephew Nipu.
The 2014 list includes the names of 87 leaders of the AL and its front organisations Jubo League, Chhatra League and Sramik League who back the yaba traders in Dhaka, Chittagong, Khulna and Rajshahi divisions, the daily Observer reported on January 22 last year.
No actions were taken against them and, as reported by the daily Observer, Bodi's name was later dropped from the list.
As Bodi's name surfaced, Home Minister Asaduzzaman Khan Kamal told the media in 2014 that no action could be taken against Bodi because no evidence of his involvement in yaba trade was found.
Replying to a query about Bodi's alleged role in yaba trade, the home boss told reporters yesterday, "Those involved in drug trade will be brought to book. We're trying to collect more information about Bodi and action will be taken against him after receiving proper information."
Asked if only those who carry the drug would be killed in the name of gunfights, Kamal said, "We won't spare anyone, no matter if he is an MP, government official, member of security force or journalist."
But the most interesting thing happened when these alleged yaba traders participated at an anti-drug meeting at the Cox's Bazar deputy commissioner's office on October 2, 2014. Home ministry's then Senior Secretary Mozammel Haque Khan was the chief guest of the high profile meeting attended by a number of alleged yaba traders, including Bodi and Teknaf Upazila Chairman Zafar Ahmed.
 They flatly denied any involvement in the yaba trade and said the list was prepared to harass them.
Meantime, the Dhaka Metropolitan Police (DMP) has recently drawn up a list of 100 top drug dealers in the city, although their details are not yet known.
But earlier in 2017, the DMP drew up another list of 100 godfathers who were mostly linked to the ruling AL and its front organisations, two from BNP and Jatiya Party, a number of cops and also narcotics department officials.
Of the godfathers in the capital, 16 were ward councillors -- 15 from AL and one from BNP. Besides, a thana-level president of Bastuhara (homeless) League and a ward-level secretary of Tanti (weaver) League, both pro-AL organisations, were on the list.
The DMP had also compiled a list of 1,100 dealers and retailers of yaba in the city. The list was forwarded to the home ministry.
The police headquarters has already prepared a list of 26,299 drug dealers and patrons countrywide and has been conducting raids to catch them, a senior police officer said wishing anonymity.