Food stock rises
Cut in subsidised rice distribution, rise in import key reasons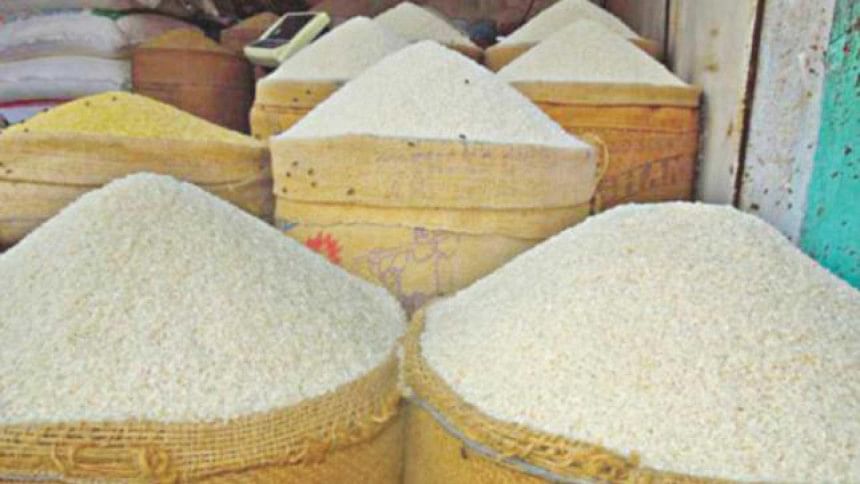 The government's food stock saw a rise this year compared to the same period last year. This was mainly due to a significant reduction in food distribution to the ultra-poor and a rise in rice import.
According to data from the food ministry, food stock on January 2 this year increased by 1.17 lakh tonnes and stood at 8.33 lakh tonnes, of which rice stock was 5.3 lakh tonnes.
The figure was 7.16 lakh tonnes on the same day last year.
Two consecutive floods depleted the government's rice stock to historic low of just 1.5 lakh tonnes in the beginning of July last year. 
Low production also led to an increase in rice prices in local markets and the government could not collect one fourth of its domestic procurement target of boro rice.
As a result, the government was compelled to cut public food distribution.
The data shows that 10.29 lakh tonnes of food--rice and wheat--was distributed among the poor between July 1 and December 2, 2016. But the government, under the public food distribution system (PFDS), could provide only 6.64 lakh tonnes in the corresponding period last year.
The fall in amount was mainly because of the government's failure to continue its Tk 10-a-kg rice distribution programme in the second half of 2017, even after rescheduling the date twice.
The government introduced the programme in 2016 to distribute Tk 10-a-kg rice for five months (March to April and September to November) a year among five million ultra-poor families.
Under the programme, the government distributed 3.88 lakh tonnes between September and November 2016.
Besides, distribution of rice through Open Market Sale (OMS) at subsidised rate also slightly decreased.
Food distribution from July 1 to December 21, 2017 through OMS was 16.17 lakh tonnes while the amount was 16.30 lakh tonnes in 2016.
Between July 1 and December 21, 2017, coarse rice's price was Tk 42 to Tk 50 while its price was below Tk 33 per kg in the same period in 2016.
Food stock also saw a rise due to the government's move of importing rice. 
From July 1, 2017 to January 2 this year, the government imported 8.31 lakh tonnes of food grain including 5.35 lakh tonnes of rice. 
In the corresponding period of the previous fiscal, the government did not import any rice. It only imported 3.92 lakh tonnes of wheat.
In the current fiscal year, the government's target is to import 20 lakh tonnes of food grains including 15 lakh tonnes of rice.
The cabinet committee on purchase has already given the approval to the food ministry for import of rice and the ministry has started the process.