Female workers' migration rising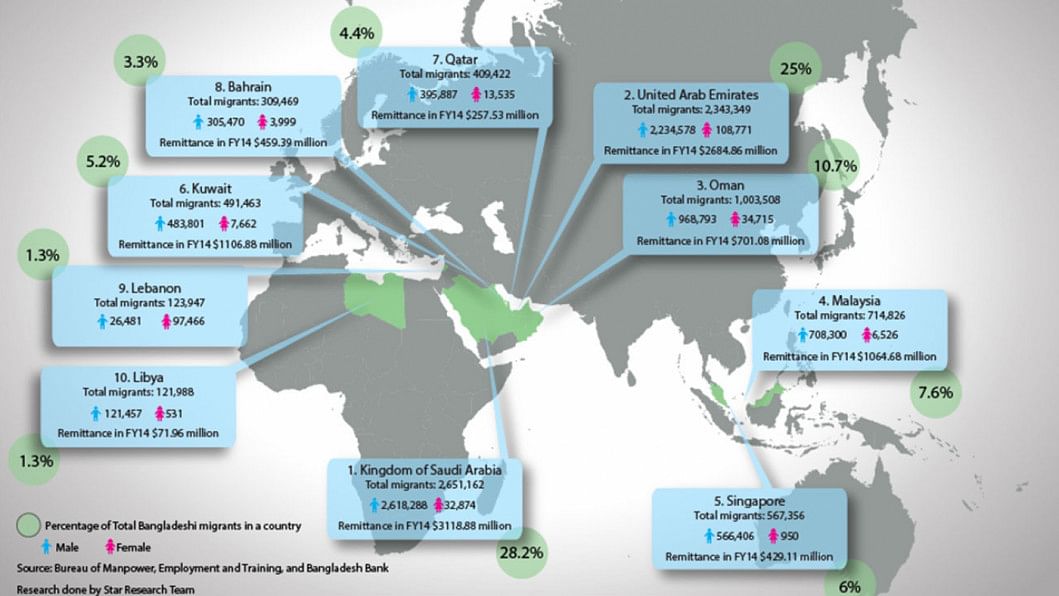 The number of Bangladeshi female migrant workers has been on the rise even though migration of Bangladeshi workers has declined by 30 percent in 2014, compared to that of 2012.
According to the June 2015 statistics of Bureau of Manpower, Employment and Training (BMET), a total of 37,304 female workers had gone to different countries in 2012 and the number rose to 76,007 in 2014.
One country which stands out in terms of employment of female workers is the UAE. According to the BMET statistics, the UAE is home to 27 percent of the total female migrant workers of Bangladesh.
According to the officials at the Expatriates' Welfare and Overseas Employment Ministry, two basic reasons can explain this rising trend. Firstly, the demand for female workers in the UAE is higher than that of other countries. Secondly, attractive salary in the UAE draws more female migrant workers there than other countries.
After the UAE, Lebanon hires a large number of female migrant workers. While the country has only 1.3 percent of total Bangladeshi migrants, it nevertheless has the second highest percentage of female migrants (24.3 percent)
compared to all other countries. About 97,000 female workers reside in Lebanon today.
A total of 9.4 million Bangladeshi migrants are toiling in various parts of the globe and sending their hard-earned money back home.
The fruits of their hard work are paying off, as an incredible $15.31 billion in remittance was received in fiscal 2015 -- the highest in the country's history.
The Kingdom of Saudi Arabia (KSA) has the highest percentage of Bangladeshi migrants, about 28.2 percent. The June 2015 statistics of the BMET shows there are more than 2.6 million Bangladeshi migrant workers in the KSA. Remittance inflow was recorded at $3.12billion from the KSA in the fiscal year 2013-14 as per Bangladesh Bank.
The UAE, ranking second, is currently home to more than 2.3 million Bangladeshi migrants who have sent home $2.68 billion remittance in fiscal 2013-14.
Oman is the third favourite overseas employment country today, with 10.7 percent of the total Bangladeshi migrants. An impressive 1 million workers were there at the end of June 2015. Remittance inflow from Oman was $0.7 billion in fiscal 2013-14.
Malaysia and Singapore remain a common destination for overseas workers, with about 7.14 lakh and 5.6 lakh Bangladeshi migrants respectively at the end of June 2015. Remittance inflows from Malaysia and Singapore stood at $1.06 billion and $0.43 billion respectively in fiscal 2013-14.
Kuwait and Qatar, on the other hand, have 5.2 percent and 4.4 percent of the total Bangladeshi migrants, placing sixth and seventh in top 10 overseas employment destinations. Migrants in Kuwait and Qatar brought in $1.1 billion and $0.26 billion respectively in fiscal 2013-14. There were around 4.9 lakh and 4.1 lakh migrants in the two countries at the end of June 2015.